Donald Trump and Vladimir Putin expected to discuss Ukraine sanctions in weekend phone call
The President has said he supported lifting the 2014 sanctions in exchange for nuclear arms reduction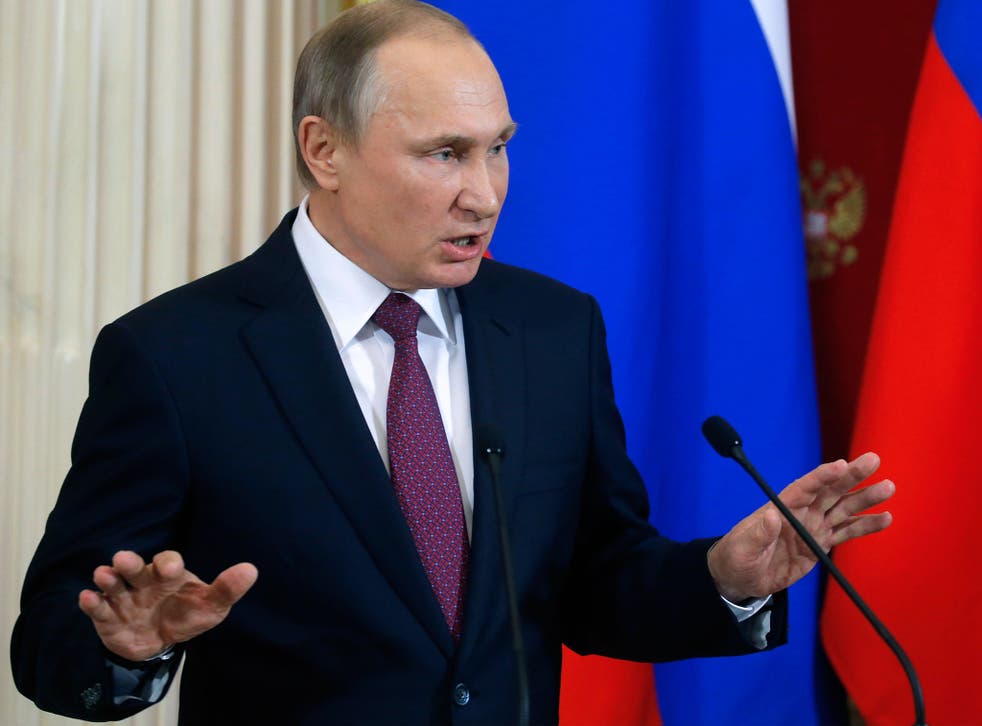 President Donald Trump and Russian President Vladimir Putin are expected to discuss Ukraine sanctions when the two speak for the first time since the inauguration.
Mr Trump has criticised the Obama administration in the past for sanctions imposed in 2014 for Russia's illegal annexation of Ukraine's Crimean peninsula. He has indicated that he would lift the sanctions against Russia in exchange for a nuclear arms reduction deal.
The President is also scheduled to speak with German Chancellor Angela Merkel on the same day he speaks with the Russian president. The call is expected to focus on Russia.
Should Mr Trump decide to lift the 2014 sanctions, he will face opposition from leaders in Washington and abroad.
Sen John McCain, who chairs the Senate Armed Services Committee, condemned the possible move by the White House to lift sanctions as a "reckless course" and said he would work with Congress to "codify sanctions against Russia into law".
"Putin wants to be our enemy. He needs us as his enemy," Mr McCain said. "He believes that strengthening Russia means weakening America. "
"President Trump should remember this when he speaks with Vladimir Putin," he added. "He should remember that the man on the other end of the line is a murderer and a thug who seeks to undermine American national security interests at every turn.
"For our commander-in-chief to think otherwise would be naïve and dangerous."
The controversial orders Donald Trump has already issued

Show all 9
In his final White House press conference, former President Barack Obama said he believed the sanctions should remain connected to the reasons they were implemented in the first place. If Russia stopped "meddling" in Ukraine's affairs, then he would support a lift.
"The reason we oppose the recall was not because of nuclear issues. It was because the independence and sovereignty of a country, Ukraine, had been encroached upon by force by Russia," Mr Obama told reporters.
"I think it will probably best serve not only American interests but also the interests of preserving international norms," he added, "if we made sure that we don't confuse why these sanctions have been imposed with a whole set of other issues."
The Trump administration has faced scrutiny for its alleged links to Russia during the 2016 election campaign. Intelligence officials assessed that the Kremlin was behind hacks of the Democratic National Committee with the intent of swaying the election in Mr Trump's favour.
A reversal of the sanctions also raises conflict-of-interest questions with regard to Secretary of State nominee Rex Tillerson.
While ExxonMobil CEO, Mr Tillerson brokered deals with the Russian oil conglomerate Rosneft estimated at $1bn (£800m). But Exxon had to suspend operations in Russia as a result of the 2014 sanctions.
Theresa May in America: The PM's first speech in 90 seconds
Mr Tillerson has come under fire for providing misleading answers about his role in lobbying against the sanctions while running the massive oil company in 2015 and 2016.
"I have never lobbied against sanctions personally," Mr Tillerson told the Senate Foreign Relations Committee. "To my knowledge, Exxon never directly lobbied against sanctions."
However, between 2014 and 2015, according to public documents, Exxon spent some $300,000 on lobbying against the Russian sanctions in Washington.
But the budding relationship between the Trump administration and Mr Putin could lead to friction between the US and UK, complicating the "special relationship" between the two countries.
Speaking to congressional Republicans in Philadelphia this week, Theresa May issued a warning about the Russian President.
"When it comes to Russia, as so often it is wise to turn to the example of President Reagan who, during negotiations with his opposite number Mikhail Gorbachev, used to abide by the adage 'trust but verify'," she said.
"With President Putin, my advice is to 'engage but beware'."
Register for free to continue reading
Registration is a free and easy way to support our truly independent journalism
By registering, you will also enjoy limited access to Premium articles, exclusive newsletters, commenting, and virtual events with our leading journalists
Already have an account? sign in
Register for free to continue reading
Registration is a free and easy way to support our truly independent journalism
By registering, you will also enjoy limited access to Premium articles, exclusive newsletters, commenting, and virtual events with our leading journalists
Already have an account? sign in