Donald Trump 'obviously aware' Russia was involved in US election hacking, White House states
Mr Trump is facing growing pressure to respond to the alleged hack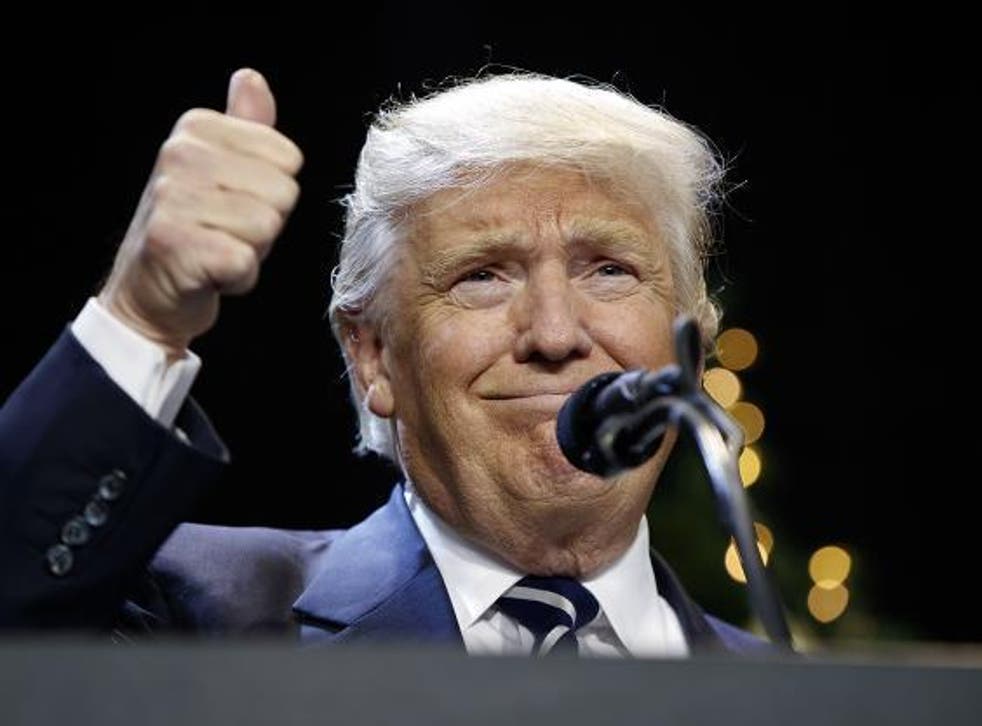 Donald Trump was "obviously aware" Russia was involved in hacking during the US election, the White House has said.
"There's ample evidence that was known long before the election and in most cases long before October about the Trump campaign and Russia — everything from the Republican nominee himself calling on Russia to hack his opponent," White House spokesman Josh Earnest said.
"It might be an indication that he was obviously aware and concluded, based on whatever facts or sources he had available to him, that Russia was involved and their involvement was having a negative impact on his opponent's campaign."
The CIA told a group of top US senators that the hack was aimed at helping Mr Trump.
Mr Trump is facing growing pressure to respond to the alleged hack of the election by the Russians as new reports say Vladimir Putin was "directly tied" to the cyber attack.
NBC news reported that the Russian president was personally involved in the attempt to disrupt the election, according to two anonymous intelligence officials.
The motives for the alleged cyber attack were multifaceted. Mr Putin had a "vendetta" against Hillary Clinton, and this morphed into a desire to highlight corruption in American politics and split off key US allies, according to Michael McFaul, former US ambassador to Russia.
"Certainly he [Putin] likes President-elect Trump's views on Russia," he told NBC.
Electoral college members demand information on Russian relations before voting to make Donald Trump
Mr Putin, and a number of other Russian officials, have denied accusations that Russia was behind the hacking attack in the US - with Mr Putin saying in October that the "hysteria" surrounding the incident was an attempt to divert from what was contained in the leaks.
Senator Lindsey Graham has called for Mr Trump to push back against Russia and to be briefed by the FBI on the matter. Mr Graham said Russia's alleged interference was not a political issue.
"It could be us next," he told CNN, referring to Russia's ability to hack the Republican accounts, and use information against them.
Mr Graham, who said his own emails had been hacked, has joined Arizona Republican senator John McCain and Democrats to call for a bipartisan inquiry into the Kremlin's activities during the election.
Top senate Republican, Mitch McConnell, said an inquiry would be conducted by the senate intelligence panel. House speaker Paul Ryan said he would also support the inquiry.
Incoming secretary of state Rex Tillerson does not support sanctions against Russia, however.
The appointment of Mr Tillerson, a friend to Russia since he became company CEO in 2006, is likely to have been welcomed by Mr Putin, an oil and energy obsessive who reportedly likes to negotiate deals personally.
White House suggests Trump benefited from Russia hacking
Mr Trump said earlier this week that the claims of hacking were "ridiculous".
"I think the Democrats are putting it out because they suffered one of the greatest defeats in the history of politics in this country.
"And frankly, I think they're putting it out. And it's ridiculous," he told Fox News on Sunday.
Mr Trump's spokesman Jason Miller said the focus on Russia was merely "an attempt to de-legitimise president-elect Trump's win".
Join our new commenting forum
Join thought-provoking conversations, follow other Independent readers and see their replies