Donald Trump's campaign manager Corey Lewandowski grabs collar of protester in another scuffle
Corey Lewandowski was recently praised by his employer on stage for doing an "incredible job" with "disgusting reporters"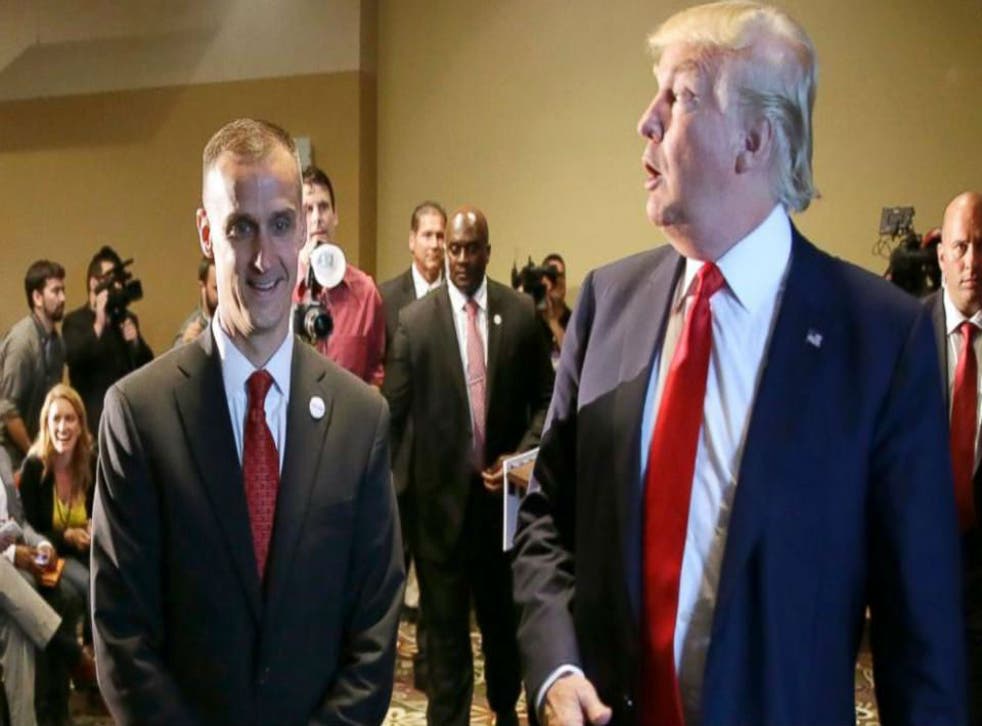 Scuffles and altercations at Donald Trump's rallies show no signs of slowing down as his campaign manager has been accused of yanking the collar of a protester, just days after he was accused of grabbing another woman's arm.
A video posted by a CBS news reporter shows Mr Lewandowski speaking with a protester. The protester attempts to move away from him but is yanked back when Mr Lewandowski grabs his collar.
Mr Trump's spokeswoman Hope Hicks did not explain the incident to the New York Times, and denied the incident to CBS.
"Corey Lewandowski was speaking with a protester at today's rally in Tucson, Arizona when the individual he was speaking with was pulled from behind by the man to Lewandowski's left. The video clearly shows the protester reacting to the man who pulled him, not to Mr. Lewandowski. Mr. Trump does not condone violence at his rallies, which are private events paid for by the campaign."
The rally in Arizona on Saturday is the latest fracas surrounding Mr Lewandowski. He was accused last week of grabbing the arm of Michelle Fields, a former reporter of conservative website Breitbart.
Ms Fields quit the website after her employers did not support her version of events and wrote another story in favour of Mr Trump's campaign.
Mr Trump said Mr Lewandowski had done an "incredible job" in dealing with "disgusting reporters" as the Republican won four states out of five in last week's Super Tuesday.
On Saturday another protester was punched several times and kicked on the ground by an angry supporter as he passed by.
The violent supporter was immediately arrested after the incident.
More than 1,000 protesters marched from Columbus Circle towards Mr Trump's home near Central Park on Saturday, while the Republican was in Arizona.
Join our new commenting forum
Join thought-provoking conversations, follow other Independent readers and see their replies