Donald Trump's possible vice president Newt Gingrich says his comments about 'Mexican' judge are 'inexcusable'
Mr Trump responded that Mr Gingrich's comments about him were also 'inappropriate'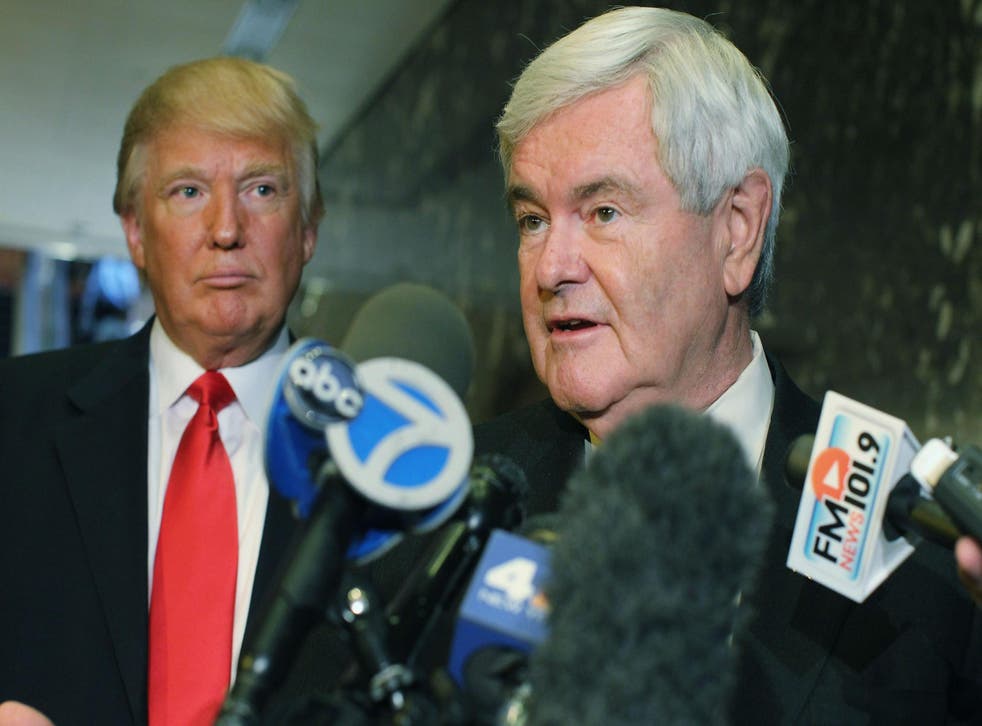 Donald Trump and his potential running mate Newt Gingrich have locked horns in a battle of "inappropriateness" surrounding the nationality of the judge who is ruling over the Trump University scandal.
Mr Gingrich, who is a Republican contender for vice president, said his colleague's comments about judge Gonzalo Curiel being "biased" and "unfair" in the Trump University lawsuit due to his nationality are "inexcusable".
Mr Trump said judge Curiel, who was born in Indiana, is a "Mexican" and would therefore be biased against Mr Trump.
"We're building a wall," Mr Trump told CNN. "He's a Mexican. We're building a wall between here and Mexico. The answer is he is giving us very unfair rulings."
In an interview with Fox News, Mr Gingrich said: "This is one of the worst mistakes Trump has made. I think it's inexcusable."
"[Judge Curiel] is an American. Period," the former house speaker added.
"I hope it was sloppiness. He says on other occasions that he has many Mexican friends etc, but that's irrelevant. This judge is not Mexican."
Mr Trump, who said he would have the same concerns of bias if the judge was Muslim, responded in a separate interview with Fox that Mr Gingrich's comments were "inappropriate" and he was "surprised at Newt".
Mr Gingrich has joined several other top Republicans who are rebuking Mr Trump's comments.
Democrat Hillary Clinton also said on twitter that Mr Trump's disbanded University, which was accused by former staff of mis-selling expensive real estate courses to financially vulnerable students, would make readers feel "nausea".
"Judge Curiel is as American as I am and certainly as American as Donald Trump is," Ms Clinton said on ABC's "This Week", arguing that his attack on the judge was a way to divert attention from the "very serious fraud charges" against the real estate school.
"Trump's continuing ethnic slurs and rants against everyone, including a distinguished federal judge, I think makes my point rather conclusively," Ms Clinton said.
Register for free to continue reading
Registration is a free and easy way to support our truly independent journalism
By registering, you will also enjoy limited access to Premium articles, exclusive newsletters, commenting, and virtual events with our leading journalists
Already have an account? sign in
Register for free to continue reading
Registration is a free and easy way to support our truly independent journalism
By registering, you will also enjoy limited access to Premium articles, exclusive newsletters, commenting, and virtual events with our leading journalists
Already have an account? sign in
Join our new commenting forum
Join thought-provoking conversations, follow other Independent readers and see their replies