Donald Trump Administration imposes sanctions on Venezuela's Vice President for 'significant role' in illegal drug trade
Tareck El Aissami is alleged to have facilitated shipments from his country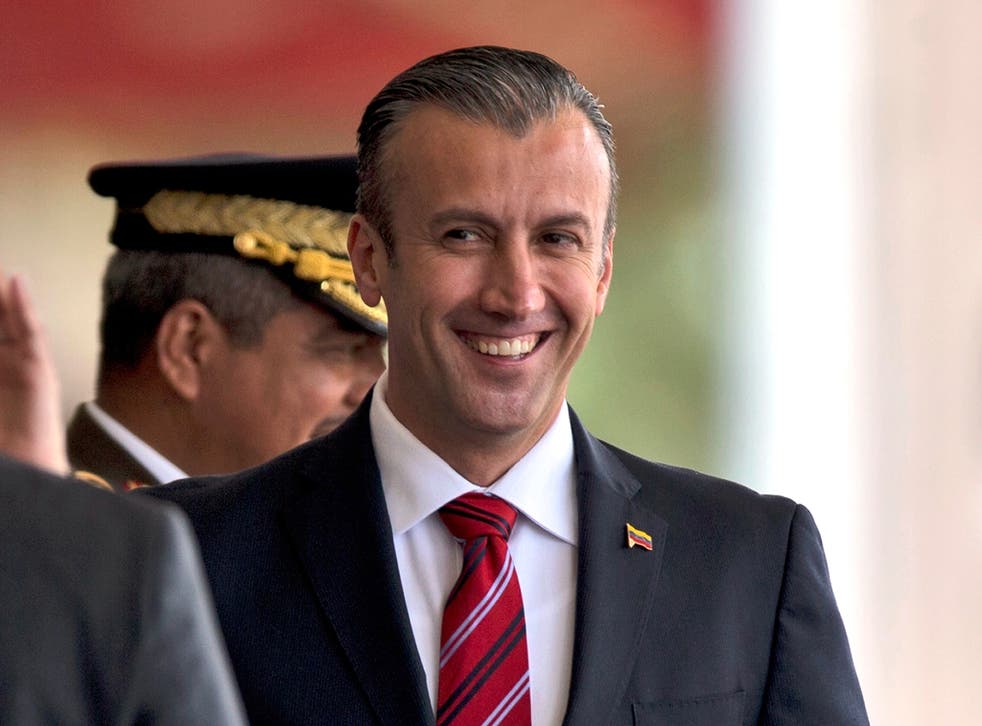 Donald Trump's administration has imposed sanctions on Venezuela's Vice President after accusing him of being a major drug trafficker.
The US Treasury Department said it was freezing the assets of Tareck El Aissami and designating him as a "Specially Designated Narcotics Trafficker".
US officials accused him of playing a "significant role" in the international drugs trade.
The US also took action against Samark Lopez, a wealthy Venezuelan businessman who it said was a "front man" for Mr El Aissami. Mr Lopez was guilty of "providing material assistance, financial support, or goods or services in support of the international narcotics trafficking activities of, and acting for or on behalf of, El Aissam", the Treasury Department claimed.
Utilising laws passed during Bill Clinton's presidency that allow the US to penalise anyone considered a drug "kingpin", the Trump Administration blocked 13 companies owned by Mr Lopez, allegedly on behalf of Mr El Aissam, and barred both men from entering the US.
Mr El Aissami is the most senior Venezuelan official to ever be targeted by the US Government.
The move is likely to fuel ongoing tensions between the US and socialist Venezuela. Nicolas Maduro, the Venezuelan President, has previously called Donald Trump a "bandit" and "mental patient".
There was no immediate response from Mr El Aissami but he has previously denied having criminal connections.
The 42-year-old was appointed as Venezuela's Executive Vice President in January 2017, having previously served as a state governor and then Minister of Interior and Justice.
World's 10 deadliest street drugs

Show all 10
In a statement, the US Treasury Department claimed he had, "Facilitated shipments of narcotics from Venezuela, to include control over planes that leave from a Venezuelan air base, as well as control of drug routes through the ports in Venezuela.
"In his previous positions, he oversaw or partially owned narcotics shipments of over 1,000 kilograms from Venezuela on multiple occasions, including those with the final destinations of Mexico and the United States."
He also helped co-ordinate drug shipments to Los Zetas, a violent Mexican drug cartel, they added.
Mr El Aissami had previously been named by Venezuela's top convicted drug trafficker, Walid Makled, who said he had paid bribes through the now Vice President's brother to officials so they would turn a blind eye to cocaine shipments.
Announcing the sanctions, John E. Smith, Acting Director of the Treasury's Office of Foreign Assets Control (OFAC), said the action was "the culmination of a multi-year investigation under the Kingpin Act to target significant narcotics traffickers in Venezuela and demonstrates that power and influence do not protect those who engage in these illicit activities."
He added: "This case highlights our continued focus on narcotics traffickers and those who help launder their illicit proceeds through the United States. Denying a safe haven for illicit assets in the United States and protecting the U.S. financial system from abuse remain top priorities of the Treasury Department."
The Treasury sanctions were welcomed by some experts on the South American drugs trade.
Mark Feierstein, who served as Barack Obama's top national security adviser on Latin America, said: "This was an overdue step to ratchet up pressure on the Venezuelan regime and signal that top officials will suffer consequences if they continue to engage in massive corruption, abuse human rights and [the dismantling of] democracy,"
Join our new commenting forum
Join thought-provoking conversations, follow other Independent readers and see their replies