Nazi-linked group 'proud' that top Donald Trump aide wore its medal
Counter-terror expert seen sporting insignia of 'Valiant Order' which helped execute Hungarian Holocaust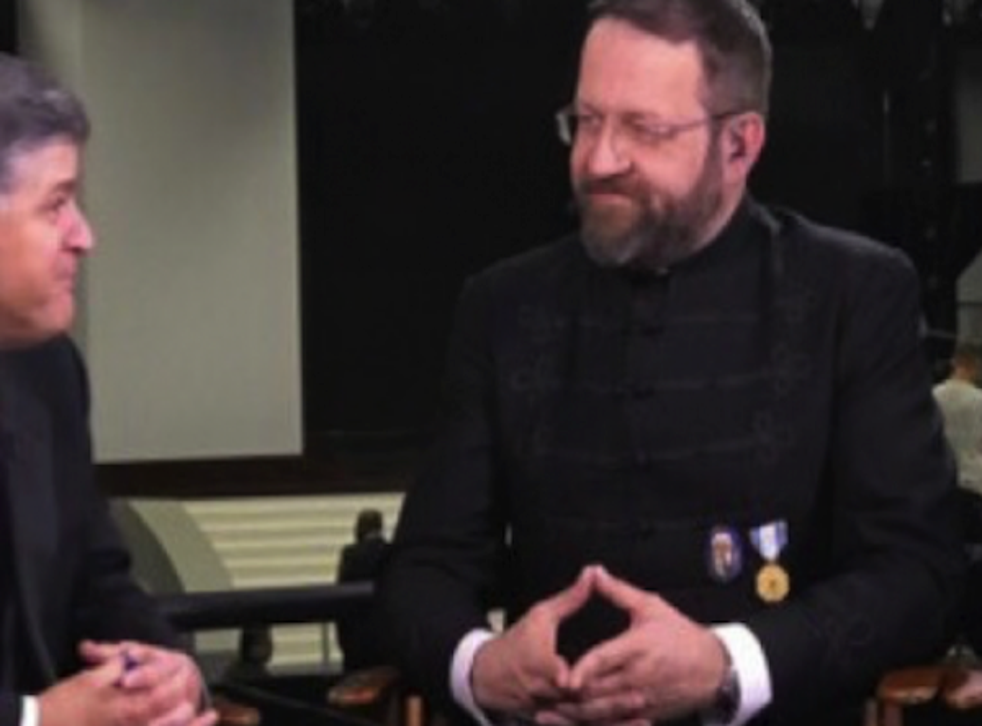 A Nazi-linked Hungarian nationalist group were reportedly "proud" to see one of Donald Trump's top counter-terror experts sporting their medal at the President's inauguration ball.
Sebastian Gorka, the Deputy Assistant to President Trump, was forced to deny he was an anti-Semite after making several public appearances wearing the insignia of Vitezi Rend.
He claims the medal was given to his Hungarian-born father, who was a member of the order listed as Nazi collaborators during Second World War, and that he wears it as a tribute to his father.
But a Vitezi Rend spokesperson told NBC: "When he appeared on US television ... with the medal of the Vitez Order ... it made me really proud."
Sebastian Gorka defends wearing a medal linked to Hungarian Nazi sympathisers
Hungarian campaigners contradicted Mr Gorka's claims to have had no involvement with the group, whose name translates as "Valiant Order".
Erika Laszlo campaigned against Mr Gorka during his failed bid for the mayor's office in a provincial Hungarian town back in 2006.
"It was common knowledge he was a Vitezi [member]," she told NBC, in claims repeated by a politician who ran on Mr Gorka's own ticket.
"And for many people this was a shine on the armor, if you like, because it was the old, golden days before the war."
The controversial orders Donald Trump has already issued

Show all 9
The order was founded as a state honour for those who fought for Hungary during the First World War by Miklos Horthy, the Hungarian head of state between 1920 and 1944.
In 1940, Horthy wrote: "Concerning the Jewish problem, for all my life I have been an anti-Semite. To replace the Jews, who have everything in their hands… requires a generation at least".
Many members of the government decorated with his order oversaw the Holocaust in Hungary, and the order was listed as a collaborationist body by the Hungarian government.
After initially refusing to answer questions about the medal, Mr Gorka claimed his father had been tortured and imprisoned by Hungarian communists in the late 1940s after he founded "underground organisations of pro-democracy, anti-Communists to work about the Soviet dictatorship".
The medal "reminds me of what [my parents] suffered under the Nazis and under the communists", he said in a video released by Breitbart.
Mr Gorka has also been known to sign his name as "Sebestyen L. v. Gorka". The initials "L.v" are reportedly used by those granted membership of the order and, when they die, by their oldest sons.
The modern-day Vitezi Rend movement disavows its Nazi past and founder, as Mr Gorka now disavows the order itself.
Video has recently surfaced showing Mr Gorka express his support for another since-banned militia condemned as "essentially racist" by the European Court of Human Rights, and dismissing concerns about anti-Semitism as "the very useful tool of a certain political class".
Register for free to continue reading
Registration is a free and easy way to support our truly independent journalism
By registering, you will also enjoy limited access to Premium articles, exclusive newsletters, commenting, and virtual events with our leading journalists
Already have an account? sign in
Register for free to continue reading
Registration is a free and easy way to support our truly independent journalism
By registering, you will also enjoy limited access to Premium articles, exclusive newsletters, commenting, and virtual events with our leading journalists
Already have an account? sign in
Join our new commenting forum
Join thought-provoking conversations, follow other Independent readers and see their replies