Donald Trump terror adviser calls man and threatens legal action because he criticised him on Twitter
Sebastian Gorka, former national security editor at Breitbart, did not take kindly to attacks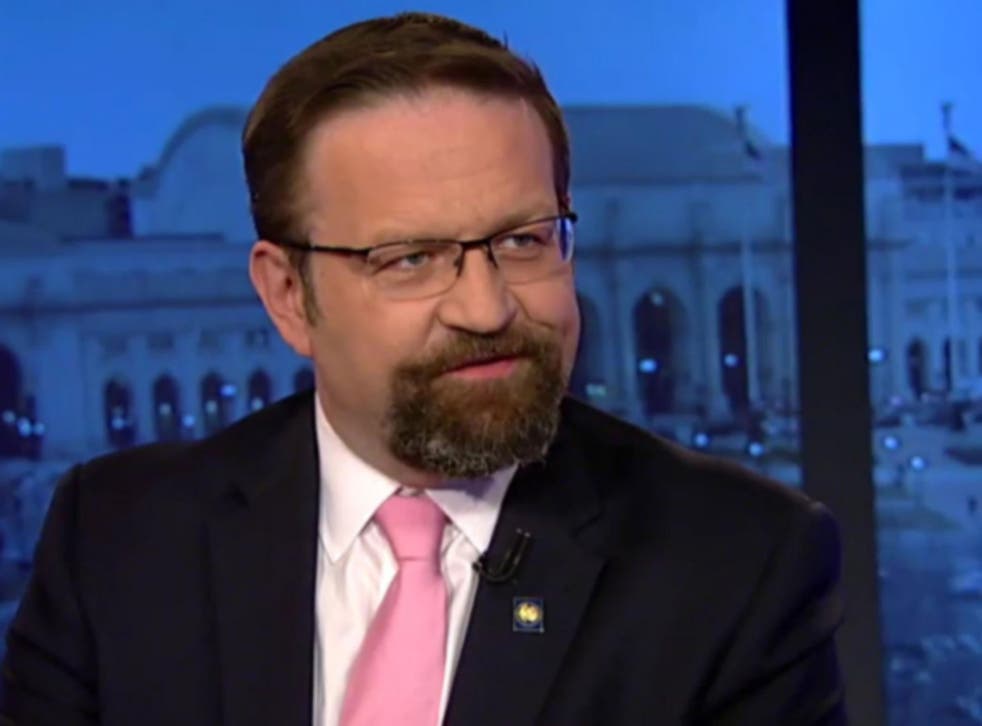 Sebastian Gorka, who was propelled from Breitbart alongside Stephen Bannon into the White House to advise President Donald Trump on terrorism, did not like being attacked on social media by an academic called Michael Smith.
So he called him and allegedly threatened him with a lawsuit, but he might not have known that Mr Smith in South Carolina was recording the call, obtained by Newsweek.
Mr Gorka apparently phoned Mr Smith on his personal mobile phone rather than from his White House office or mobile phone on which the calls would be logged.
Mr Gorka, whose views about Islam are widely deemed to be extremist, asked if they had ever met, and Mr Smith confirmed they had not.
"Why is this vitriol popping out of you, every day now?" Mr Gorka asked. "I look at your Twitter feed once or twice a day and it's half a dozen tweets about me, and I've never even met you."
"Wow," Mr Smith responded. "Are you defeating jihad by monitoring or trolling my Twitter feed?"
Mr Smith countered that he was a private citizen, being phoned by a White House official, and that he considered Mr Gorka to be unqualified to work in the White House and to be a "charlatan".
Mr Gorka describes himself of Twitter as an "Irregular Warfare Strategist" and is the author of Defeating Jihad. In his book, he describes how radical Islamic terrorists are driven by passages from the Koran, rather than government repression, civil war or other factors.
Ibrahim Hooper, communications director of the Council on American-Islamic Relations, told The Independent that Mr Gorka was a "conspiracy theorist".
"In a recent interview, he wouldn't even say whether the President considers Islam to be a real religion," he said. "He's not just a consultant that goes on CNN and the networks. He's in the White House formulating policy."
Mr Gorka, a Hungarian-born and British-educated terrorism specialist, invited Mr Smith on the phone to the White House for a cup of coffee and asked him to bring "all the evidence" to prove Mr Smith had directly contributed to White House terrorism policy and to discuss their opposing views.
Mr Smith has been a frequent contributor on television and to think tanks about terrorism, and his particular focus is the use of social media by Isis and al-Qaeda. In Foreign Policy Magazine he was included in a list of "100 Leading Global Thinkers".
After Mr Gorka opened his calendar and invited Mr Smith to his office on 8 March, the phone call escalated as the White House adviser said it was "weird" how Mr Smith attacked him.
"I've never met you and I've never attacked you," he said, clearly becoming more frustrated. "And your Twitter feed is an incessant berating of my professional acumen. Put yourself in my shoes, Mr. Smith. Have you done that? How would you like it if someone you've never met, daily and professionally attacked you?"
Mr Gorka withdrew his invitation the same week, citing further attacks against him and the President by Mr Smith.
Mr Gorka's expertise on Islam has been strongly criticised by publications like The Washington Post and Wall Street Journal.
"He thinks the government and intelligence agencies don't know anything about radicalisation, but the government knows a lot and thinks he's nuts," former CIA expert Cindy Storer, one of his critics, told the Journal.
Mr Gorka was arrested in January last year when he tried to pass through a security checkpoint at Reagan National Airport in Washington DC with a loaded handgun.
Register for free to continue reading
Registration is a free and easy way to support our truly independent journalism
By registering, you will also enjoy limited access to Premium articles, exclusive newsletters, commenting, and virtual events with our leading journalists
Already have an account? sign in
Register for free to continue reading
Registration is a free and easy way to support our truly independent journalism
By registering, you will also enjoy limited access to Premium articles, exclusive newsletters, commenting, and virtual events with our leading journalists
Already have an account? sign in
Join our new commenting forum
Join thought-provoking conversations, follow other Independent readers and see their replies