Donald Trump set to pick Exxon Mobil CEO Rex Tillerson for Secretary of State despite Putin link
Tillerson has done business with Russia, and has even been awarded one of the country's highest honours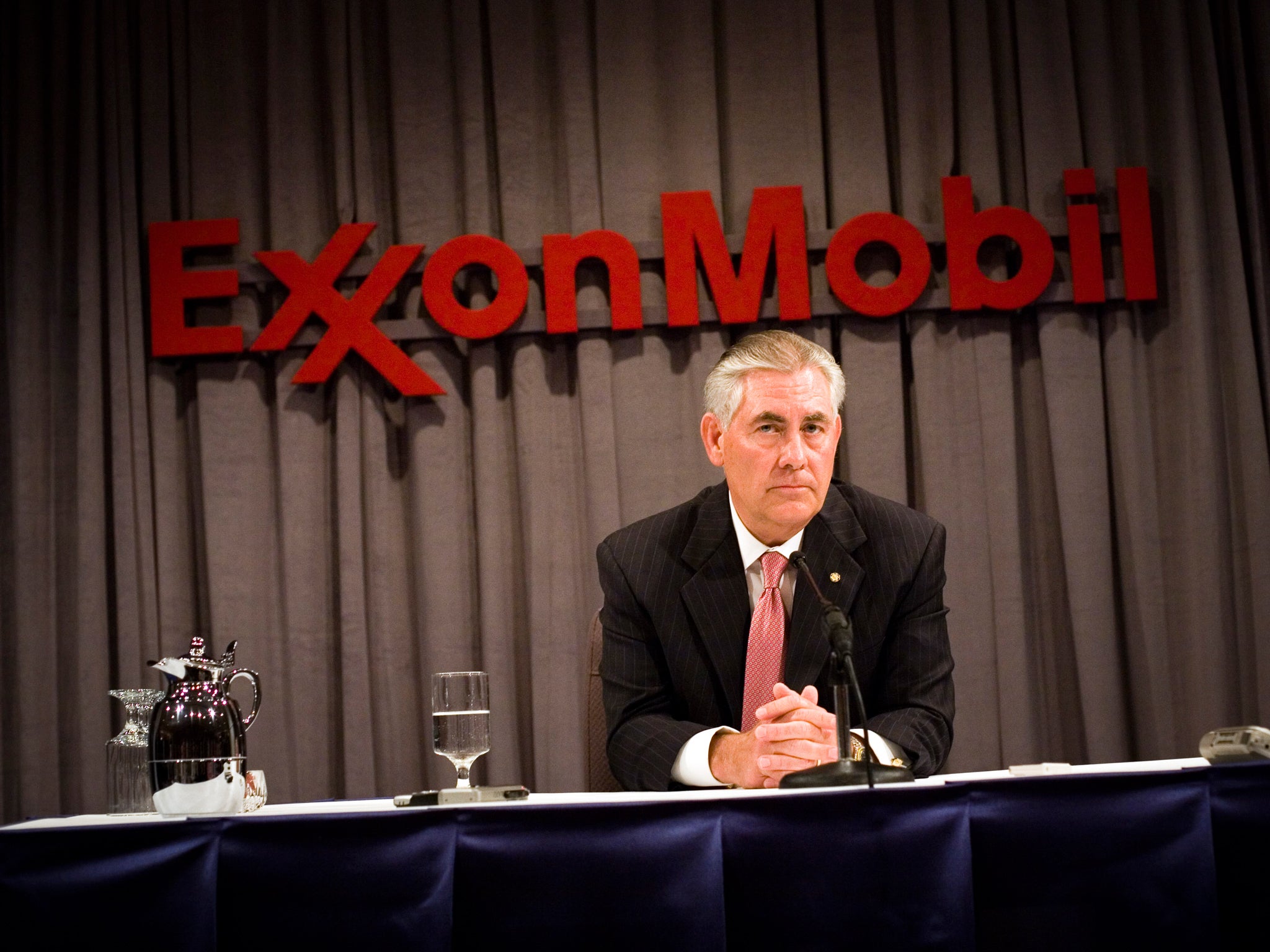 Donald Trump is set to chose ExxonMobil CEO Rex Tillerson to be the next nominee for Secretary of State.
Mr Tillerson, 64, emerged as Mr Trump's top pick for the position in recent days. He has faced significant criticism for apparent ties to Russian President Vladimir Putin.
President-elect Trump is expected to make his official announcement next week. Sources close to the transition team cautioned that nothing is final, however, NBC News reported.
According to the Wall Street Journal, Mr Tillerson negotiated an energy partnership with Russia in 2011. The Russian President said the could be valued at approximatly $500bn. The following year, the Kremlin awarded Mr Tillerson with the Order of Friendship, the country's highest honour for foreign nationals.
Russia faced sanctions after the illegal annexation of Crimea, and thus ExxonMobil had to cease operations in 2014. But the head of the oil giant's Russian operations, Glenn Waller, said the company would return to the project once the sanctions were lifted. Mr Tillerson could certainly expedite the lift of those sanctions as the US's top diplomat.
"If you are trying to lift sanctions on Russia and get back to business with Vladimir Putin, Rex Tillerson would be an excellent choice," former US ambassador to Russia for the Obama administration, Michael McFaul, told BuzzFeed News.
In an interview with Fox News set to air Sunday, Mr Trump touted Mr Tillerson's business dealings with Russia.
"To me, a great advantage is he knows many of the players, and he knows them well," he said. "He does massive deals in Russia."
World reaction to President Trump: In pictures
Show all 29
Mr Tillerson has spent his entire career with the Texas-based oil company. He became chairman and CEO in 2006, maintaining close business ties to Mr Putin throughout.
The news of Mr Tillerson's potential new role comes a day after the bombshell Washington Post report of Russian interference in the election. According to the report, CIA officials conducted a secret assessment that determined Russia worked to influence the US election in Mr Trump's favour, following a massive hack of the Democratic National Committee and other party officials.
The Trump transition team dismissed the report as bogus in a statement issued Friday evening.
"These are the same people that said Saddam Hussein had weapons of mass destruction," he said.
President Barack Obama ordered a "full review" of election related hacking, according to his Homeland Security adviser Lisa Monaco.
But the apparent link between Russia and Mr Trump's incoming administration worries some officials.
Arizona Sen John McCain told NBC that Mr Tillerson's relationship with the Russian president raised major concerns and should be put under scrutiny.
"I believe that Vladimir Putin is a thug and a bully and a murderer and I believe the relationship between Mr Tillerson and Vladimir Putin needs to be examined," Mr McCain said.
Trump's EPA pick condemns Obama's conservation policy
While he led ExxonMobil, Mr Tillerson expressed his support for the Paris climate agreement, wherein countries around the globe vowed to cut their carbon emissions, brokered in part by Sec of State John Kerry. The President-elect, however, said that he will back away from the agreement.
The company also acknowledged the existence of climate change, and agreed with the science behind the crisis. Mr Tillerson himself has stated the importance of addressing it.
"We believe that addressing the risk of climate change is a global issue," he said in May during a company shareholder meeting.
Yet, Mr Trump has outright denied climate change, claiming that it is a conspiracy manufactured by China to make the US less competitive. He reaffirmed his opposition to the idea of climate change by appointing Oklahoma Attorney Gen Scott Pruitt to head the Environmental Protection Agency.
Mr Pruitt has sued the agency over its restrictions on power plants.
Still, climate action advocates have criticised ExxonMobil for keeping up the appearance that they support efforts like the Paris agreement, while doing nothing to reduce their impact on the environment.
"Just when we thought Trump's cabinet could not get farther away from the needs of the American people, he sneaks in a Saturday appointment of Exxon CEO Rex Tillerson as Secretary of State," said Greenpeace spokesperson Cassady Craighill. "In this position,Tillerson will try his hardest to silence global initiatives and the right of state attorney generals to hold fossil fuel companies legally accountable for climate change."
Donald Trump has spent weeks interviewing potential nominees for the role – which is fourth in line for the presidency, just below the president pro tempore, Utah Sen Orrin Hatch.
Among those conisdered for the role were former Masschusetts Gov Mitt Romney, and former New York City Mayor Rudy Giuliani. On Friday, the transition team announced the Mr Giuliani withdrew himself from the running on 29 November.
If Mr Tillerson is confirmed, former UN Ambassador John Bolton will serve as his deputy, according to the report.
Once a contender for what is likely to become Mr Tillerson's poisition, Mr Bolton has faced criticism for his hawkishness, and penned a New York Times op-ed in March 2015 calling for the bombing of Iran.
"Iran will not negotiate away its nuclear program. Nor will sanctions block its building a broad and deep weapons infrastructure," he wrote. "The inconvenient truth is that only military action ... can accomplish what is required. Time is terribly short, but a strike can still succeed."
In July of that year, the White House announced that after two years of negotiations it reached a deal with the Iranian government that would prevent them from obtaining nuclear weapons.