Senate votes to approve Donald Trump's Secretary of State pick Rex Tillerson
He was approved despite concerns over his pro-Russia stance
Rachael Revesz
New York
Monday 23 January 2017 23:48 Comments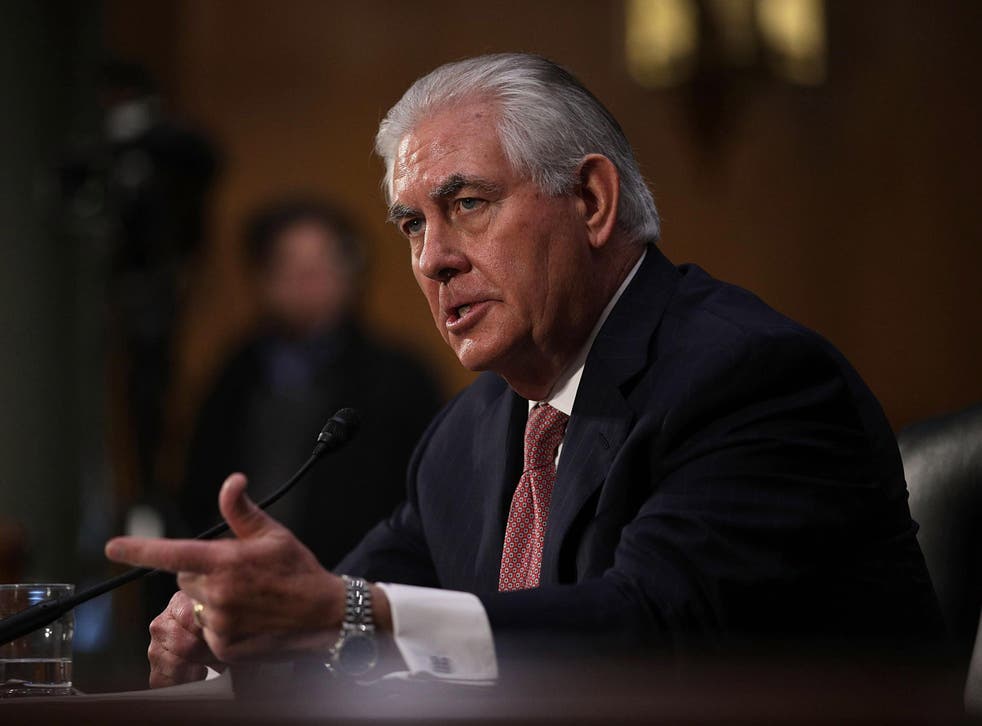 The Senate has voted to approve Rex Tillerson as Secretary of State.
The oil tycoon with strong ties to Russia was chosen by Donald Trump for the top job.
He had faced tough questions from Republicans and Democrats, including Florida senator Marco Rubio, during his Senate hearing.
Mr Tillerson, the former chief executive of ExxonMobil, will have a golden parachute out of the company after he cashed in his company shares for around $200 million.
The approval comes two days after Mr Trump told CIA staff that although he was against the Iraq War, he regretted that the US had not taken all the oil once they were in.
"Maybe we will get another chance," he said.
He was also found to be director of the company's Russian subsidiary, registered in the Bahamas.
At his senate confirmation hearing, he was questioned on his lobbying to remove sanctions on Russia following its annexation of the Crimea peninsula in Ukraine, and was also asked for his views about Russia's war crimes in Syria.
Rex Tillerson calls China's actions in the South China Sea 'illegal'
His former company has billions of dollars of oil contracts with Russia that it can only fulfil if the US lifts the sanctions imposed on Moscow after the downing of a passenger jet in Ukraine in 2014. This fact has led to accusations of Mr Tillerson having conflicts of interests.
Mr Tillerson told the Senate that he supported the decision to impose sanctions by former President Barack Obama after the CIA and the FBI found that Russia allegedly exerted "an influence campaign" to boost Mr Trump's likelihood of winning the election.
Rex Tillerson says 'these things happen' when asked about Russian civilians dying
He played down the alleged murder of Vladimir Putin's political opponents by saying "these things happen" and refused to directly call him a war criminal.
He was awarded the Russian Order of Friendship in 2013.
At the hearing, he refused to rule out Mr Trump's proposal for a Muslim "registry". He also declared that China's activity in the South China Sea was "illegal".
The latter opinion was backed up by press secretary Sean Spicer, who said on Monday at the first press briefing that the US would protect its interests in the region.
Register for free to continue reading
Registration is a free and easy way to support our truly independent journalism
By registering, you will also enjoy limited access to Premium articles, exclusive newsletters, commenting, and virtual events with our leading journalists
Already have an account? sign in
Join our new commenting forum
Join thought-provoking conversations, follow other Independent readers and see their replies