Donald Trump's butler says alleged sexual assault of Natasha Stoynoff and 12 other women did not happen
'No, that never happened. Come on, that's just bull crap'
Rachael Revesz
New York
Tuesday 18 October 2016 15:50 Comments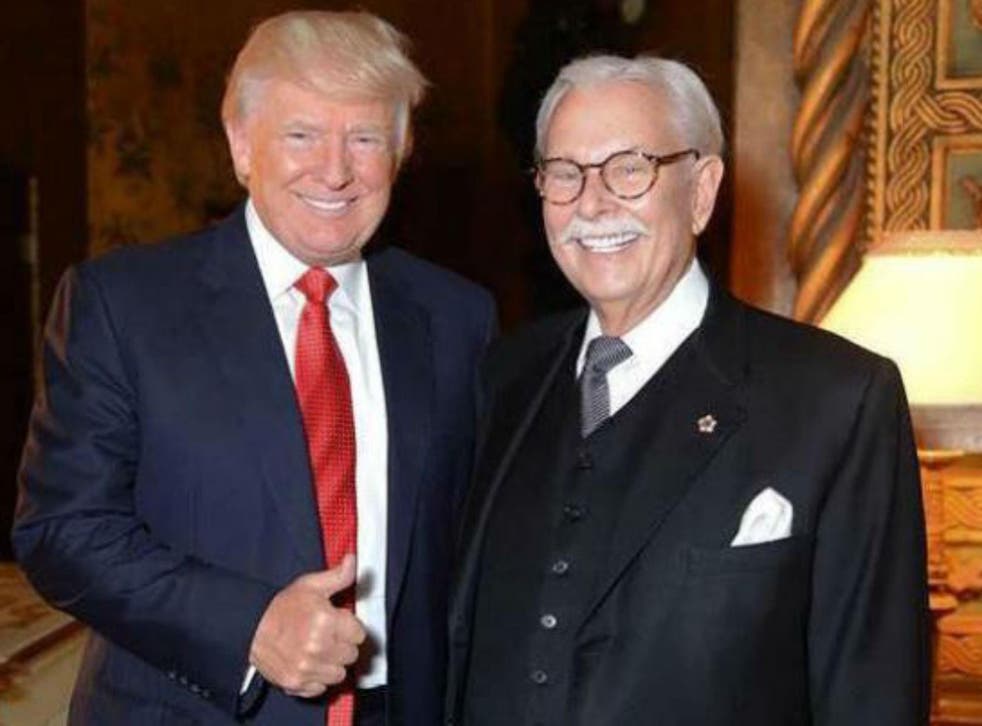 The former personal butler of Donald Trump has denied the allegations of sexual assault leveled against his employer by People magazine writer Natasha Stoynoff and at least 12 other women.
Anthony Senecal, 85, was asked about the 2005 incident in which Ms Stoynoff claimed she went round to Mr Trump's Mar-a-Lago resort in Florida to interview the now Republican nominee and was assaulted as soon as she was alone with him.
"No, that never happened. Come on, that's just bull crap," he told Western Journalism.
"As I remember, it was Mrs Post's (Marjorie Merriweather Post) old massage room, which has got windows all the way around — that would be the worst room to go grope somebody, unless you want the whole world to know about it," said Mr Senecal.
Ms Stoynoff said that Mr Trump shoved her up against the wall and tried to kiss her.
The interview ran in People despite the alleged assault - which Mr Trump denied - but she decided to talk publicly about the incident after seeing a leaked 2005 video in which Mr Trump was bragging about sexually assaulting women and grabbing their genitals.
Trump in response to sexual assault claims - 'Look at her... you tell me'
The journalist alleged that the butler "burst in" on Mr Trump when she was in his house, while his third wife, Melania Trump, who was pregnant at the time, was upstairs.
Ms Trump denied the account and has threatened to sue People magazine.
"I don't burst in. I knock, then I go in, usually after someone says 'come in'," Mr Senecal said.
"And when I went in, there was nothing strange about where she was standing."
Melania Trump dismisses husband's leaked audio as 'boy's talk'
Ms Stoynoff said in People on Tuesday that she told her story "for women" and it was not about politics.
"We cannot be silent anymore," she said.
The former butler accused women of "jumping on the train" to accuse his former boss of sexual assault, but that none of it happened.
Mr Senecal was recently investigated by the secret service after he called for president Obama's death on Facebook.
More than 10 women have shared their experiences of being kissed, groped or assaulted by the Republican - including former Apprentice contestant Summer Zervos - and Mr Trump has strongly denied all of the claims, saying he did not know most of the women in question and accused them of wanting publicity.
"These people are sick," he told a rally last week.
His butler's denials follow an account of a British man, Anthony Gilberthorpe, put forward by the Trump campaign to testify that he was sitting on the same plane as Mr Trump and a woman called Jessica Leeds who the nominee allegedly groped 30 years ago.
He said Ms Leeds was the one being "flirtatious" and had not seen Mr Trump grope under her skirt as he sat next to her.
Register for free to continue reading
Registration is a free and easy way to support our truly independent journalism
By registering, you will also enjoy limited access to Premium articles, exclusive newsletters, commenting, and virtual events with our leading journalists
Already have an account? sign in
Join our new commenting forum
Join thought-provoking conversations, follow other Independent readers and see their replies