Donald Trump reminded of all the women who accuse him of sexual assault after President condemns Al Franken
Radio presenter claims Democratic Senator groped her breasts during 2006 tour of Middle East 
Tom Embury-Dennis
Friday 17 November 2017 10:06 Comments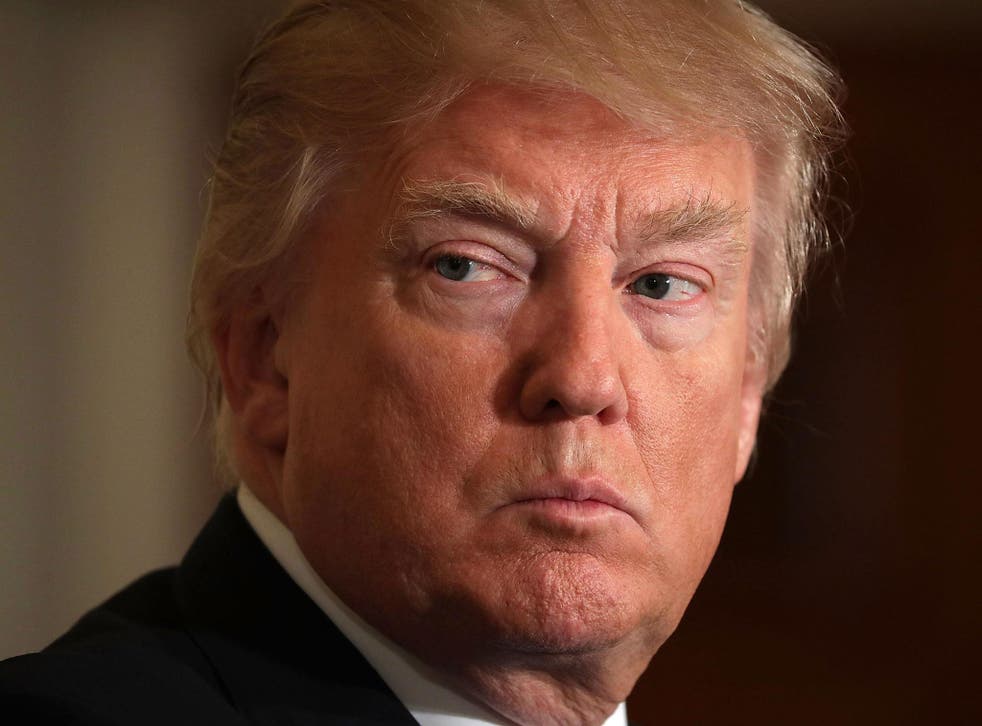 Donald Trump has joined criticism of the Democrat Senator Al Franken after he was accused of sexually assaulting a journalist.
Leeann Tweeden, a morning news anchor for Los Angeles radio station 790 KABC, has claimed that Mr Franken forcibly kissed her and groped her breasts during a 2006 tour of the Middle East to entertain US troops.
Ms Tweeden released an accompanying photo in an article on her experience that appeared to show the former comedian groping her while she sat asleep on a cargo plane.
The US President took to Twitter to condemn Mr Franken.
"The Al Frankenstien (sic) picture is really bad, speaks a thousand words. Where do his hands go in pictures 2, 3, 4, 5 & 6 while she sleeps?" he said.
Mr Trump then referenced a joke allegedly made by Mr Franken in 1995 in which he suggested a Saturday Night Live sketch where he would give CBS News reporter Lesley Stahl pills and "take her to the closet and rape her".
He said: "And to think that just last week he was lecturing anyone who would listen about sexual harassment and respect for women. Lesley Stahl tape?"
Donald Trump apologises for 'grab them by the p****' remarks, says Bill Clinton has done 'far worse'
Mr Trump's comments about a tape have, however, drawn attention to the fact that the US President was himself accused of sexual assault by 16 women, and was captured on tape in 2005 boasting to Access Hollywood host Billy Bush about sexual assault.
In comments that rocked the US presidential race after they became public in September 2016, Mr Trump said of women that he could "grab them by the p***y" as he was a "star".
The 70-year-old has long threatened to sue the women who have accused him of sexual misconduct, and White House Press Secretary Sarah Sanders told reporters the administration's official position is that all 16 women are lying.
Mr Trump has also declined to speak out against Republican Senate nominee for Alabama Roy Moore, who has been accused of sexual assault against a teenager.
Mr Franken has apologised for his conduct and asked for an ethics investigation into his own actions.
In an initial statement, the 66-year-old said: "I certainly don't remember the rehearsal for the skit in the same way, but I send my sincerest apologies to Leeann."
Donald Trump's least presidential moments so far...

Show all 30
Mr Franken later expanded on his statement, extending his apology to "everyone else who was a part of that tour, to everyone who has worked for me, to everyone I represent, and to everyone who counts on me to be an ally and supporter and champion of women".
"I respect women," he continued. "I don't respect men who don't. And the fact that my own actions have given people a good reason to doubt that makes me feel ashamed."
Register for free to continue reading
Registration is a free and easy way to support our truly independent journalism
By registering, you will also enjoy limited access to Premium articles, exclusive newsletters, commenting, and virtual events with our leading journalists
Already have an account? sign in
Join our new commenting forum
Join thought-provoking conversations, follow other Independent readers and see their replies