Donald Trump pardoned Joe Arpaio during Hurricane Harvey 'to ensure maximum TV coverage'
President admits controversial announcement was timed to coincide with reporting of Texas floods: 'I assumed the ratings would be far higher than they were normally'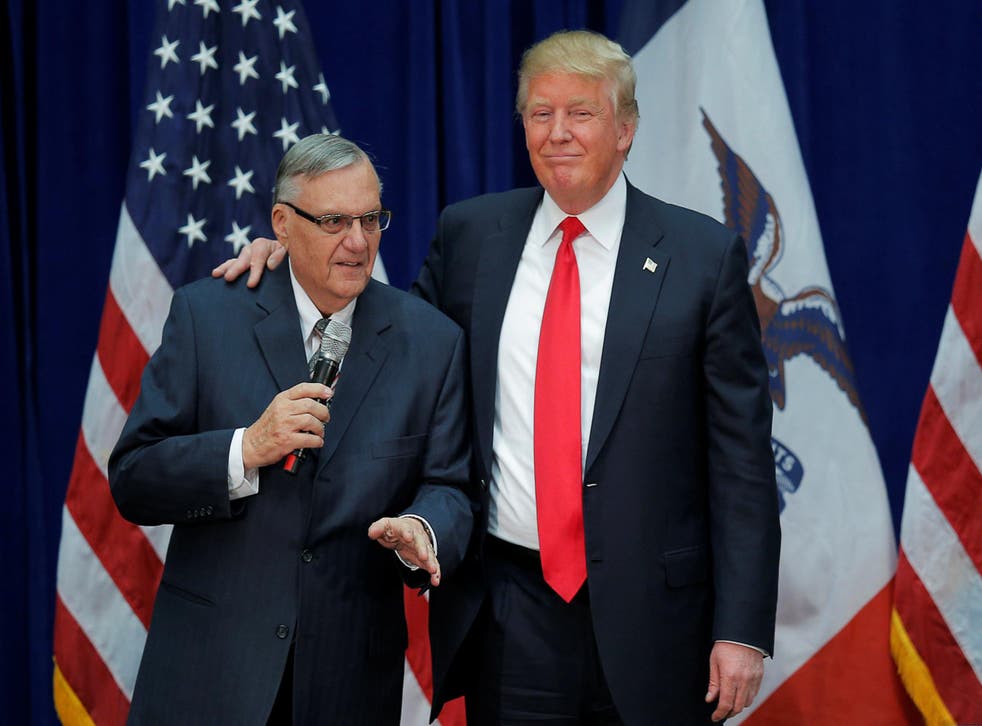 President Donald Trump has offered a fiery defence of his decision to pardon Joe Arpaio, the former Arizona sheriff, as Hurricane Harvey made landfall in Texas last week — and claimed he timed it to attract maximum attention as television viewers were glued to storm coverage.
Trump, who said his action was no worse than late-term pardons issued under the last two Democratic Presidents, also suggested that the Justice Department had political motives during the Obama administration for charging the former Maricopa County sheriff in a case concerning his illegal profiling of Hispanics. Arpaio was convicted last month of criminal contempt for his tactics in hunting down and jailing immigrants living in the country illegally, but he was pardoned before his sentencing.
"I thought he was treated unbelievably unfairly," Trump said during a joint news conference with President Sauli Niinisto of Finland in the East Room of the White House. The President and Arpaio share a hard line on illegal immigration and unapologetic support of the police, and the former sheriff was an ardent backer of Trump's campaign last year.
"A lot of people think it was the right thing to do," Trump said Monday of the pardon. "Actually, in the middle of a hurricane, even though it was a Friday evening, I assumed the ratings would be far higher than they were normally."
He rattled off a prepared list of people who were pardoned by previous Presidents, homing in on Bill Clinton's pardoning of Democratic donor Marc Rich and Barack Obama's commutation of Chelsea Manning's sentence, which cut short a 35-year term she received for leaking secret government documents while serving as a low-level Army intelligence analyst. Manning ultimately served seven years of her sentence before she was released in May.
"I stand by my pardon of Sheriff Joe," Trump said.
Trump has been criticised for bypassing the typical Justice Department review process before granting the pardon to Arpaio. Months ago, the president asked Attorney General Jeff Sessions and Donald F. McGahn II, the White House counsel, if Arpaio's case could be dropped. He was told that it could not be, but that Trump was well within his presidential authority to pardon Arpaio.
Arpaio, 85, served for 24 years as sheriff of Maricopa County. He built a national reputation for harsh conditions in his county jail, and for cracking down against unauthorised immigrants. He lost a re-election bid for a seventh term last year, promptly blaming the Obama administration for the criminal contempt charges that were filed against him on 26 October for persisting with profiling Latinos.
"He would have won the election, but they just hammered him just before the election," Trump said. "I thought this was a very, very unfair thing to do."
During the news conference, Trump also pledged the federal government's full support to residents of Texas and Louisiana who are being battered by Harvey, which has since been downgraded to a tropical storm. Promising quick delivery of a multibillion-dollar aid package to the storm's victims, the President said, "We are 100 percent with you."
He spoke as rains from Harvey continued to pound the Houston area, stranding thousands of residents in waters that were expected to keep rising. Trump plans to travel Tuesday to Corpus Christi, Texas, to survey the damage and storm response. He promised "rapid action" on securing emergency funding to address the damage, saying he planned to move quickly — and he expected Congress to do so, as well.
"You see such incredible work and love and teamwork," said Trump, summoning a message of unity after a period in which his response to racial violence in Charlottesville, Virginia, had been called divisive. "We are one American family. We hurt together, we struggle together and, believe me, we endure together."
Trump offered his condolences to Niinisto for an 18 August attack by a knife-wielding man that killed two people in the town of Turku in western Finland. Trump sidestepped a question about whether he considers Russia — which held military exercises last month in the Baltic Sea — a threat.
Trump said that many countries are a threat, and that "I hope that we do have good relations with Russia."
The New York Times reported Monday that one of the president's business associates promised in 2015 to engineer a real estate deal — which would help Trump win the election — with the aid of President Vladimir Putin of Russia.
The aftermath of Hurricane Harvey

Show all 19
"I say it loud and clear, I've been saying it for years: I think it's a good thing if we have great relationships or at least good relationships with Russia," Trump said. "That's very important."
Niinisto skirted a question about whether he had advised Trump on security threats Russia may pose. "We are not feeling ourselves as advisers, but we are feeling ourselves as doing all what is possible to maintain peace," Niinisto said.
The New York Times
Register for free to continue reading
Registration is a free and easy way to support our truly independent journalism
By registering, you will also enjoy limited access to Premium articles, exclusive newsletters, commenting, and virtual events with our leading journalists
Already have an account? sign in
Register for free to continue reading
Registration is a free and easy way to support our truly independent journalism
By registering, you will also enjoy limited access to Premium articles, exclusive newsletters, commenting, and virtual events with our leading journalists
Already have an account? sign in
Join our new commenting forum
Join thought-provoking conversations, follow other Independent readers and see their replies