Man in Donald Trump shirt allegedly attacked after using racial slur
The confrontation highlights the atmosphere of aggressive racial tension sparked by the Trump campaign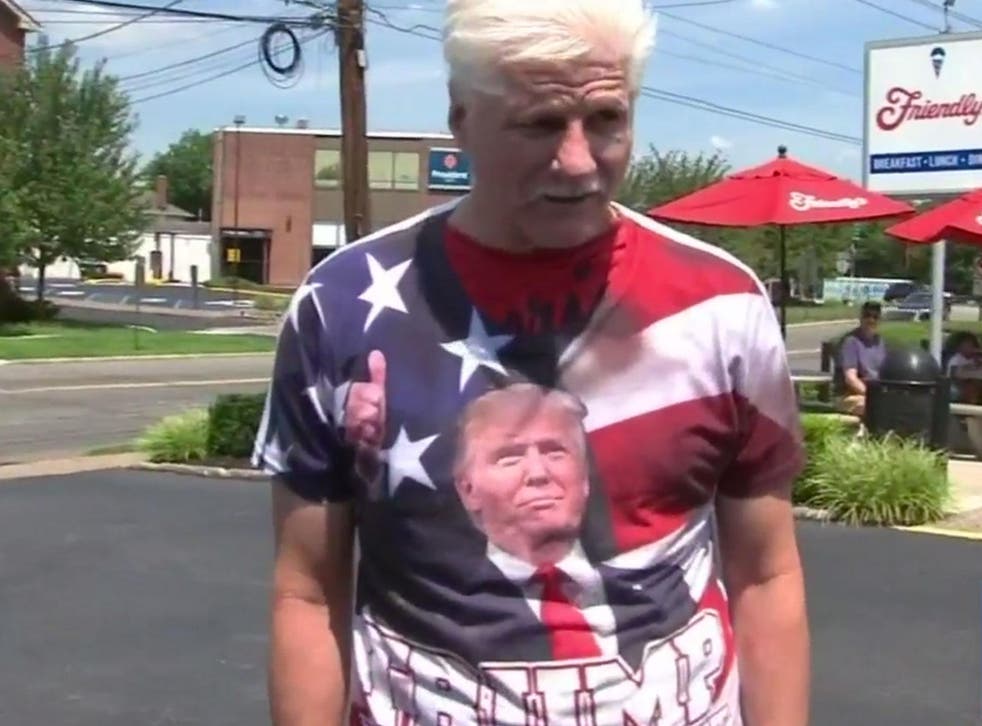 A New Jersey man says he was assaulted after he was confronted for wearing a Donald Trump T-shirt.
Peter Yankowski, 62, told News12 that the alleged suspect – described by police as a black man in his 20s – drove alongside him on a busy Bloomfield road as he was walking to a neighbourhood Friendly's restaurant.
The confrontation underscores the atmosphere of racial tension created by the Republican nominee's candidacy, which has drawn the support of White Nationalist groups in the US.
"[He] called me white trash, cursed me out, gave me the finger," Mr Yankowski said. "I yelled back a few expletives."
After the initial confrontation, Mr Yankowski said he went inside of the restaurant for some ice cream when the suspect returned holding a blunt metal object.
According to a witness, Mr Yankowski yelled racial slurs at the suspect, whom she said was also at the restaurant getting ice cream. Her account challenges Mr Yankowski's narrative that he was followed into the restaurant.
Donald Trump says Putin called Obama the 'N-Word'
"He goes like, 'You're a n***er. You're not even supposed to be here. This is a white people spot'," Friendly's employee Mimi Sonmez told reporters.
She said that the two stepped outside when she saw the younger man "trying to hit him with the metal".
Police said Mr Yankowski was hit multiple times on the arm and was treated at the scene.
When asked if he did, in fact, use the racial slur, Mr Yankowski whispered, "Yes."
"I just wish I had the nerve to keep on walking and disregard it," he added. "But I guess he struck a nerve."
Mr Yankowski said he will not wear the Donald Trump shirt again until November.
The Trump campaign has received steady criticism over the candidate's seeming unwillingness to condemn the racialised violence that surrounds it.
The Southern Poverty Law Centre recently rebuked the New York businessman's campaign, saying he has done little to dampen the rancor of his supporters from white supremacist circles – particularly when violent incidents occur at his events.
"Rather than tamping down the raucous racism and violence at Trump rallies and at white nationalist events praising Trump," they wrote, "the frequency of these incidents has risen, along with the abiding enthusiasm of neo-Nazis, white nationalists, and various far-right extremists for the GOP nominee."
Register for free to continue reading
Registration is a free and easy way to support our truly independent journalism
By registering, you will also enjoy limited access to Premium articles, exclusive newsletters, commenting, and virtual events with our leading journalists
Already have an account? sign in