Donald Trump slams 'heartless' Hillary Clinton for wanting to take Americans' guns away
Once a supporter of tougher gun control, Trump will now have none if it, throws red meat to NRA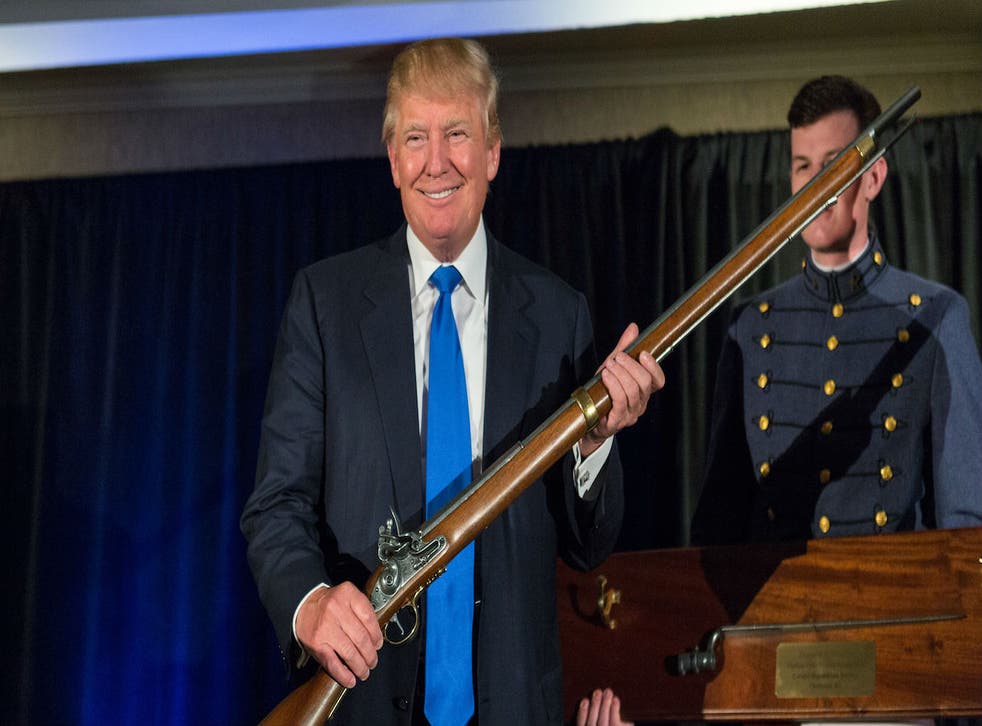 Donald Trump traded his usual "crooked Hillary" nickname for his likely Democrat opponent in the presidential election in November, Hillary Clinton, using an appearance at the National Rifle Association (NRA) annual convention to label her "heartless Hillary" instead.
The former first lady and likely Democratic standard-bearer will render Americans everywhere helpless in the face of violence by taking away their firearms, Mr Trump told an enthusiastic audience. "And that's why we are going to call her heartless Hillary".
In one of the less surprising turns in the election derby thus far, the NRA, the main force championing gun ownership rights in America and fighting any and all attempts to pass gun control, said on Friday it was endorsing the New York billionaire for president.
"If your preferred candidate dropped out of the race, it's time to get over it," the organisation tweeted, shortly before Trump took the stage in Louisville, Kentucky.
What to do about America's scourge of gun violence, marked by a seemingly endless march of mass shootings - or not do about it - is almost certain to become an area of sharp debate and disagreement between the two party's candidates as the November election approaches.
President Barack Obama has publicly lamented his failure to persuade Congress to enact meaningful legislation even in the aftermath of the Newtown school shooting two years ago that left 26 people dead, most of them small children. Ms Clinton has vowed to press the issue even harder, often portraying her Democratic rival, Bernie Sanders, as being to soft on the issue.
People who will flee America if Donald Trump wins

Show all 8
By contrast, Mr Trump has repeatedly argued at rallies that far fewer victims would have died at incidents like the Paris terrorist massacre last year or the mass shooting in San Bernardino, California, shortly before Christmas, if the victims had been carrying their own weapons.
Even as Mr Trump was speaking in Kentucky, the news networks jumped to Washington DC where an apparent would-be intruder at the White House was shot in the stomach by the Secret Service.
Warming up the crowd in Louisville, NRA Director Chris Cox said Ms Clinton "has a legitimate chance to be the next president as long as people like us stay home, stay on the sidelines," adding: "We have to defeat her, because America can't survive eight years of her policies."
Throwing red meat to an eager audience, Mr Trump said Ms Clinton would "abolish the Second Amendment", the sacred text to the NRA referencing the rights of Americans to bear arms. The convention doubles as a political echo chamber for guns rights advocates and a massive sales exhibition for enthusiasts looking for the latest in, say, colored rifles for children, or petite pistols for weekend shopping visits to the mall (where allowed).
"There is a tremendous crime of all kinds" in America, Mr Trump announced, giving no quarter to those who would argue that much of that crime involves use of deadly guns.
"Hillary wants to disarm vulnerable Americans in high-crime neighborhoods," he offered. "Whether it's a young single mom in Florida or a grandmother in Ohio, Hillary wants them to be defenseless. Wants to take away any chance they have of survival," he added.
Ms Clinton has insisted she respects the Second Amendment to the Constitution, but does advocate a series of measures to make gun ownership safer, including a reinstatement of a federal ban on the sale of assault weapons and reinforcement of background checks for anyone buying guns.
In a 2000 book, Mr Trump said he supported an assault weapons ban and favoured extending waiting times for anyone to buy a gun. He has since abandoned both positions and said he would like to make it easier for law-abiding citizens to purchase firearms. He also has spoken specifically of ending "gun freeze" zones and allowing school staff to carry guns in classrooms.
Register for free to continue reading
Registration is a free and easy way to support our truly independent journalism
By registering, you will also enjoy limited access to Premium articles, exclusive newsletters, commenting, and virtual events with our leading journalists
Already have an account? sign in
Register for free to continue reading
Registration is a free and easy way to support our truly independent journalism
By registering, you will also enjoy limited access to Premium articles, exclusive newsletters, commenting, and virtual events with our leading journalists
Already have an account? sign in
Join our new commenting forum
Join thought-provoking conversations, follow other Independent readers and see their replies