Donald Trump spokeswoman threatens to wear aborted foetus on live television
Katrina Pierson on Tuesday fired back at social media criticism over her bullet necklace 
Massoud Hayoun
New York
Wednesday 30 December 2015 18:00 Comments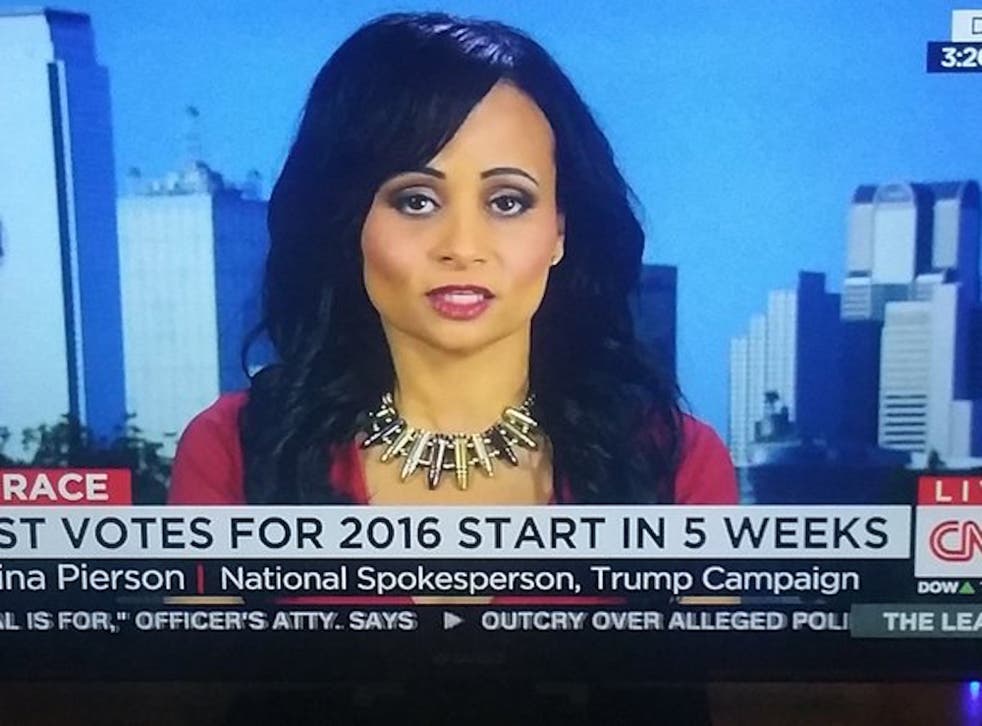 Donald Trump's spokeswoman has threatened to wear an aborted foetus on live television following outrage over a bullet necklace she wore in a recent CNN interview.
Katrina Pierson at an interview this week on an exchange of rhetorical barbs between Mr Trump and his Democratic adversary Hillary Clinton wore a necklace made of multi-colored bullets, strung together.
Founder of gun control advocacy group Moms Demand Action for Gun Sense in America, Shannon Watts, lambasted the controversial accessory on Twitter, writing, "Surely @KatrinaPierson wore bullet necklace on #CNN to bring attention to 90 Americans fatally shot daily #gunsense".
Dondald Trump - Hillary got 'schlonged'
Ms Pierson quickly shot back: "Maybe I'll wear a fetus next time& bring awareness to 50 million aborted people that will never ger to be on Twitter".
It remains unclear where Ms Pierson found the 50 million figure. Under 700,000 legal elective abortions were performed in 2012, according to the latest statistics from federal health authority the Centers for Disease Control.
Register for free to continue reading
Registration is a free and easy way to support our truly independent journalism
By registering, you will also enjoy limited access to Premium articles, exclusive newsletters, commenting, and virtual events with our leading journalists
Already have an account? sign in
Join our new commenting forum
Join thought-provoking conversations, follow other Independent readers and see their replies