Donald Trump caught on camera in 'furious row' with Steve Bannon
'Expletive-ridden' debate in Trump's inner circle captured by CNN
Rachel Roberts
Monday 06 March 2017 23:57 Comments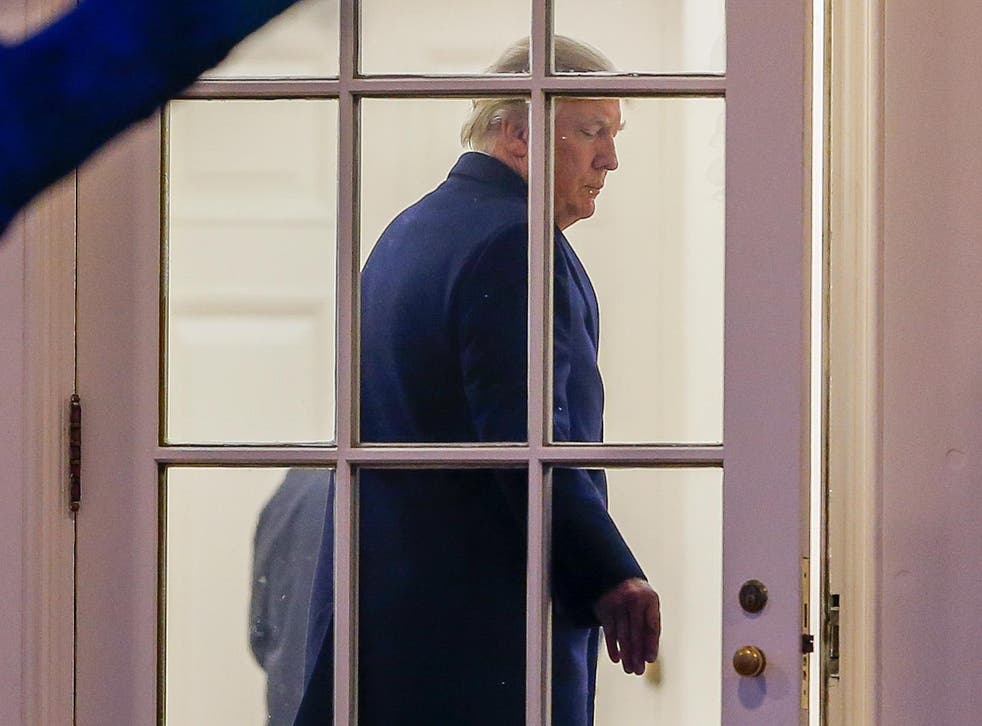 A furious discussion between Donald Trump and his chief strategist Steve Bannon was caught on camera just hours before the President made his extraordinary claim that Barack Obama had wiretapped his phones.
Although it is not clear what the animated debate was about, Mr Bannon can be seen gesticulating wildly at the President through the Oval Office window as Mr Trump's daughter Ivanka, son-in-law Jared Kushner and spokesman Sean Spicer watch on. White House Chief of Staff Reince Preibus was reportedly also present.
The meeting took place following reports that Mr Trump was furious with his staff for allowing his address to Congress last week to be overshadowed by the controversy surrounding Attorney General Jeff Sessions meeting with the Russian ambassador.
The President is reported to have unleashed his frustrations on Mr Bannon and Mr Priebus for failing to stage-manage the controversy surrounding Mr Sessions.
Mr Trump is believed to have told the two men they would not be flying with him to his Mar-a-Lago resort in Florida where he spent the weekend.
Mr Sessions excused himself from all from all FBI investigations into the Trump campaign's alleged links with Russia last week, causing a media firestorm which eclipsed the President's relatively well-received address to Congress in which he adopted a more conciliatory tone than usual.
The apparent row suggests all is not well within the Trump inner circle after the opening weeks of his Presidency, which have been marred by controversy.
Sources told CNN the Oval Office conversation contained "a lot of expletives" and that "nobody has seen him that upset."
Mr Bannon, a former executive of right wing news site Breitbart, is regarded as Mr Trump's closest adviser, chief strategist and ideologue in a tight-knit group of officials who decide US policy. He headed up the final weeks of the triumphant Trump campaign for the White House and was rewarded with a plum role.
Mr Priebus is former chairman of the Republican National Committee, who endorsed Mr Trump while other party grandees distanced themselves from the tycoon's bid for Presidency.
Mr Trump has demanded Congress investigate his claim that Mr Obama ordered a wiretap on his phones during the election campaign last year – but politicians from both sides have asked the President to provide evidence to substantiate his claims.
Register for free to continue reading
Registration is a free and easy way to support our truly independent journalism
By registering, you will also enjoy limited access to Premium articles, exclusive newsletters, commenting, and virtual events with our leading journalists
Already have an account? sign in
Register for free to continue reading
Registration is a free and easy way to support our truly independent journalism
By registering, you will also enjoy limited access to Premium articles, exclusive newsletters, commenting, and virtual events with our leading journalists
Already have an account? sign in
Join our new commenting forum
Join thought-provoking conversations, follow other Independent readers and see their replies