US would 'definitely consider' further action in Syria and signals role in regime change
'If you barrel bomb innocent people, you will see a response from this President'
Emily Shugerman
New York
Monday 10 April 2017 23:20 Comments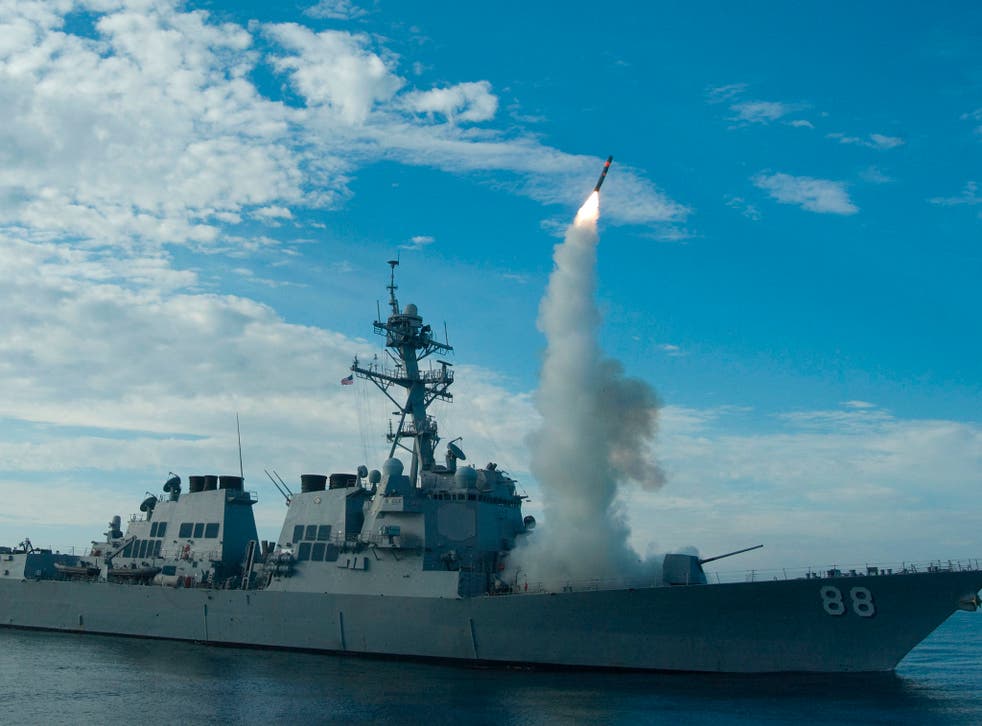 The White House has said it would "definitely consider" further military action in Syria, following last week's missile launches against a Syrian airbase in response to a suspected chemical attack that left more than 80 civilians dead.
The Trump administration has also signalled it could play a role in forcing regime change in the country, with Press Secretary Sean Spicer telling reporters that the US government "can't imagine a stable and peaceful Syria with Assad in charge".
Syrian President Bashar al-Assad is believed to have used the nerve gas Sarin in the attack last Tuesday.
"When you watch babies and children being gassed, and suffer under barrel bombs, you are instantaneously moved to action," Mr Spicer told reporters.
"This President has made it very clear that if those actions were to continue, further action would definitely be considered by the United States."
But Mr Spicer also reiterated that the US role in the country remained to "defeat Isis", ahead of removing Assad from power.
On Thursday Mr Trump ordered air strikes against a military base where officials believed the Syrian government was storing chemical weapons used in the earlier attack.
Announcing the strike, Mr Trump deemed the chemical attacks "barbaric", and called on the rest of the world to "join us in seeking to end the slaughter and bloodshed in Syria".
Mr Spicer said the White House now had two key aims in Syria: first focusing on defeating Isis, then creating conditions for new political leadership in the war-torn country.
Secretary of State Rex Tillerson echoed this position on Monday, and said that defeating Isis was the first priority of the Trump administration.
However, he did not voice support for seeking a US role in regime change in the country.
"Once we can eliminate the battle against [Isis], conclude that, and it is going quite well, then we hope to turn our attention to ceasefire agreements between the regime and opposition forces," he told ABC.
But the United States' UN Ambassador Nikki Haley also indicated regime change for Syria was desirable. She told CNN that the administration "cannot see a peaceful Syria with Assad in power".
Mr Spicer attempted to smooth over the discord on Monday, telling reporters the statements were "are not mutually exclusive".
'The US will not passively stand by'
US Defence Secretary James Mattis also threw his support behind the decision to launch air strikes against Syria, saying the Syrian government "would be ill-advised ever again to use chemical weapons".
"The President directed this action to deter future use of chemical weapons and to show the United States will not passively stand by while Assad murders innocent people with chemical weapons, which are prohibited by international law," he said.
General Mattis' remarks came as a senior US official told the Associated Press that the US had concluded that Russia knew in advance of Syria's plans for the attack.
The strong rhetoric comes just days after Russia and Iran warned the US they would "respond with force" if their own "red lines" were crossed in Syria.
Some commentators suggested that Mr Trump's air strikes – the first direct military action the US has taken in Syria – signified a more globalist position for the President, who has previously advocated isolationist policies.
But Mr Spicer insisted that American security was the White House's prime motivation.
Asked to define the "Trump Doctrine" on foreign policy, Mr Spicer repeated a familiar phrase: "America first".
"We have to have a defined national interest whenever we act," Mr Spicer said.
On Thursday, Mr Trump defined the national interest as being to "prevent and deter the spread and use of deadly chemical weapons".
Register for free to continue reading
Registration is a free and easy way to support our truly independent journalism
By registering, you will also enjoy limited access to Premium articles, exclusive newsletters, commenting, and virtual events with our leading journalists
Already have an account? sign in
Join our new commenting forum
Join thought-provoking conversations, follow other Independent readers and see their replies