Donald Trump's break with US policy in phone call with Taiwan president risking China fury
China lodges protest over phone call - the first by a US president or president-elect since 1979 - as Taiwan urges 'calm'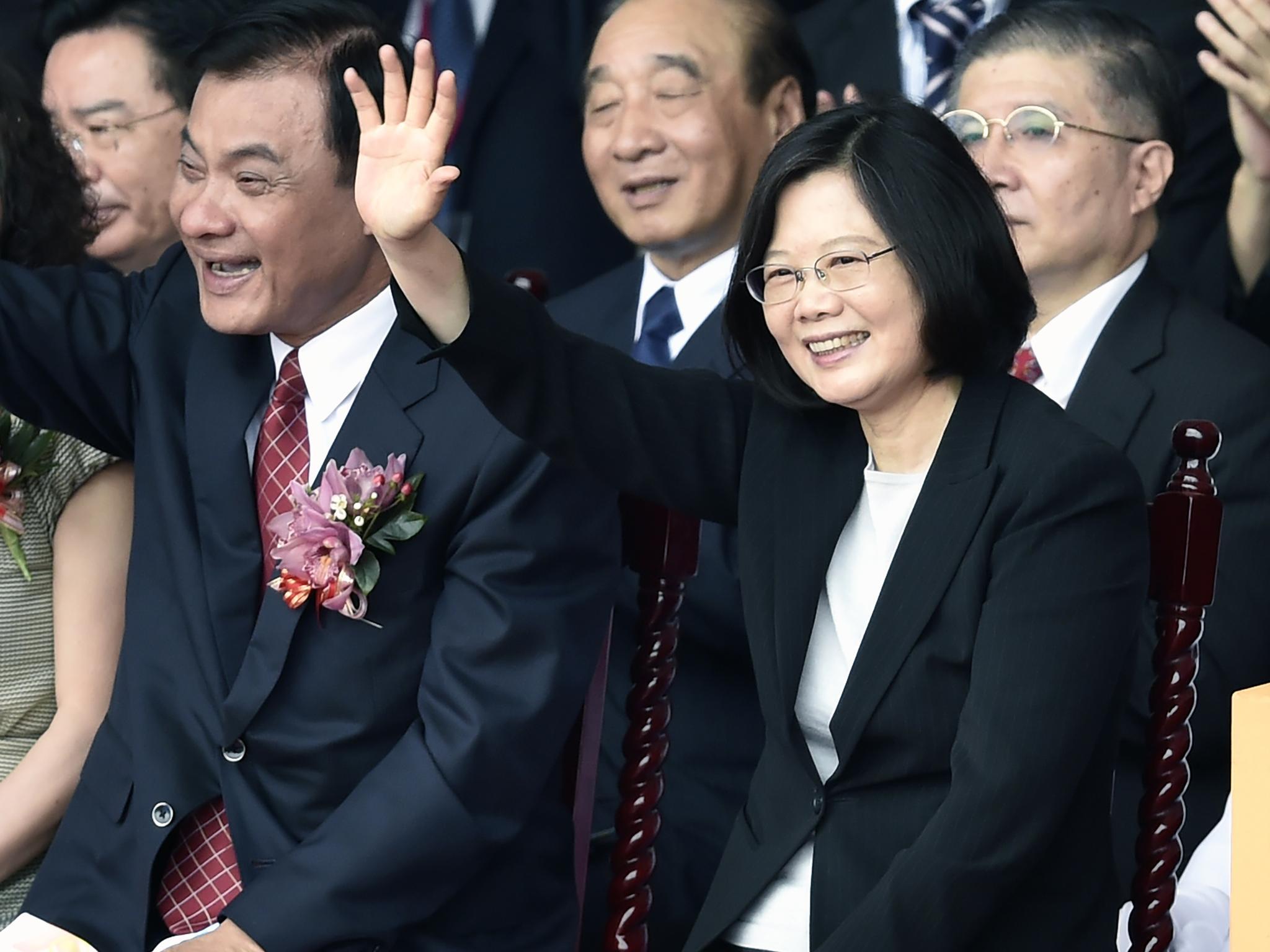 President-elect Donald Trump has spoken directly with Taiwan President Tsai Ing-wen - breaking with nearly four decades of US policy - in a move protested by China.
The 10-minute telephone call with Taiwan's leadership was the first by a US president-elect or president since President Jimmy Carter switched diplomatic recognition from Taiwan to China in 1979, acknowledging Taiwan as part of "One China".
China's Foreign Ministry said on Saturday that it had lodged a protest with the "relevant side" in the United States - with experts saying that officials in Beijing will have been angered by the call.
Shortly after reports broke about the call, Mr Trump issued a tweet saying that Ms Tsai called him. However, according to a Taipei Times report the call was apparently "arranged by his Taiwan-friendly campaign staff".
"The President of Taiwan CALLED ME today to wish me congratulations on winning the Presidency. Thank you!" Mr Trump tweeted, but Alex Huang, a spokesman for Ms Tsai, said later: "Of course both sides agreed ahead of time before making contact." .
The Trump transition team confirmed that the pair spoke in a statement, but did not disclose who called whom.
"President-elect trump spoke with President Tsai Ing-wen, who offered her congratulations," they wrote. "During the discussion, they noted the close economic, political, and security ties [that] exist between Taiwan and the United States. President-elect Trump also congratulated President Tsai on becoming President of Taiwan earlier this year."
It is not clear whether the New York businessman intended to signify a change in US diplomacy. The White House learned of the conversation after it had taken place, said a senior Obama administration official. Regardless of Mr Trump's true intentions, the act is likely to provoke a response from China.
"The Chinese leadership will see this as a highly provocative action, of historic proportions," former Asia director at the White House national security council, Evan Medeiros, told the Financial Times.
"Regardless if it was deliberate or accidental," he added, "this phone call will fundamentally change China's perceptions of Trump's strategic intentions for the negative.
Donald Trump's most controversial quotes
Show all 14
"With this kind of move, Trump is setting a foundation of enduring mistrust and strategic competition for US-China relations."
Hours after Friday's call, Chinese Foreign Minister Wang Yi blamed Taiwan for the exchange, perhaps looking to avoid a major rift with Washington just before Mr Trump assumes the presidency.
"This is just the Taiwan side engaging in a petty action, and cannot change the 'One China' structure already formed by the international community," Mr Wang said at an academic forum in Beijing, state media reported.
The US first adopted the 'One China' policy in 1972 following meetings between then President Richard Nixon and Chairman Mao Tse-tung. The agreement was finally solidified by Jimmy Carter. Under that policy, the US recognises Beijing as representing China, but retains unofficial ties with Taiwan.
On Saturday, Taiwan's policy making body on China said Beijing must look at the call "calmly".
"We call on China to face the new situation in the Asia-Pacific region and work with us towards developing a benign cross-strait relationship," the Mainland Affairs Council said in a statement, referring to the stretch of water between the two sides.
China considers Taiwan a wayward province and has never renounced the use of force to bring it under its control. Relations between the two sides have worsened since Ms Tsai, who heads the pro-independence Democratic Progressive Party, was elected president in January.
China's influential state-run tabloid the Global Times said in an online editorial that if Mr Trump really overturned the "One China" principle upon assuming office, it would create such a crisis with China he'd have little time to do anything else.
"We believe this is not something the shrewd Trump wants to do."
Washington remains Taiwan's most important political ally and sole arms supplier, despite the lack of formal diplomatic ties, the irony of which was not lost on Mr Trump.
"Interesting how the US sells Taiwan billions of dollars of military equipment but I should not accept a congratulatory call," Trump said in another tweet.
Mr Trump has eschewed tradition in other calls with foreign leaders since he won the US election, prompting the White House to encourage him to make use of the diplomatic expertise and counsel of the State Department.
The White House said after Trump's call that "longstanding policy" on China and Taiwan had not changed.
"We remain firmly committed to our 'One China' policy," said Ned Price, a national security spokesman for President Barack Obama. "Our fundamental interest is in peaceful and stable cross-Strait relations."
Trump adviser Kellyanne Conway said on CNN that Mr Trump was "well aware of what US policy has been" on Taiwan.
Other experts were also quick to call on China not to rush to judgement over the call. "[It] would be a mistake for Beijing and others to over-interpret the meaning of a phone call between President-elect Trump and the President of Taiwan," former Bush White House Asia adviser, Dennis Wilder, said.
Trump says China is 'raping' US.mp4
He continued: Mr Trump is "not steeped in the diplomatic history of US-China relations and probably has not been briefed by the Department of State on the US-China understandings on our unofficial ties to Taiwan. ...
"We are in uncharted territory with Trump foreign policy, and nations should give him some latitude as he forms his foreign policy team."
Throughout his campaign, Mr Trump had been overtly critical of US policies with China.
"We can't continue to allow China to rape our country," he said at a campaign rally in May.
Mr Trump's call with Ms Tsai comes only hours after China foreign ministry spokesperson's remarks of a new defence spending bill that suggests the US conduct military exchanges with Taiwan.
"China firmly opposes the United States and Taiwan carrying out any form of official contact or military exchange," Mr Geng said, as he urged the US to "scrupulously abide" by decades-old policy or risk damaging relations between the two countries.
Reuters contributed to this report