Donald Trump and Theresa May will discuss expansion of US-UK trade, says White House press secretary
The press secretary made his remarks at his first press briefing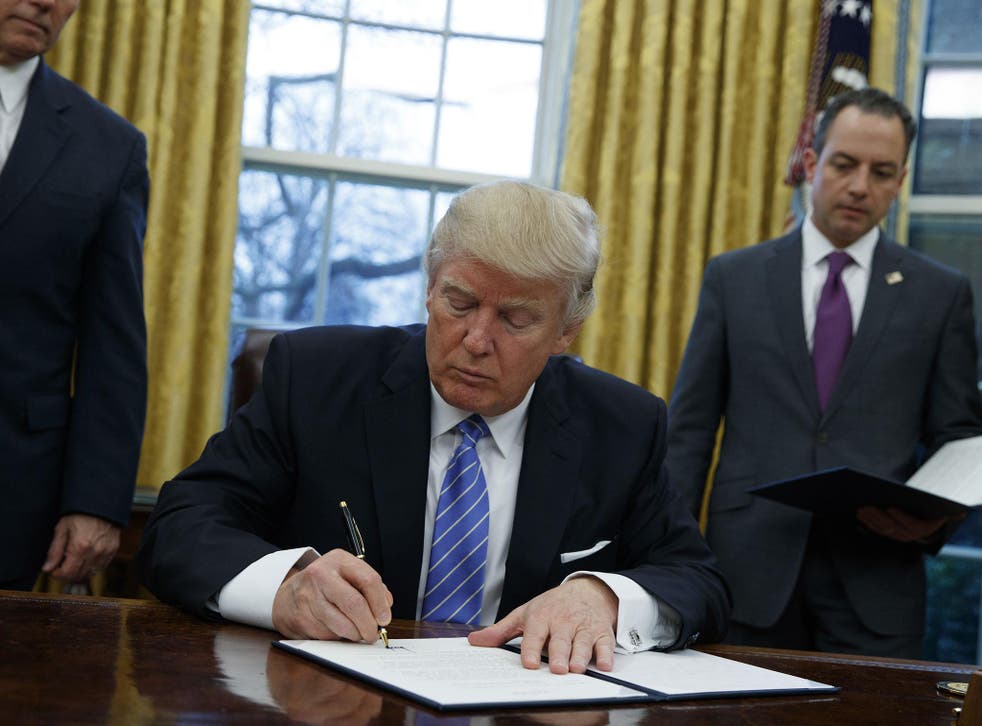 Donald Trump will discuss the expansion of UK-US trade with UK Prime Minister Theresa May when she visits Washington DC on Friday.
Mr Trump's press secretary Sean Spicer confirmed the meeting, the first booked in with a foreign leader, and the subject of discussion during his first official press briefing.
He added that trade might not be the focus of the conversation.
"I'm sure that there will be a discussion of trade ... the degree to which I don't know yet," Mr Spicer told reporters.
"He's going to have a great conversation about the potential for greater trade with the UK."
Mr Spicer added that he did not believe there were currently any plans for the two leaders to hold a joint news conference.
He added that Ms May was "the head of state", which is incorrect. The head of state in the UK is the Queen.
"I think we've always had that special relationship with Britain and that will reflect in the conversation there," he added.
"We can always be closer."
Theresa May confirms she will meet US president Donald Trump on Friday
There is huge pressure on Ms May to confirm an expansion of trade with the US in light of Mr Trump's isolationist trade policy and the Brexit referendum last June, which results in a re-negotiation of trade with every European country and around the world.
Mr Trump signed an executive order on Monday morning to shut down the Trans-Pacific Partnership, a controversial deal which was boosted under President Obama and was designed to increase trade across the Atlantic.
The Prime Minister told Andrew Marr last weekend that she will "not be afraid to challenge" the President if he says or does anything that she feels is "unacceptable" - including his degrading comments about women.
"I will be talking to Donald Trump about the issues we share and how we can build on the special relationship," she said.
"It is the special relationship that allows us to say when something is unacceptable.
"Whenever there is something I find unacceptable, I won't be afraid to say that to Donald Trump."
Join our new commenting forum
Join thought-provoking conversations, follow other Independent readers and see their replies