Donald Trump met by angry protesters chanting 'New York hates you' on return to Trump Tower
Demonstrators gather to express fury at President's seeming reluctance to condemn fatal white nationalist violence at Ku Klux Klan rally in Charlottesville, Virginia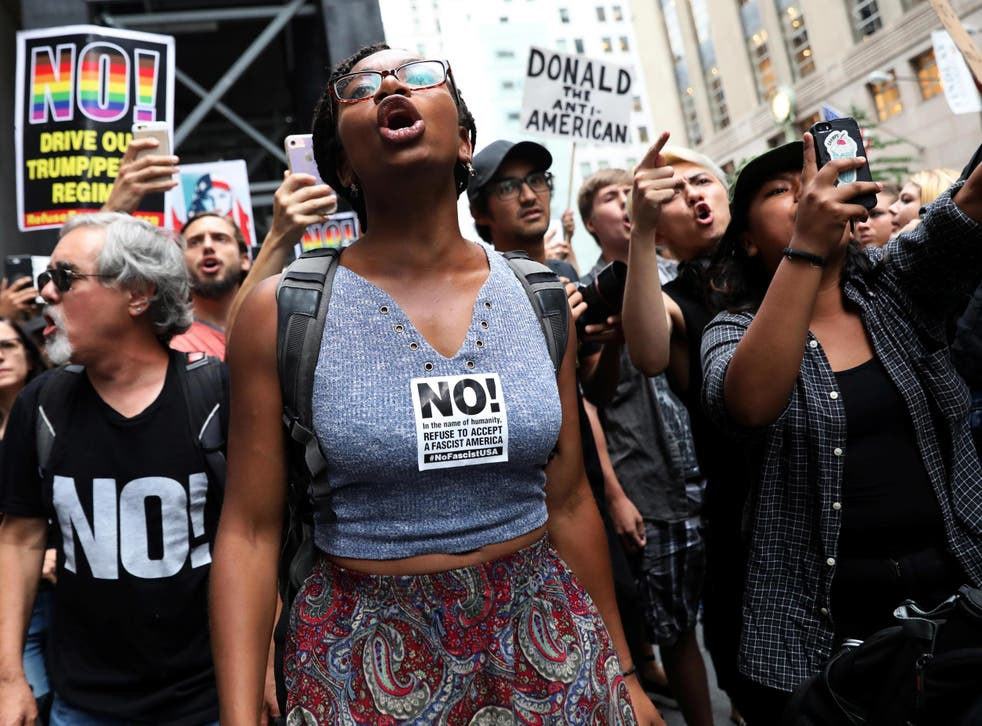 President Donald Trump has arrived at his New York home for the first time since his inauguration as a throng of protesters lined the street.
The President's motorcade pulled up to Trump Tower on Monday night while avoiding the protesters, who chanted "New York hates you" and "shame, shame, shame" while awaiting him.
Thousands of protesters had lined Manhattan's Fifth Avenue to await him, along with a group of supporters numbering in the dozens.
The protesters carried signs with such messages as "impeach" and "stop the hate, stop the lies". Supporters shouted "God bless President Trump".
Security is heavy around the skyscraper. Police have stationed sand-filled sanitation trucks as barriers around the building and layers of metal police barricades around the main entrance.
Among the protesters was the Reverend Jan Powell, a retired United Church of Christ minister.
She said she is concerned by the Republican president's response to the white supremacist rally that descended into violence on Saturday in Virginia.
Mr Trump initially blamed "many sides" for the violence, before later saying "racism is evil".
Police said two people have been arrested on disorderly conduct charges near Trump Tower, during the demonstration against the President.
The protesters began leaving following the President's arrival at Trump Tower.
Violence on the streets of Charlottesville

Show all 9
He tweeted: "Feels good to be home after seven months, but the White House is very special, there is no place like it... and the US is really my home!"
Mr Trump has said he would "love" to go home to Trump Tower more often but it is "very disruptive to do".
Associated Press
Register for free to continue reading
Registration is a free and easy way to support our truly independent journalism
By registering, you will also enjoy limited access to Premium articles, exclusive newsletters, commenting, and virtual events with our leading journalists
Already have an account? sign in
Register for free to continue reading
Registration is a free and easy way to support our truly independent journalism
By registering, you will also enjoy limited access to Premium articles, exclusive newsletters, commenting, and virtual events with our leading journalists
Already have an account? sign in
Join our new commenting forum
Join thought-provoking conversations, follow other Independent readers and see their replies