Former Goldman Sachs banker Steven Mnuchin confirms he is Trump's pick for Treasury Secretary
Mnuchin earlier served as national finance chair for Trump's campaign but has no formal government experience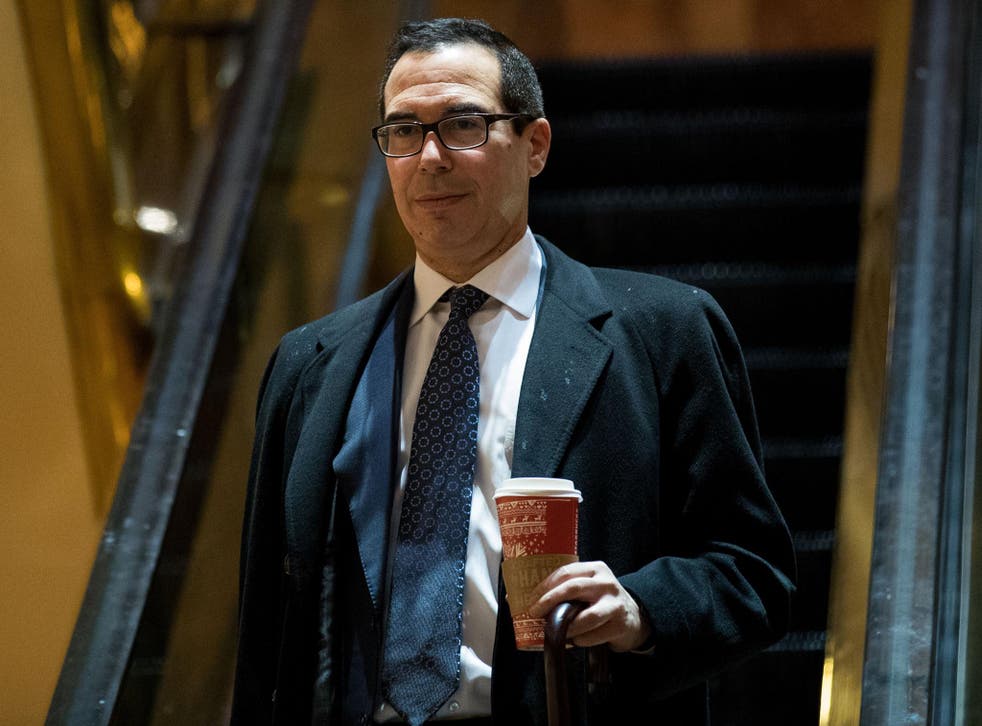 Steven Mnuchin, an ex-banker for Goldman Sachs turned Hollywood movie financier with no government experience, has confirmed he has been tapped to serve as President-elect Donald Trump's Treasury Secretary.
Mr Mnuchin, 53, joined the Trump campaign as finance chairman in May. He confirmed his selection during a joint interview with billionaire investor Wilbur Ross, who has been tapped for Commerce Secretary, ahead of an official statement.
Mr Trump campaigned repeatedly accused his opponent Hillary Clinton of being in the pocket of Wall Street executives who "robbed" working class Americans. The appointment of Mr Mnuchin – who spent years as a Goldman chief executive – signifies yet another shift from the President-elect's major campaign promises.
Mr Mnuchin told CNBC on Wednesday his priority in his new job would be to cut corporate taxes and boost the economy.
"By cutting corporate taxes, we're going to create huge economic growth and we'll have huge personal income," he said
Donald Trump's controversial cabinet
"Any reductions we have in upper income taxes will be offset by less deductions so that there will be no absolute tax cut for the upper class," he added.
The former banker also said he believed the US economy could grow at a sustained rate of 3 to 4 per cent.
Mr Mnuchin will replace Jack Lew, the current Treasury secretary, who has spent most of his career in government or academia.
As Treasury Secretary Mr Mnuchin – who bankrolled such movies as Mad Max: Fury Road, Suicide Squad, The Lego Movie, and American Sniper – would help carry out many of Mr Trump's economic policies, including tax cuts and infrastructure spending. But he would also manage federal government debt, oversee banking regulations, and the Internal Revenue Service.
President-elect Trump picked Tom Price as health secretary and Elaine Chao as transportation secretary on Tuesday.
World reaction to President Trump: In pictures

Show all 29
Mr Trump is expected to pick Wilbur Ross, the billionaire investor nicknamed "king of bankruptcy" for buying and restructuring beaten-down companies, as Secretary of Commerce, according to a senior transition official.
Join our new commenting forum
Join thought-provoking conversations, follow other Independent readers and see their replies