Donald Trump accused of 'running scared' over plan to sneak into UK with 24 hours' notice to dodge protests
'We're asking Britain to be on standby to take to the streets with just hours' notice if necessary', says Owen Jones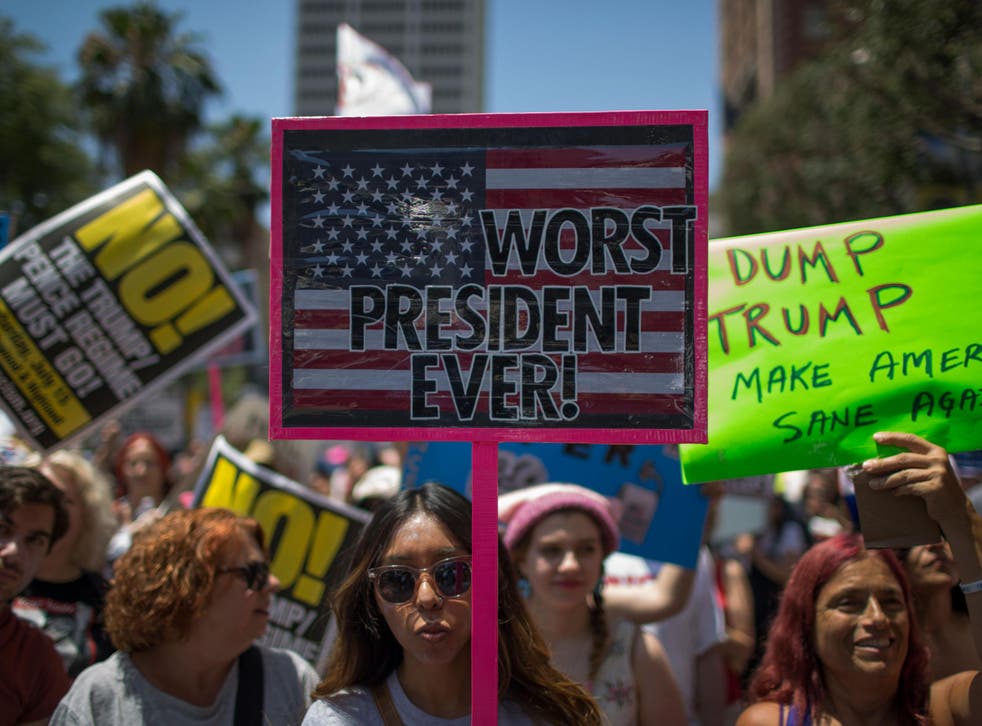 Donald Trump has been accused of running scared after it emerged that he could visit the UK in a matter of weeks with as little as 24 hours' notice, to prevent people from organising protests.
Columnist and co-founder of Stop Trump Coalition Owen Jones said: "Donald Trump is so cowardly he thinks he can sneak into the country to avoid protests.
"We have to prove him wrong. We're asking Britain to be on standby to take to the streets with just hours' notice if necessary."
Opponents of the US president are on "standby" for street demonstrations, following a petition against a state visit attracting more than 1.8 million signatures.
A spokesperson for anti-racism campaign HOPE not hate told The Independent: "Donald Trump has become one of the most divisive Presidents in living memory. Whether his travel ban on Muslims, his constant attacking of the media – a frequent tactic of despotic leaders – to his views on women, migrants and other vulnerable communities, as well as his erratic actions alienating allies and reactions to the Russian investigation, he has proven himself an unwelcome friend to the UK and we hope he stays far from our shores."
The charity War On Want were similarly inclined, and told the Daily Mail that Mr Trump's "bigotry and hatred… [are] not welcome here."
"Any attempt to sneak him into the country and offer Trump a veneer of respectability for his divisive and reactionary policies will be utterly rejected."
People on Twitter reacted the same way. Alicia wrote: "Fully prepared to call off work in order to go and protest Donald Trump's surprise arrival to the UK."
Another wrote: "So #DonaldTrump could be popping by but won't give an exact date for fear of protests. Do we want him here? No! Will we protest? Yes!"
"Trump wants to sneak into London in the dead of night because he's scared of protestors," a third wrote.
A White House source told The Sunday Times: "There is a window of opportunity for the President to visit Britain when he is in Europe later this month.
"It is likely it will be hastily arranged and it is possible no official confirmation of his visit will be given until at least 24 hours before to stop any large-scale protests against his visit from being mobilised."
Theresa May's personal invitation to the US president to visit the UK in June was reportedly postponed in order to avoid protests.
Renewed criticism of the President's actions on social media follows a tweet which shows him "beating up CNN". It has emerged that the video appears to be sourced from a reddit user who also posted content which advocated Islamophobic violence.
Join our new commenting forum
Join thought-provoking conversations, follow other Independent readers and see their replies