US Army undermines Donald Trump by 'liking' comedian Mindy Kaling's tweet mocking President's 'genius' claim
Social media gaffe follows Pentagon accidentally retweeting unflattering post regarding administration in November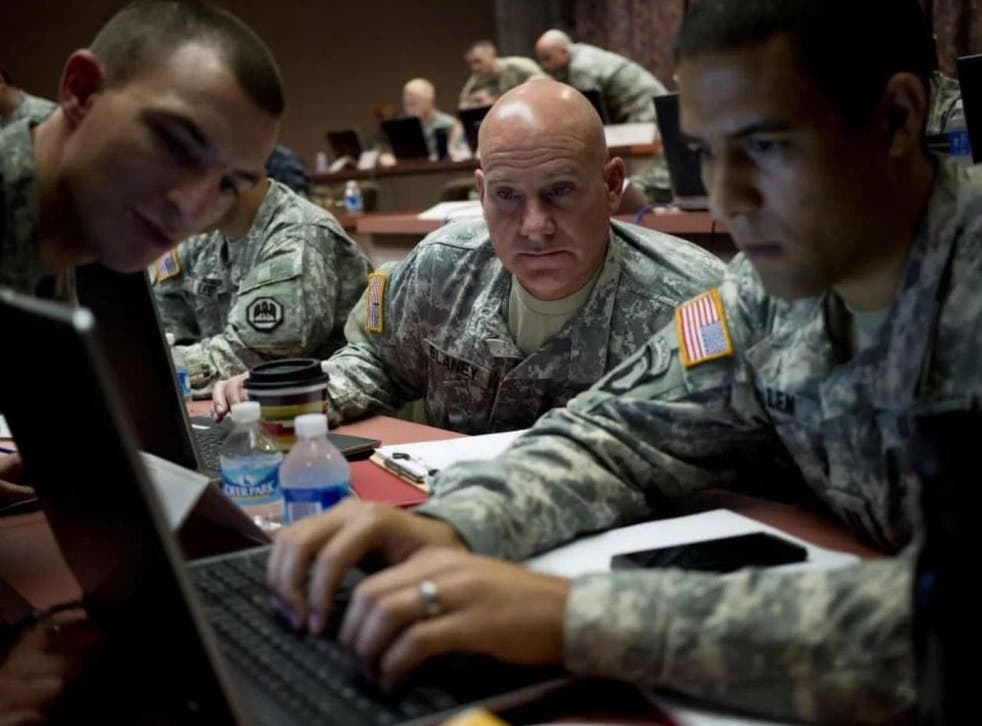 US Army media officials designed Saturday to be one of the biggest public awareness days of the year. It accidentally may have pulled that off.
The All-American Bowl, a nationally televised high school football game featuring the top talent in the country, was held on 6 January and sponsored by the Army for the 17th straight year. At the tune of $9 million, the game is one the service's main marketing thrusts, tapping into soon-to-be high school graduates - its main recruitment pipeline.
But the Army may have inadvertently drawn more eyes to its glaring Twitter misfire over the weekend by liking The Office and The Mindy Project star Mindy Kaling's apparently critical tweet of President Trump, amid speculation over his mental fitness.
Trump, in a three-tweet salvo defending against critical remarks in journalist Michael Wolff's new book, Fire and Fury: Inside the Trump White House, said he was a "very stable genius." That language generated much discussion and analysis, as did a very specific word and comma combination.
"Actually, throughout my life, my two greatest assets have been mental stability and being, like, really smart," Trump said in his second tweet.
Just a few hours after Trump's tweet, Kaling posted a meme of her character Kelly Kapoor on Twitter with a line of dialogue - "You guys, I'm like really smart now, you don't even know it" - from The Office, drawing attention to the president's choice of words.
It also drew attention of the Army's official Twitter account, which has the largest following of the military services. An operator of the page liked Kaling's tweet even though hers is not among the 542 accounts it follows.
"An operator of the Army's official Twitter account inadvertently 'liked' a tweet whose content would not be endorsed by the Department of the Army. As soon as it was brought to our attention, it was immediately corrected," Army spokeswoman Lieutenant Colonel Nina Hill said on Monday.
The mistake was similar to a November incident involving the Pentagon's official Twitter account. The page retweeted a post demanding that Trump, Senator Al Franken, Democrat-Minnesota, and defeated US Senate candidate for Alabama Roy Moore leave politics amid sexual assault allegations. Pentagon spokeswoman Dana White said on Twitter afterward that "an authorised operator" of the account "erroneously retweeted content that would not be endorsed by the Department of Defense." That person noticed the error "and immediately deleted it," she said.
Military public affairs staffers undergo training before they receive the keys to official accounts, including instructions on keeping classified information secured and preventing digital triangulation from posts tagged with the sender's physical location. A publicly available slide presentation, done in the style almost uniformly derided by troops as "death by PowerPoint," advises social media mangers that "while it's good to have fun with social media, don't ever forget to maintain professionalism."
Kaling is far from Kapoor's sometimes oblivious, sometimes crafty gossip queen who frets over celebrities and her on-again, off-again relationship with temp Ryan Howard, played by BJ Novak. The actress, writer and director created her own show on Fox and Hulu and wrote two books.
After acknowledging the Army's mistake later Saturday evening, Kaling posted the Army's recruiting slogan with a buff arm and heart emoji.
Donald Trump's least presidential moments so far...

Show all 30
This year was the last for the Army to sponsor the All-American Bowl, but Kaling will seem to be everywhere in 2018, starring in the films A Wrinkle of Time and Ocean's Eight.
The Army did not respond to a question asking if it was exploring Kaling as a potential spokeswoman for young recruits.
The Washington Post
Register for free to continue reading
Registration is a free and easy way to support our truly independent journalism
By registering, you will also enjoy limited access to Premium articles, exclusive newsletters, commenting, and virtual events with our leading journalists
Already have an account? sign in
Register for free to continue reading
Registration is a free and easy way to support our truly independent journalism
By registering, you will also enjoy limited access to Premium articles, exclusive newsletters, commenting, and virtual events with our leading journalists
Already have an account? sign in
Join our new commenting forum
Join thought-provoking conversations, follow other Independent readers and see their replies