Donald Trump to shrink Utah national monument established by Barack Obama
Bears Ears designated a protected area by former president during final days in office
Tom Embury-Dennis
Wednesday 29 November 2017 14:02 Comments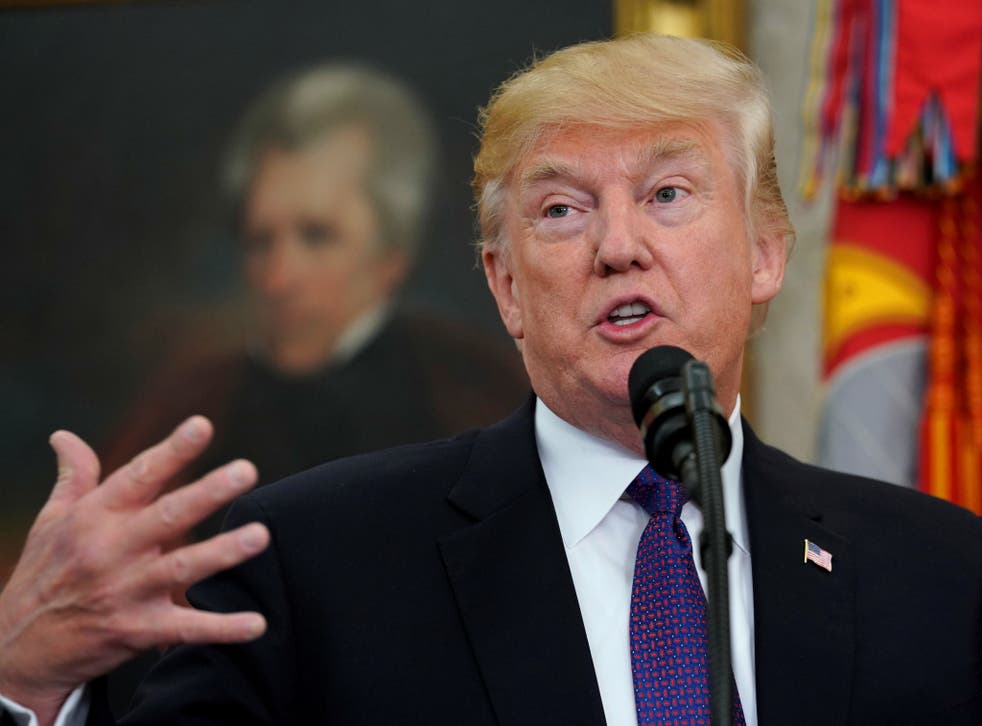 Donald Trump is set to shrink a protected area in Utah that was established by Barack Obama in the final days of his presidency.
The US President will visit Salt Lake City on Monday, where he is set to announce he will eliminate parts of the Bears Ears and Grand Staircase-Escalante National Monuments, reports The Salt Lake Tribune.
The 1.35m-acre Bears Ears was designated a national monument by Mr Obama, while former president Bill Clinton declared the 1.9m-acre Grand Staircase-Escalante in 1996.
The move will open up more land to drilling and mining companies and go against the wishes of five Native American tribes – the Hopi, Navajo Nation, Ute Mountain Ute Tribe, Pueblo of Zuni and the Ute Indian Tribe.
The President is not expected to visit either monument during the trip, sources familiar with the trip have told the newspaper.
Ryan Zinke, US Interior Secretary, recommended earlier this year boundary changes for at least three national monuments after Mr Trump ordered a review of all national monuments designated since 1996.
Donald Trump calls Elizabeth Warren 'Pocahontas' in front of Native American veterans
Mr Zinke said he would not seek to rescind any of the 27 of the parks he was asked to review, but did leave open the possibility of allowing drilling or mining.
Orrin Hatch, Senator for Utah, said in October he had been informed by the President that he planned to shrink the two sites.
"I was incredibly grateful the President called… to let us know that he is approving Secretary Zinke's recommendation on Bears Ears," Mr Hatch said in a statement.
His spokesman, Matt Whitlock, said Mr Trump told Mr Hatch he was approving shrinking the two monuments "for you, Orrin".
The move has been condemned by local Native Americans who say the land is sacred. They plan to launch legal action to stop any changes.
Donald Trump's least presidential moments so far...

Show all 30
"The tribes view this as an affront to themselves and their own self-determination," said Natalie Landreth, senior staff attorney for the Native American Rights Fund. "All of us, all five tribes, will be suing jointly the day he makes an announcement."
The Navajo Nation's top lawyer also said last month that the tribe would sue the Trump administration for violating the Antiquities Act, a century-old law that protects sacred sites, cultural artefacts and other historical objects, if it tried to reduce the size of the Bears Ears.
The lawyer, Navajo Nation Attorney General Ethel Branch, said: "The Navajo Nation stands ready to defend the Bears Ears National Monument. We have a complaint ready to file upon official action by the President."
Register for free to continue reading
Registration is a free and easy way to support our truly independent journalism
By registering, you will also enjoy limited access to Premium articles, exclusive newsletters, commenting, and virtual events with our leading journalists
Already have an account? sign in
Join our new commenting forum
Join thought-provoking conversations, follow other Independent readers and see their replies