Donald Trump calls for 'major investigation' into 2016 election voter fraud
Mr Trump said on Monday he still believes completely unverified claims that 'three to five million' illegal votes were cast in the election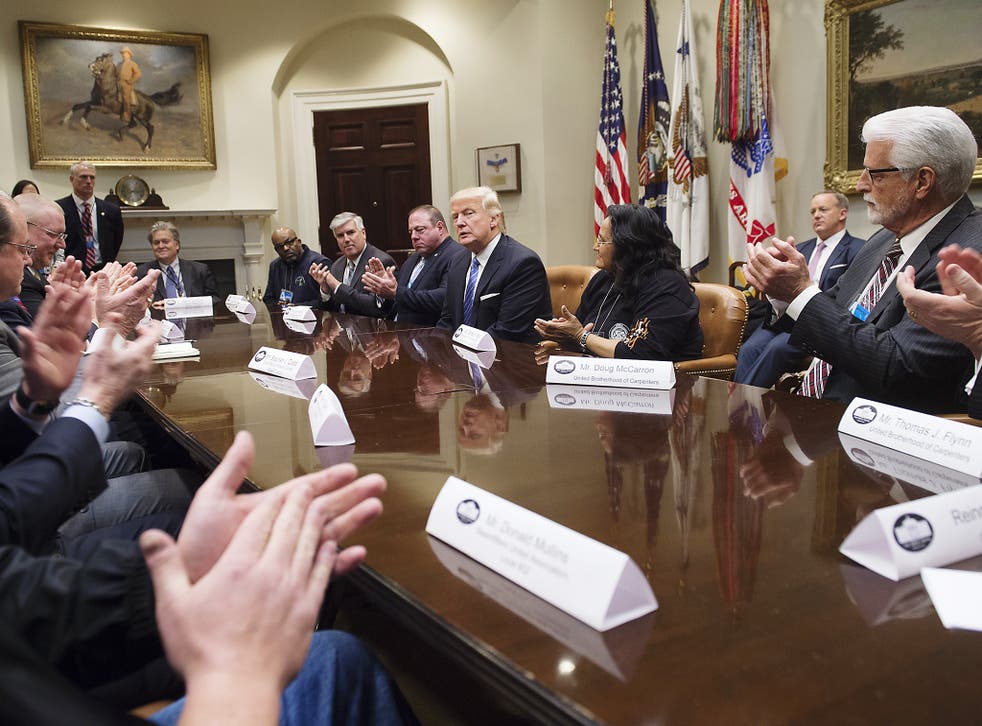 Donald Trump has said he will call for a "major investigation" into voter fraud in the 2016 election. Mr Trump's team have repeatedly suggested "millions" of illegal ballots swayed the result of the popular vote last year, which went in Hillary Clinton's favour, without presenting evidence.
The President tweeted on Wednesday morning: "I will be asking for a major investigation into VOTER FRAUD, including those registered to vote in two states, those who are illegal and ... even those registered to vote who are dead (and many for a long time). Depending on results, we will strengthen up voting procedures!"
Trump supporters have widely shared unverified claims, published by right-wing websites, that at least three million illegal immigrants were able to vote in the staunchly Blue states of California and New York.
Mr Trump brought up the claim during a meeting with congressional leaders on Monday night, referring to "three to five million illegals", to the confusion and dismay of senior Republicans.
And on Wednesday, Republican Senator John McCain said Mr Trump's assertions were unsubstantiated.
"There's no evidence of that and I think that those who allege that have to come up with some substantiation of the claim," he told MSNBC.
Former Arkansas Governor Mike Huckabee, a prominent Trump supporter, earlier in the week told Fox Business host Maria Bartiromo he did not understand why the President kept bringing the matter up.
"I have no evidence whatsoever, and I don't know that anyone does, that there were that many illegal people who voted and frankly it doesn't matter," he said.
The actual rate of voter fraud in the US is estimated to be between 0.00004 per cent and 0.0009 per cent, according to The Truth About Voter Fraud, a report written by experts at the Brennan Centre for Justice.
Democrats are worried that Mr Trump will use the claims about voter fraud to make it harder for people to register on the electoral roll. Studies suggest crackdowns on registration tend to impact low-income families and minority groups the most.
"The great political crisis we face is not voter fraud, which barely exists," Senator Bernie Sanders, who had sought the Democratic presidential nomination, urged in a Twitter post. "It's voter suppression and the denial of voting rights."
On Tuesday, the White House press secretary Sean Spicer said the illegal voting claims were "a longstanding belief [Mr Trump has] maintained".
"He continues to maintain that belief based on studies and evidence people have presented to him," Mr Spicer said.
When pressed on what those studies or sources were, Mr Spicer referred to a Pew Research study into the 2008 election "and other studies that have been presented to [him]".
The Pew study in question found that the voter roll included some names of people who had died, suggesting it was in need of being updated. There was no evidence any votes were cast in the names of the deceased, and the author of the study has previously made clear it "made no findings re: voter fraud".
Join our new commenting forum
Join thought-provoking conversations, follow other Independent readers and see their replies