Donald Trump supporter thought he would only deport 'bad hombres' but now her Mexican husband has been asked to leave US
Roberto Beristain's family says he has a work permit and a social security card, while his restaurant provides income for 20 families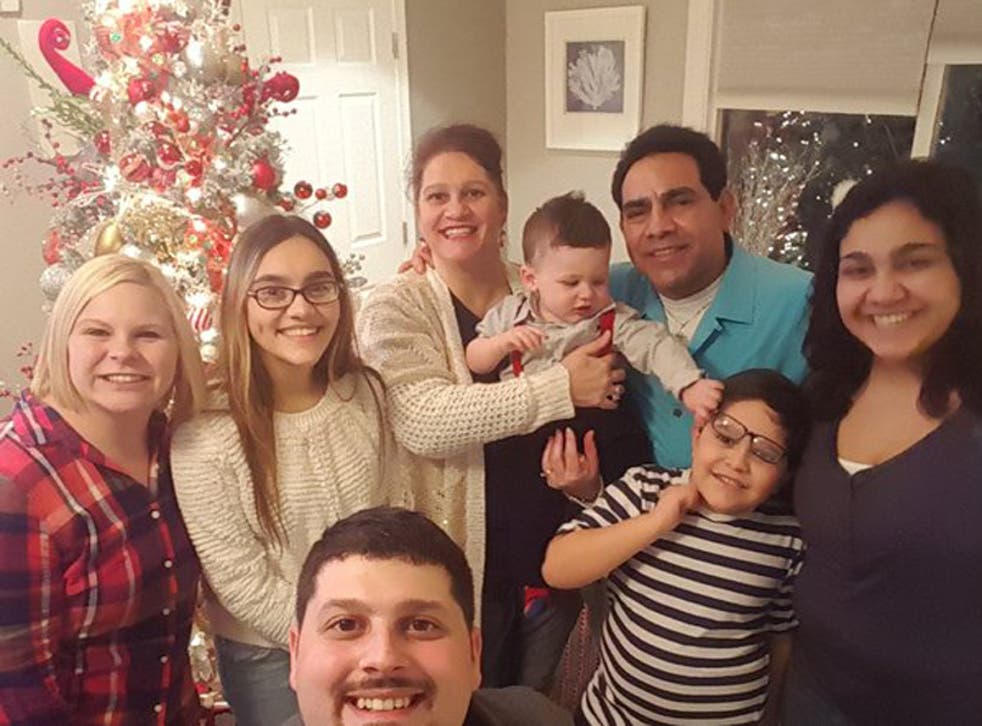 A woman who voted for Donald Trump because of his immigration policies is now facing the prospect of having her husband deported to Mexico.
Helen Beristain said she cast her ballot for the president believing that only "killers" and cartel members would be deported.
"We don't want to have cartels here, you don't want to have drugs in your high schools, you don't want killers next to you," she told Indiana Public Media. "You want to feel safe when you leave your house. I truly believe that. And, this is why I voted for Mr. Trump."
But her 43-year-old husband Roberto is now facing deportation after US Immigration and Customs Enforcement (ICE) officials ruled he should be forcibly removed from the US.
Mr Beristain arrived in the US in 1998 and illegally stayed on, despite a deportation order handed down in 2000.
During a trip to Niagara Falls in 2000 with his wife, Helen, and stepson, Phil Kolliopoulos, Beristain was arrested when the family inadvertently took a wrong turn and arrived at the Canadian border, Mr Kolliopoulos wrote on a petition, calling for him to stay.
After hiring a lawyer and posting $1,500 (£1,200) in bail, Mr Beristain was released on a voluntary self-deportation order, giving him 60 days to leave the country.
Fearing for his pregnant wife, he chose to stay, Mr Kolliopoulos said, adding that he went on to obtain a driver's licence, social security card, and work permit.
The couple went on to have three children, who he supported by running a steak restaurant near their home in Granger, Indiana.
Mr Beristain was also making a regular check-in visit with ICE officials, who had allowed him to stay, until they changed their minds last month and detained him.
His detention came amid a crackdown on illegal immigration ordered by President Donald Trump early in his tenure.
He promised to deport "probably two million, even three million" people within two years and during his campaign infamously said Mexican immigrants were "bringing drugs. They're bringing crime. They're rapists and some, I assume, are good people".
Ms Beristain's wife Helen said Mr Trump "did say the good people would not be deported, the good people would be checked."
Mr Kolliopoulos described him as a "supportive and loving husband and father", and "very dedicated" to his restaurant which Mr Kolliopoulos said provided income to 20 families.
He added: "Roberto is the cook, buser, server, bartender and host, filling in wherever possible at his restaurant. He is hard-working, genuine and the most trustworthy person."
An ICE spokeswoman said: "Roberto Beristain-Cegueda remains in ICE custody pending his removal to Mexico. For operational security reasons, ICE does not release information regarding upcoming removals.
"On 6 February, ICE officers in Indianapolis, Indiana, arrested Roberto Beristain-Cegueda, a 43-year-old Mexican national, based on his final order of removal.
"On 5 October, 2000, a federal immigration judge granted him 'voluntary departure' for a period of 60 days. When he failed to depart the United States by that time as required, his voluntary departure order reverted to a final order of removal."
Ms Beristain has filed paperwork to establish a legal basis for her husband to remain in the US, according to the petition.
Trump pretends to drive a truck as healthcare bill struggles to pass
Mr Beristain's is not the first case of its kind.
Last month a southern Illinois community that solidly backed Mr Trump in the election rallied behind a Mexican restaurant manager who did not have permission to live in the US, and had been detained by ICE.
Many in West Frankfort, population 8,000, did not know Juan Carlos Hernandez Pacheco was living there illegally until his arrest.
One said: "I think people need to do things the right way, follow the rules and obey the laws.
"But in the case of Carlos, I think he may have done more for the people here than this place has ever given him. I think it's absolutely terrible that he could be taken away."
Also in February, Democratic Senate minority leader Chuck Schumer lashed out at what he called Mr Trump's "mass deportation plan" and said it "must be stopped".
"We can all agree that violent criminals should be removed, but it is outrageous and unacceptable for ICE to target or arrest innocent immigrant families contributing to our nation and working to achieve the American Dream," he said.
In pictures: Women of the world march against Trump

Show all 32
The President's executive order has met with resistance at state level. A number of cities have pledged to keep their "sanctuary" status, which means local agencies' ability to cooperate with federal immigration authorities is deliberately limited.
Washington governor Jay Inslee issued his own order that banned government employees from helping detain illegal immigrants for breaking civil rules, and from collecting more information about people than is strictly necessary.
Register for free to continue reading
Registration is a free and easy way to support our truly independent journalism
By registering, you will also enjoy limited access to Premium articles, exclusive newsletters, commenting, and virtual events with our leading journalists
Already have an account? sign in
Register for free to continue reading
Registration is a free and easy way to support our truly independent journalism
By registering, you will also enjoy limited access to Premium articles, exclusive newsletters, commenting, and virtual events with our leading journalists
Already have an account? sign in
Join our new commenting forum
Join thought-provoking conversations, follow other Independent readers and see their replies