Trump administration publishes first 'weekly list of crimes' committed by immigrants
The list consists of 'examples' of illegal immigrants, their nationality and the alleged crime they have either been charged with or convicted of 
Rachael Revesz
Monday 20 March 2017 21:45 Comments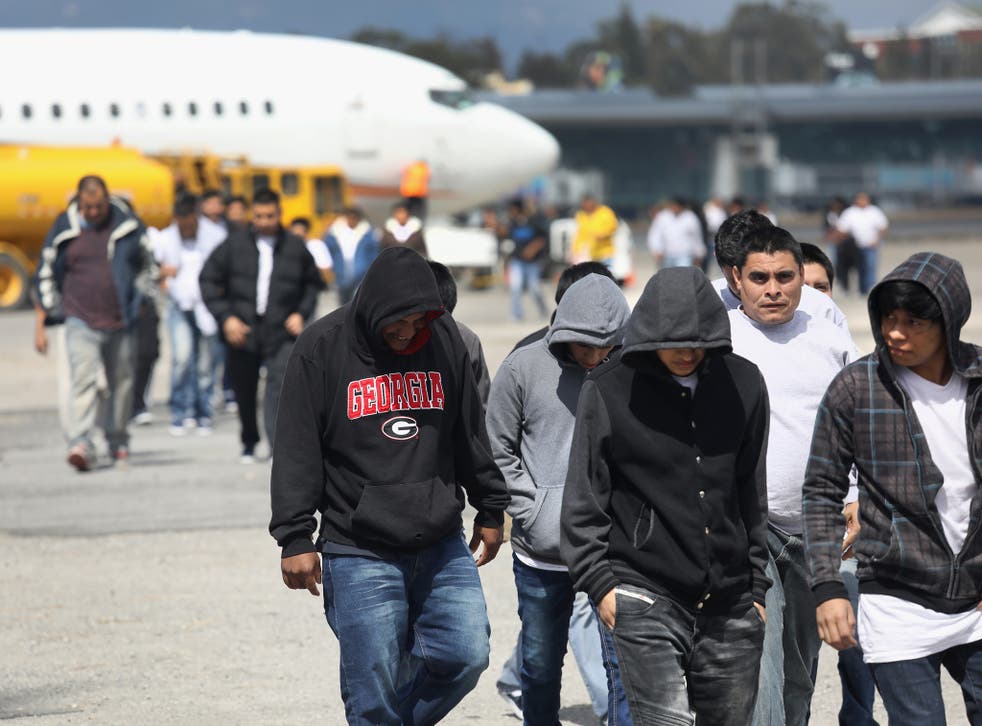 The Department of Homeland Security has released its first weekly report of alleged criminal charges and offences by immigrants in the US, a mandate of newly-elected President Donald Trump.
The report, entitled the US Immigration and Customs Enforcement Declined Detainer Outcome Report, lists "examples" of people who are currently in the US and have not been deported by their jurisdiction despite a deportation request by ICE.
The list includes people who have been charged, but not convicted, of a crime. Crimes range from domestic violence, assault, drug possession and traffic violations.
No names are given, only their county and state, their citizenship, criminal history and the day they were issued a detainer and the date that detainer was declined.
"When law enforcement agencies fail to honor immigration detainers and release serious criminal offenders, it undermines ICE's ability to protect the public safety and carry out its mission," said Acting ICE Director Thomas Homan.
"Our goal is to build cooperative, respectful relationships with our law enforcement partners. We will continue collaborating with them to help ensure that illegal aliens who may pose a threat to our communities are not released onto the streets to potentially harm individuals living within our communities."
US judge suspends Trump deportations amid country-wide protests
The weekly report was mandated in an executive order, signed by the President on 25 January, called "Enhancing Public Safety in the Interior of the United States". It required the DHS compile every week "make public a comprehensive list of criminal actions committed by aliens and any jurisdiction that ignored or otherwise failed to honor any detainers with respect to such aliens."
Critics of the published list say it will continue to demonise the vast majority of immigrants who are law-abiding individuals, and exploit other people's fears that immigrants are a threat to their safety.
New York City bodegas strike to protest Trump's travel ban

Show all 27
Several recent reports from the likes of the Cato Institute and the Sentencing Project have discovered that US-born native citizens are more likely than immigrants and undocumented immigrants to commit crimes or be incarcerated. The Sentencing Project even suggested that an increasing number of immigrants has contributed to an "historic drop in crime rates".
The DHS report also details all the jurisdictions that have released people from their custody even if they are subject to a detainer.
Nevada, New York and Illinois were listed as the top three states in this category.
Data for the report was gathered between 28 January and 3 February.
The report warned that the number of instructions to deport people will increase, as some field offices "ceased issuing detainers to known uncooperative jurisdictions". ICE field officers have "recently been instructed to issue detainers on all removable aliens" in a law enforcement agency's custody.
Register for free to continue reading
Registration is a free and easy way to support our truly independent journalism
By registering, you will also enjoy limited access to Premium articles, exclusive newsletters, commenting, and virtual events with our leading journalists
Already have an account? sign in
Join our new commenting forum
Join thought-provoking conversations, follow other Independent readers and see their replies