Donald Trump keeps White House staff in line with culture of snubs and slights
Aides serve a President who demands absolute loyalty - but rarely reciprocates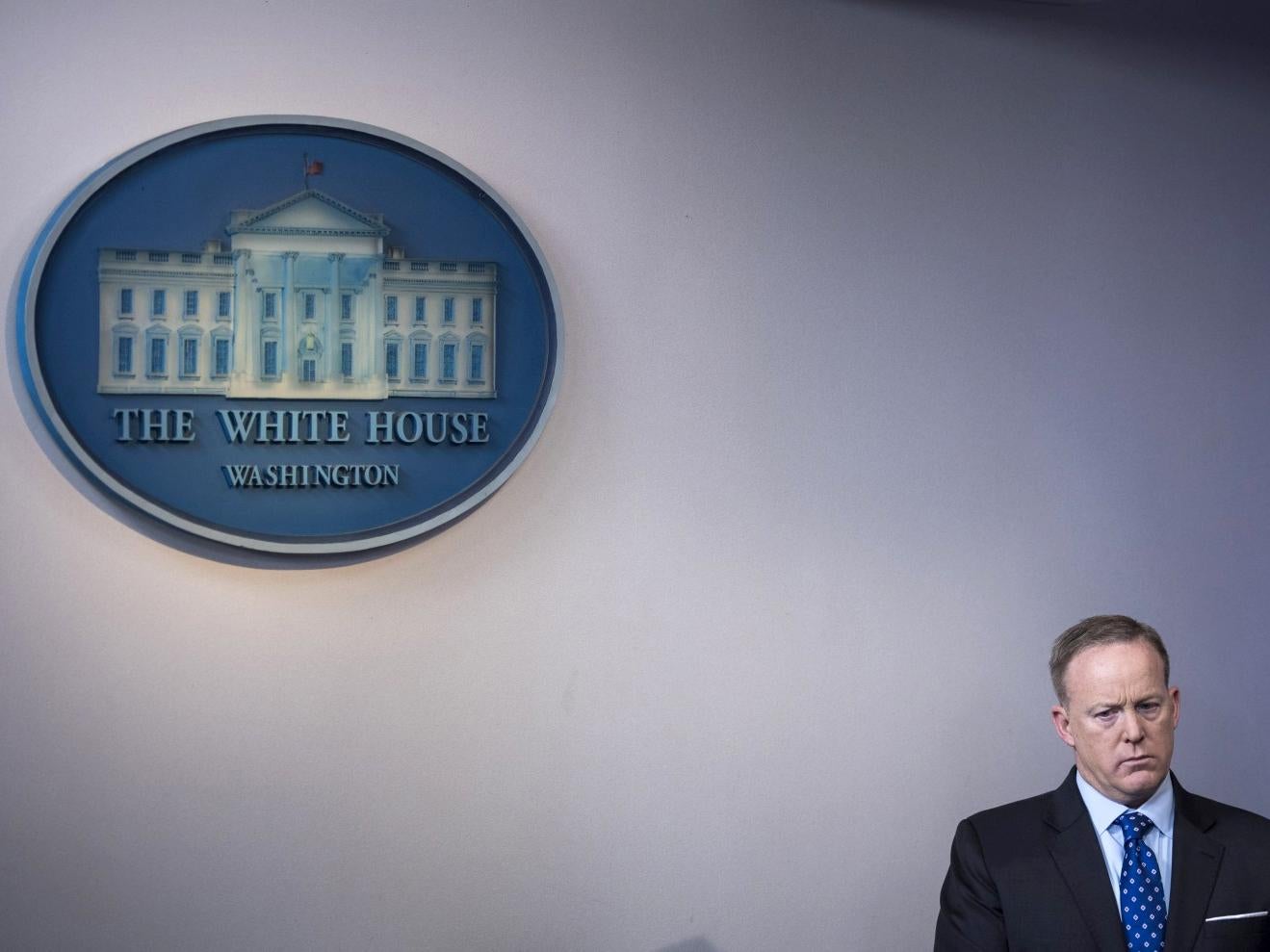 White House Press Secretary Sean Spicer was giddy at the thought of meeting Pope Francis during President Trump's first trip abroad, telling acquaintances that for him, a devout Catholic, the moment would fulfil a bucket-list dream.
But when the White House finalised the lucky list of staff members who would accompany Trump into his private audience with the pontiff at the Vatican last week, Spicer's name was nowhere to be found.
Enduring public humiliation has become a defining characteristic of Spicer's tenure in the White House - from the Saturday Night Live parody in which a woman plays a ranting, red-faced Spicer to the constant rumours of his imminent dismissal. Yet being excluded from the papal visit still stunned his colleagues, many of whom expressed pity for him and were visibly uncomfortable talking about the slight.
In Trump's White House, aides serve a president who demands absolute loyalty - but who does not always offer the same in return. Trump prefers a management style in which even compliments can come laced with a bite, and where enduring snubs and belittling jokes, even in public, is part of the job.
Allies say the President's quips are simply good-natured teasing, part of an inclusive strategy meant to make even mid-level staff members feel like family. But others consider Trump's comments pointed reminders to those who work for him that he is in charge - barbs from the boss that keep aides on guard and off kilter, and can corrode staff morale.
Trump sometimes refers to his 45-year-old chief of staff, Reince Priebus, as "Reince-y," a diminutive nickname that some aides and outside rivals recount with gleeful relish. The president also frequently reminds Priebus that when Access Hollywood tapes emerged during the campaign on which Trump could be heard boasting about groping women without their consent, Priebus urged him to drop out of the race.
The president has described House Speaker Paul D. Ryan, Republican-Wisconsin, in theory one of his top allies on Capitol Hill, as a "Boy Scout" - a dig the that lawmaker joked he chose to take as a compliment even though "I'm not sure he meant it that way."
And during the transition, Trump would make a point of noting that then-Vice President-elect Mike Pence's crowds paled compared to his, teasing that even his daughter Ivanka and son Eric attracted more attention, according to two people familiar with the comments, which they considered demeaning. (Pence offered a similar quip on the campaign trail.)
Even the president's family is not immune. In a news conference at Trump Tower shortly after he won the White House, Trump announced that he would be putting his companies into a trust that his two older sons would run during his presidency.
"I hope at the end of eight years, I'll come back and say, 'Oh, you did a good job,'" Trump said, as his sons looked on. But, then, he couldn't resist a final tweak - half joke, half warning: "Otherwise, if they do a bad job, I'll say, 'You're fired.'"
The White House says that Trump, who came of age professionally running a family business, is simply joking with his staff, part of a warm, familial leadership style that makes everyone feel included.
"President Trump has a magnetic personality and exudes positive energy, which is infectious to those around him," Hope Hicks, Trump's communications director, said in a statement. "He has an unparalleled ability to communicate with people, whether he is speaking to a room of three or an arena of 30,000. He has built great relationships throughout his life and treats everyone with respect. He is brilliant with a great sense of humour... and an amazing ability to make people feel special and aspire to be more than even they thought possible."
Many disagree with that assessment. Critics say the president often demeans those in his orbit, a tendency they say reflects a broader fragility beneath his bluster.
"Trump is so deeply insecure that not even becoming president of the United States quenched his need to make others feel small to build himself up," said Tim Miller, a former spokesman for an anti-Trump super PAC. "Choosing to work for him necessitates a willingness to be demeaned in order to assuage his desire to feel like a big, important person."
Trump's management style - whether good-natured ribbing or withering comments, depending on one's perspective - dates to his days as a Manhattan real estate developer, when Trump enjoyed operating in an environment of competing factions. Now, he has transplanted that executive philosophy into his White House.
When he decided to fire his FBI director, James B. Comey, the president did so in an especially humiliating way. Like a scene out of The Godfather, Trump first sent Keith Schiller, his former head of security, to deliver the message to Comey at FBI headquarters. His allies maintain that Trump simply wanted the job done well, so he dispatched Schiller, whom he trusts deeply, in a sign of respect for how seriously he took the moment.
But Comey, who was across the country visiting a Los Angeles field office, ultimately found out in embarrassing fashion - in public, from television, in full view of his staff. As Comey was delivering a speech to FBI field employees, he initially laughed as news flashed across the TV screens that he had been fired. "How'd you guys do that?" he asked, according to someone briefed on the moment.
The FBI director assumed he was being pranked by his underlings - and had to be told by his team that the headlines were no joke. He had been dismissed, effective immediately.
During a February prayer breakfast in Washington, Mark Burnett, the creator of The Apprentice, introduced Trump, who went on to make a few tone-deaf jokes about Arnold Schwarzenegger, who had replaced him as the show's host.
"The ratings went down the tubes," the president said. "It's been a total disaster and Mark will never, ever bet against Trump again. And I want to just pray for Arnold if we can, for those ratings, OK?"
Trump's friends and allies reject the notion that he diminishes those around him, saying the businessman-turned-president is simply trying to bring out the best in his employees.
"I think it's more New York swagger than he's trying to belittle them," said Christopher Ruddy, the chief executive of Newsmax, a conservative media company, and a longtime friend of Trump's. "I always say he makes people feel like a million bucks."
The approach, however, frequently leaves Trump's top team open to some of his more cutting digs.
At a private dinner shortly before he was inaugurated, Trump took aim at his incoming vice president and his incoming secretary of state, Rex Tillerson.
Complimenting his vice presidential choice, Trump also reminded the crowd - and Pence - that he could have just as easily chosen someone else. "Oh, I had a couple of beauties I could have picked," Trump said. "They were good, too, but maybe they wouldn't have worked out like Mike."
Turning his attention to his secretary of state pick at the same gathering, he hinted that Tillerson - a former chief executive of ExxonMobil - might be in for a steep learning curve in the Trump administration. "Where's our Rex?" Trump asked. "Wow. What a job. Thank you very much, thanks Rex. I think it's tougher than he thought. He's led this charmed life. He goes into a country, takes the oil, goes into another country. It's tough dealing with these politicians, right?"
Trump also sometimes reminds even his senior advisers, in ways big and small, that he has the power to demote them at any time. During an Oval Office meeting about trouble spots abroad, a relatively junior foreign policy staff member prepared to take a seat on the periphery as the president's top aides, including chief strategist Stephen K. Bannon, surrounded him in chairs around the Resolute Desk. But the president soon ordered up a change, said someone who witnessed the moment, telling Bannon to give up his seat for the junior staff member and relegating his top strategist to the couch.
More recently, during a lunch with ambassadors from countries on the UN Security Council, Trump jokingly polled those in the room on whether they thought UN Ambassador Nikki Haley, seated directly to his right, was doing a good job.
"How do you all like Nikki?" he asked, as Haley looked on. "Otherwise, she can easily be replaced."
Close foreign allies are also targets of Trump's public and private dressing-downs.
During an early call with Australia, one of nation's staunchest allies, the president got into a testy exchange with Prime Minister Malcolm Turnbull, blasting him over a refugee deal, bragging about the size of his electoral college win and abruptly ending the call.
When news from the conversation emerged, Trump's team readily confirmed details of the exchange. The president was livid about the leak - but had no problem being viewed as a bully, believing he was simply standing up for his nation's best interests.
The pattern continued in his trip overseas last week, when he gushed about the autocratic Saudi royal family even while insulting European allies. At a stop in Brussels, the president chastised Nato members for not meeting their financial responsibilities, shoved aside a Balkan prime minister to get in front for a group photo and needled his allies about the price tag on a new building for the alliance.
Donald Trump's first 100 days: in cartoons
Show all 33
During his first in-person meeting with French President Emmanuel Macron, Trump's typically aggressive greeting became a duel of oneupmanship as the two men clenched their jaws and tightened their faces during an intense, white-knuckled handshake.
Macron, France's newly elected 39-year-old leader, later said he wanted to show Trump that he would not be pushed around or demeaned.
"I don't believe in diplomacy by public abuse," he said.
Copyright The Washington Post
Join our commenting forum
Join thought-provoking conversations, follow other Independent readers and see their replies