Donald Trump's hotel turned into sign shrine by Women's March on Washington protesters
Trump's ownership of the hotel may be illegal, and his Spanish-American chef quit after he implied Mexicans were 'rapists' and 'killers'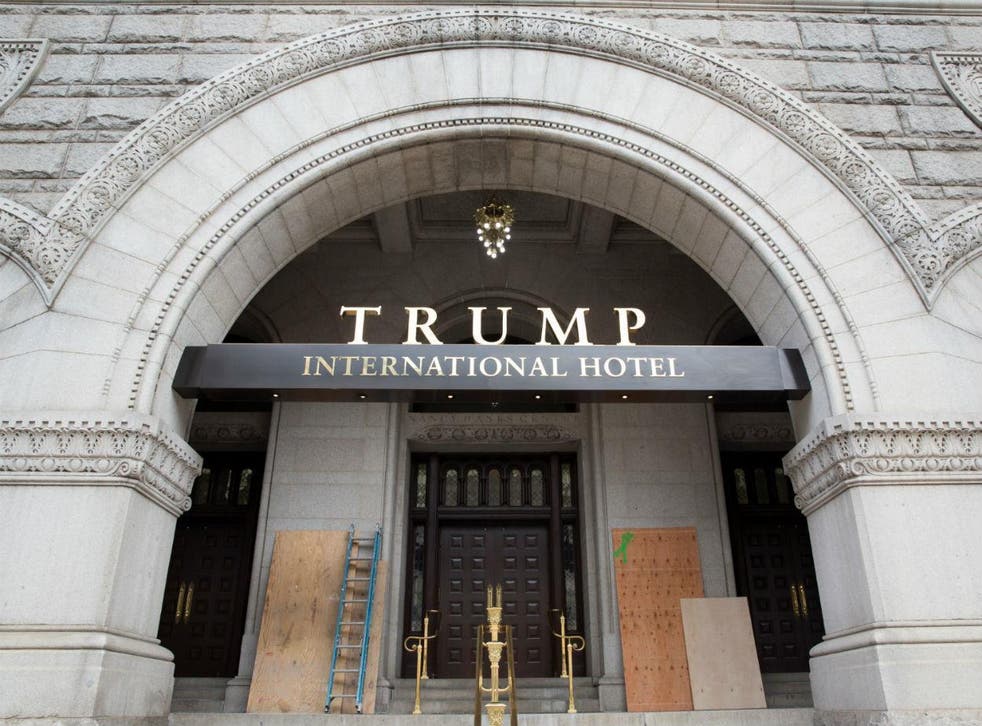 Protesters against Donald Trump on the Women's March on Washington have been leaving their anti-Trump signs piled outside his D.C. hotel.
The turnout for the march was believed to be around half a million, far outstripping original estimates. It was one of almost 700 taking place worldwide across 30 countries, from London to Antarctica, with perhaps 3 million demonstrators taking to the streets worldwide.
Francis Clark, 50, was one woman who made the trip to Washington to protest on the day of Donald Trump's inauguration. She told the Independent: "People's voices are not rising, those in power are not listening. The first thing that Mr Trump did was to end the mortgage premium cuts, making it harder for someone to own a home. It's betrayal from day one."
As they made their way home, protesters like Ms Clark left their placards outside Mr. Trump's eye-wateringly expensive new property in the heart of Washington.
One placard left outside the property reads 'women's rights are human rights', while another has the slogan 'we shall overcomb' alongside a picture of Mr. Trump's idiosyncratic coiffure. A third is emblazoned with the legend 'boy bye', over a drawing of a hand making an obscene gesture.
The 263-room luxury hotel opened in November 2016, in a century-old post office building which is part of the Pennsylvania Avenue National Historic Site. The minimum nightly rate is $735, while one top-end suite was reportedly available for $500,000 during inauguration week.
There were protests when Trump won the lease, given his track record of bankruptcies and his lack of experience in preserving or caring for historic buildings. Renovation works cost around $2m, and the Trump Organization is believed to pay around $3m a year in rent.
The hotel was the location of inauguration events such as a prayer breakfast at the hotel, and is currently hosting various members of Mr Trump's new cabinet, along with donors and foreign officials hoping to win the favour of the new President.
Since being sworn in as president, Mr Trump may now be in violation of a provision that no federal official may rent the building, theoretically opening him to litigation. He is certainly making money from the foreign diplomats currently staying in the hotel, in a further economic conflict of interest.
Michelin-starred Spanish-American chef and philanthropist José Andrés was supposed to be providing catering for the hotel, but pulled out after Mr. Trump disparaged Mexicans and immigrants during his electoral campaign, implying they were criminals, rapists and killers.
Join our new commenting forum
Join thought-provoking conversations, follow other Independent readers and see their replies