Trump on China's Xi: Maybe US could have a president for life someday
'He's now president for life. President for life. And he's great,' says US president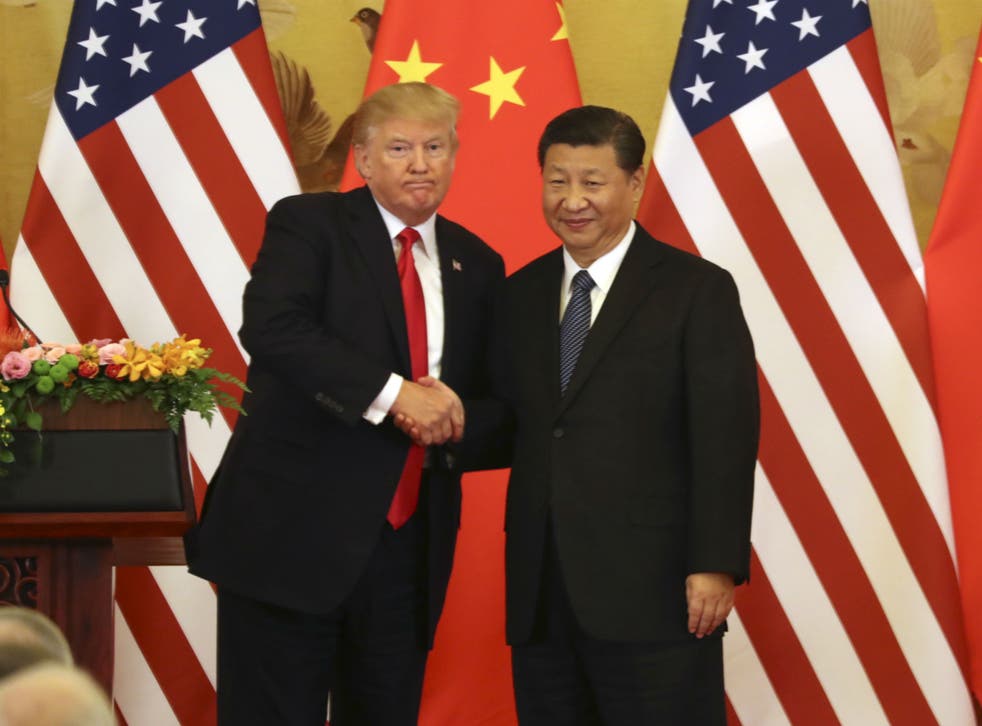 Donald Trump has heaped praise on the Chinese president's apparent moves to maintain his grip on power indefinitely, and contemplated whether America might follow suit.
The US president applauded Xi Jinping's bid to usher China back into an era of a one man dictatorship - hailing the world leader as "great" and praising the fact he now holds office "for life".
China's most powerful leader in a generation, who took power in 2012, had been expected to rule until 2023. However, last week China's ruling Communist Party proposed removing a constitutional clause limiting presidential service to two consecutive terms, potentially paving the way for China's authoritarian leader to stay in office indefinitely.
Mr Xi will attempt to use an annual meeting of China's parliament, which starts on Monday morning, to change the Chinese constitution to scrap presidential term limits. The parliament is expected to ratify the move.
"He's now president for life. President for life. And he's great," Mr Trump reportedly told Republican donors at a fundraising event at his Mar-a-Lago estate where he hosted Mr Xi last April.
"And look, he was able to do that. I think it's great. Maybe we'll give that a shot some day," the US president added, according to CNN which obtained a recording of what it described as an upbeat, jokey speech.
Mr Trump also used the closed door remarks to vent his frustrations about his Democratic presidential rival Hillary Clinton and reiterate his view about "a rigged system". He also branded the invasion of Iraq "the single worst decision ever made", but called former President George W Bush "another real genius."
Donald Trump's first year: in pictures

Show all 29
Mr Trump was criticised for praising Mr Xi by Democratic Representative Ro Khanna. He tweeted: "Whether this was a joke or not, talking about being President for life like Xi Jinping is the most un-American sentiment expressed by an American President. George Washington would roll over in his grave."
US presidents by tradition served a maximum of two four-year terms until President Franklin Roosevelt was elected a record four times beginning in 1932. An amendment to the US Constitution which was approved in 1951 restricted presidents to two terms in office.
Mr Trump has frequently praised Mr Xi, whose tenure has been dogged by constant speculation he wants to stay on in office past the customary two five year terms, but has criticised China's trade policies.
The US leader's comments come after the Chinese government banned George Orwell's dystopian satirical novella Animal Farm and the letter 'N' in a wide-ranging online censorship crackdown earlier in the week.
Search terms blocked on Sino Weibo, a microblogging site which is China's equivalent of Twitter, include "disagree", "personality cult", "lifelong", "immortality", "emigrate", and "shameless".
It was not immediately obvious why the ostensibly harmless letter 'N' had been banned, but some speculated it may either be being used or interpreted as a sign of dissent.
Register for free to continue reading
Registration is a free and easy way to support our truly independent journalism
By registering, you will also enjoy limited access to Premium articles, exclusive newsletters, commenting, and virtual events with our leading journalists
Already have an account? sign in
Register for free to continue reading
Registration is a free and easy way to support our truly independent journalism
By registering, you will also enjoy limited access to Premium articles, exclusive newsletters, commenting, and virtual events with our leading journalists
Already have an account? sign in
Join our new commenting forum
Join thought-provoking conversations, follow other Independent readers and see their replies