Donald Trump tells people 'don't worry about' call where he hung up on Australian Prime Minister
Malcolm Turnbull described the conversation as 'frank and candid'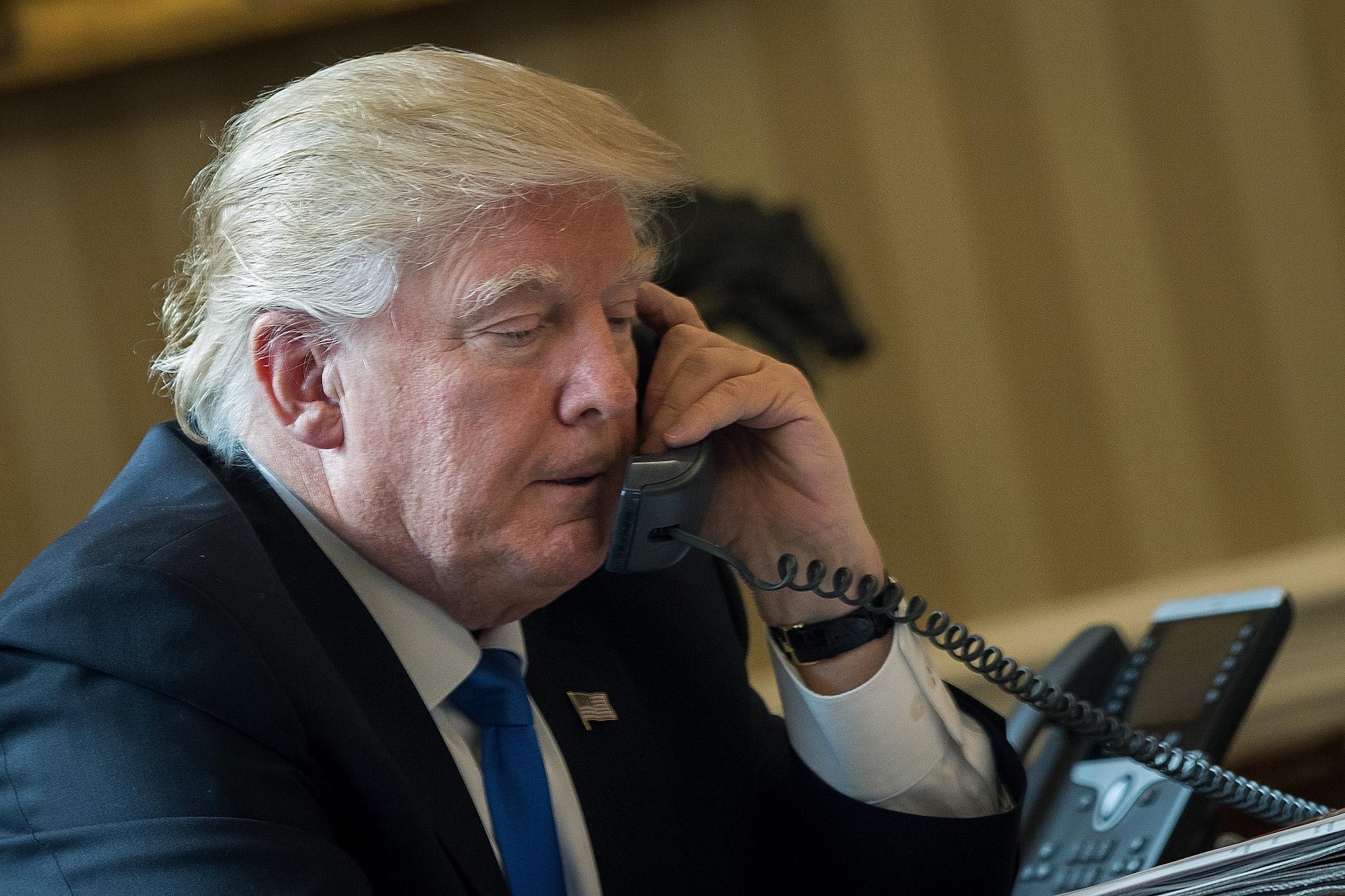 Donald Trump has warned that he plans to be "tough" and "straighten things out" after reports emerged that he had "yelled" at the Australian Prime Minister about their refugee resettlement deal and had hung up mid-conversation.
At a prayer breakfast, the President said: "That's what I do, I fix things. We're going to straighten it out. Believe me.
"When you hear about the tough phone calls I'm having, don't worry about it. Just don't worry about it. They're tough. We have to be tough. It's time we're going to be a little tough, folks. We're taken advantage of by every nation in the world virtually. It's not going to happen any more. It's not going to happen any more."
The call with Malcolm Turnbull on Saturday should have lasted an hour, but after 25 minutes Mr Trump wanted off the call.
Australia Sky News sources reported that the President "yelled" at Mr Turnbull as he sat in the Oval Office, flanked by Chief Strategist Stephen Bannon, Press Secretary Sean Spicer and Defence Secretary Michael Flynn. It was the last call of the day after several other scheduled phone calls with several foreign leaders.
Mr Trump reportedly criticised the Prime Minister over his refugee agreement with former President Barack Obama, and boasted about his electoral college win.
As reported by The Washington Post, senior US officials briefed on the conversation said Mr Trump hung up after 25 minutes and said: "This was the worst call by far" and that the immigrant agreement was "the worst deal ever".
He also reportedly said to Mr Turnbull he was "going to get killed" politically and accused him of wanting to export the "next Boston bombers".
Thousands join London protests against Donald Trump travel ban
When Mr Turnbull suggested the two leaders move on from discussing refugees to the conflict in Syria and other issues, the President decided to end the call.
It was far shorter than his conversations with Japanese Prime Minister Shinzo Abe, German Chancellor Angela Merkel, French President François Hollande and Russian President Vladimir Putin.
At almost 11pm the same evening after the Washington Post report surfaced, Mr Trump took to twitter to vent his anger, saying he will review the "dumb deal" to take hundreds of Australian asylum seekers.
"Do you believe it? The Obama Administration agreed to take thousands of illegal immigrants from Australia. Why? I will study this dumb deal," he wrote.
Mr Turnbull told reporters the conversation had been "frank and candid" but said he would not reveal details of a "private" call.
"These conversations are conducted candidly, frankly, privately. If you see reports of them, I'm not going to add to them," he told reporters in Melbourne.
Their conversation has only caused further discord between the two countries, the day after the US announced it would apply "extreme vetting" to Australian refugees. The refugee deal that Mr Trump had berated was agreed late last year due to Australia's fighting alongside US troops in Afghanistan and Iraq. It includes resettling up to 1,250 asylum seekers who are held in offshore processing camps in Papua New Guinea and Nauru. In return, Australia would take refugees from El Salvador, Guatemala and Honduras.
The official read-out after Saturday's call highlighted "the enduring strength and closeness of the US-Australia relationship that is critical for peace, stability, and prosperity in the Asia-Pacific region and globally".
Join our commenting forum
Join thought-provoking conversations, follow other Independent readers and see their replies