Donald Trump's Time interview: The biggest lies, untruths and bizarre moments
'What am I going to tell you? I tend to be right'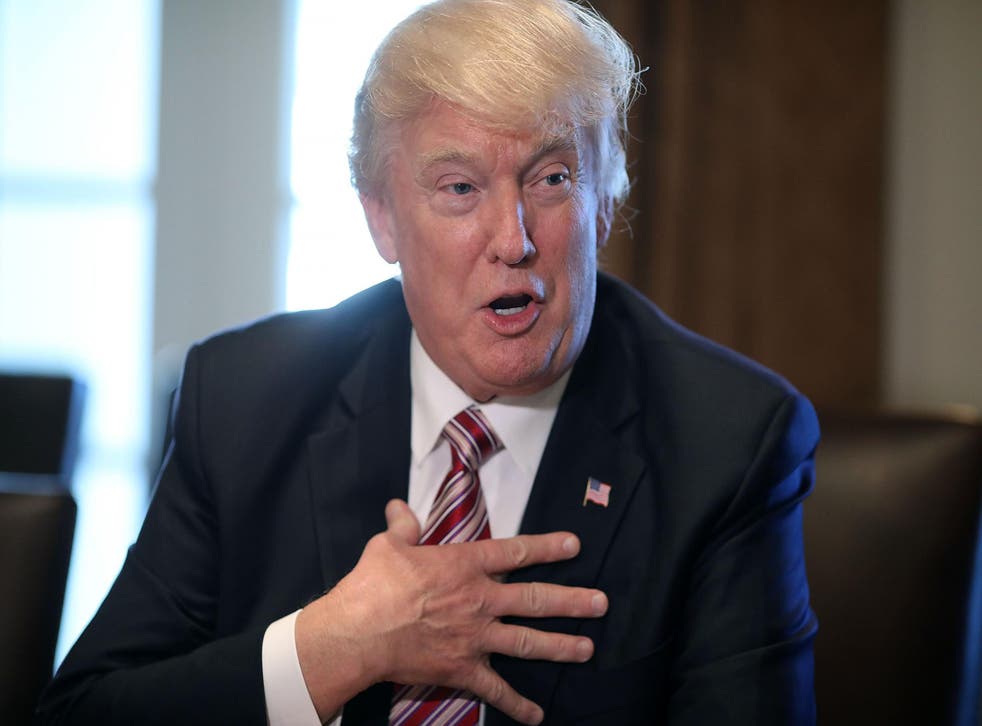 Donald Trump's relationship with the truth has been called into question again after he made a series of unfounded claims in a magazine interview.
Speaking to Time, the US President challenged his interviewer to "name what's wrong" before offering a string of examples where he said he had been proven correct.
"What am I going to tell you? I tend to be right," he added. "I'm an instinctual person, I happen to be a person that knows how life works."
Mr Trump claimed he had predicted Brexit the day before it happened.
In fairness to the US leader, he had called the result in March interview, but on 22 June he told Fox Business: "I don't think anybody should listen to me because I haven't really focused on it very much. "My inclination would be to get out, because you know, just go it alone."
The US leader also claimed he predicted the terrorist attack in Brussels, when what he actually said was that Brussels is a "hellhole."
He went on to defend his claim that hundreds of Muslims had celebrated on 9/11 by saying he read it in The Washington Post. The story in question said police were looking into a select few incidents.
Perhaps more concerning was Mr Trump continuing to insist that 3 million people had voted illegally in the 2016 election.
Suggesting that the number could be even higher, he said many of people registered "incorrectly, and/or illegally," but he did not specify what registering "incorrectly" means.
Calling himself an "instinctual person," Mr Trump boasted about predicting his own electoral victory. He went as far as to claim he and his team "thought we were going to win the night of the election."
But a week after the vote Mr Trump told supporters in Wisconsin that he "really assumed I lost" on election night.
"I got a call from my daughter at about 5 o'clock, and she was called by people in their business," he told the crowd that night. "And her husband, Jared, great guy, he was called. Then they called me and they said: 'I'm sorry, Dad. It looks really bad. Looks really, really bad.'"
The President also contradicted himself when discussing his statements on Sweden.
At a campaign rally in February, Mr Trump made a passing reference to "what happened Friday night in Sweden."
It was later revealed that nothing had happened that night in Sweden and the US leader was widely mocked by some of the country's citizens on social media.
Mr Trump later claimed that he had been referencing a Fox News report about the country that had aired the night before his speech.
In the Time interview, however, Mr Trump claimed he was talking about the situation in Sweden general.
"I'm talking about what Sweden has done to themselves is very sad, that is what I am talking about," he told the magazine. "That is what I am talking about. You can phrase it any way you want."
Throughout the interview, Mr Trump returned to his controversial claim that Barack Obama had ordered a wiretaps be placed in Trump Tower in the lead up to the presidential election.
Citing House Intelligence Committee Chairman Devin Nunes' claim that Mr Trump had been subject to "incidental surveillance," the President said his accusations were "right."
Asked about Trump's wiretapping allegations later, however, Mr Nunes responded: "That never happened."
To back up his claim, Mr Trump cited a New York Times article on alleged surveillance. That story, "Wiretapped data used in inquiry of Trump aides," said the FBI had intercepted some calls from Trump associates. It never mentioned any kind of surveillance — much less wiretapping — of Mr Trump himself.
In a final pitch to showcase his "great instincts", Mr Trump predicted he would once again grace the cover of Time magazine after the interview.
But instead, against a black backdrop, it bears the simple question: "Is truth dead?"
Register for free to continue reading
Registration is a free and easy way to support our truly independent journalism
By registering, you will also enjoy limited access to Premium articles, exclusive newsletters, commenting, and virtual events with our leading journalists
Already have an account? sign in
Register for free to continue reading
Registration is a free and easy way to support our truly independent journalism
By registering, you will also enjoy limited access to Premium articles, exclusive newsletters, commenting, and virtual events with our leading journalists
Already have an account? sign in
Join our new commenting forum
Join thought-provoking conversations, follow other Independent readers and see their replies