Dr Fauci to throw ceremonial first pitch at opening ceremony, Washington Nationals confirm
'It is only fitting that we honour him as we kick off the 2020 season'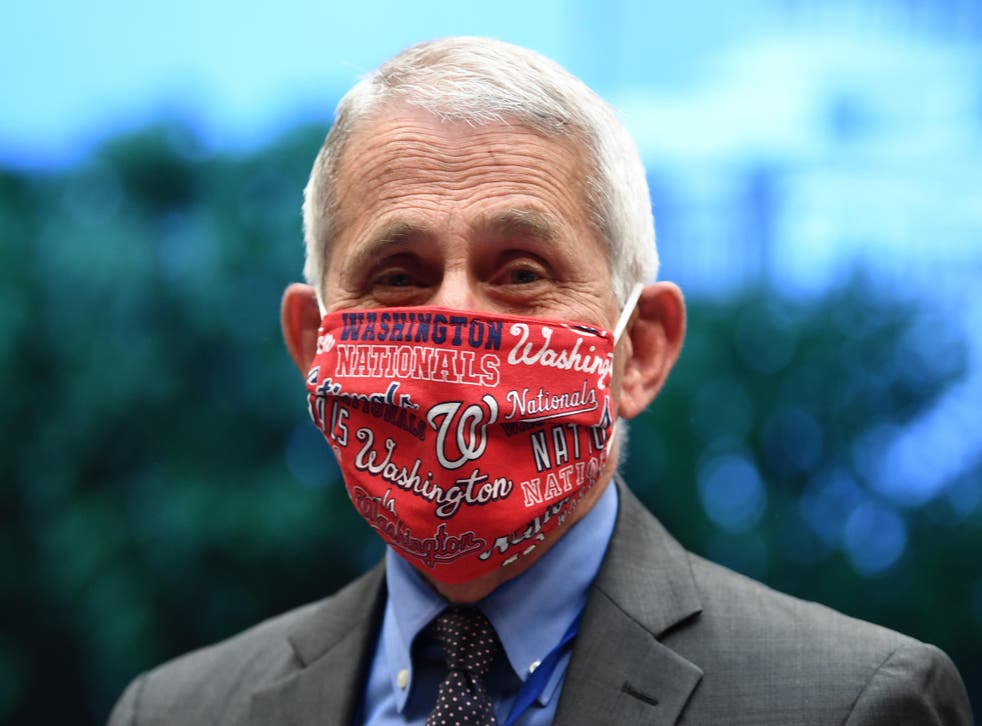 Dr Anthony Fauci will throw out the ceremonial first pitch for the Washington Nationals on opening day, the reigning champions have confirmed.
The team announced in a statement released on Monday that "Nats superfan" Dr Fauci, who is director of the National Institute of Allergy and Infectious Diseases, has accepted the offer to throw out the first pitch.
"Dr Fauci has been a true champion for our country during the Covid-19 pandemic and throughout his distinguished career, so it is only fitting that we honour him as we kick off the 2020 season and defend our would series championship title," they wrote in a statement.
Many social media users were quick to point out the fact that Dr Fauci is throwing the pitch rather than president Donald Trump, who is yet to throw an opening day pitch as president.
The president throwing out the ceremonial first pitch has become an American tradition that dates back more than a century.
Mr Trump has thrown out first pitches on a number of occasions before taking office, but never during his term as president.
The last time a sitting president threw out a ceremonial first pitch was in 2010, when Barack Obama cast the throw at Nationals Park on opening day, CBS Sports reported.
It was reported that Mr Trump was "in talks" to throw the first pitch for the Washington Nationals on opening day in 2017, however, a "scheduling conflict" was said to have led the president to decline the invitation.
The Major League Baseball opening day is set to take place on Thursday after being postponed from its original March date due to the coronavirus pandemic. Games are set to be played in ballparks without fans and the season will also be reduced to 60 games, ESPN reported.
Thursday's game is scheduled to start at 7pm and will be televised nationally on ESPN.
Register for free to continue reading
Registration is a free and easy way to support our truly independent journalism
By registering, you will also enjoy limited access to Premium articles, exclusive newsletters, commenting, and virtual events with our leading journalists
Already have an account? sign in
Register for free to continue reading
Registration is a free and easy way to support our truly independent journalism
By registering, you will also enjoy limited access to Premium articles, exclusive newsletters, commenting, and virtual events with our leading journalists
Already have an account? sign in
Join our new commenting forum
Join thought-provoking conversations, follow other Independent readers and see their replies