Dr. Fauci donated his personal 3-D model of coronavirus to the Smithsonian
The donation came as the museum honoured the public health expert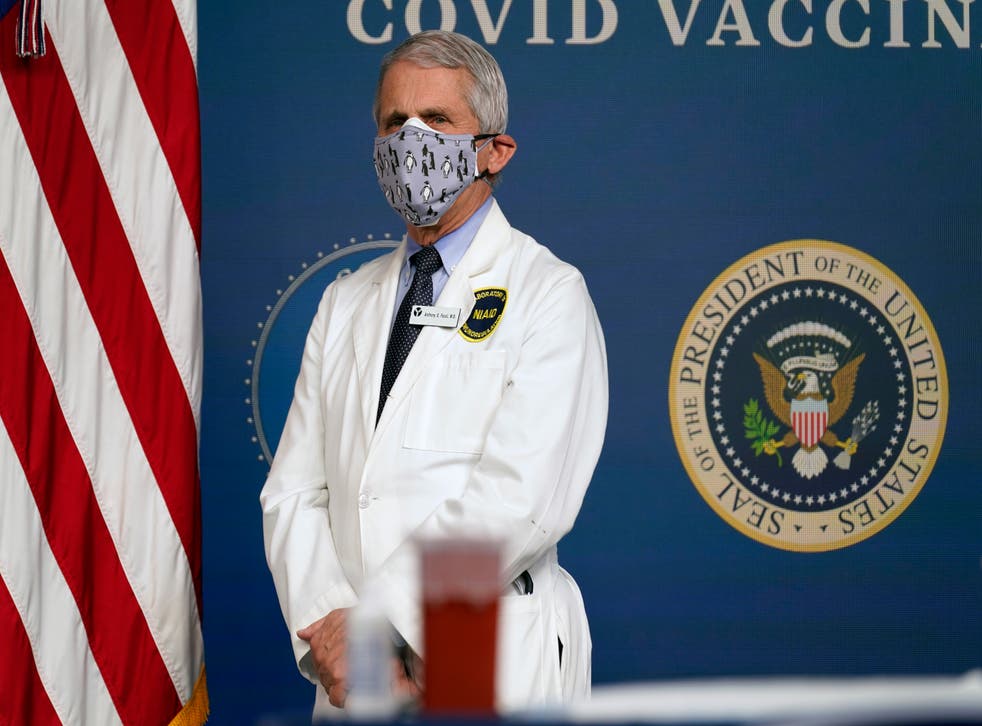 Dr. Anthony Fauci donated his personal 3-D model of the coronavirus to the Smithsonian National Museum of American on Tuesday as part of a ceremony honouring him with the museum's Great Americans Medical.
Mr Fauci, director of the Institute of Allergy and Infectious Diseases at the National Institutes of Health, chief medical adviser to the White House, and in many ways the public face of the public health response to Covid, called the award "extraordinary and humbling". 
"This has been a terrible year in so many respects," he said during a ceremony on Tuesday, which, owing to the pandemic, was done virtually. "Decades from now, people will be talking about the experience that we went through."
The medical expert has used the 3-D printed model numerous times as he's explained aspects of the pandemic to the public during his prolific media appearances.
"Dr. Fauci has helped save millions of lives and advanced the treatment and our understanding of infectious and immunologic diseases across more than five decades of public service," museum director Anthea M Hartig said in a statement. "His humanitarianism and dedication truly exemplify what it means to be a Great American."
The spiky model of the virus will become part of a future exhibition, "In Sickness and In Health", which will look at 200 years of medical care in the US, including Covid. The collection for the show already includes a photo of a New York man wearing a 'Fauci' T-shirt.
Mr Fauci has lead the NIAID since 1984, and advised seven presidents on issues like Covid and the HIV/AIDs crisis, where's he's cultivated a trusted reputation as a medical authority, though he was frequently at odds with president Trump over his blunt assessments of the pandemic, while some have faulted the long-serving doctor for putting political survival over unpopular but medically necessary interventions in public health crises
The Great Americans Medal programme was founded in 2016, and has gone to leaders like former secretaries of state Madeleine Albright and Colin Powell, as well as other luminaries like journalist Tom Brokaw and musician Paul Simon.
Winners get a 1.85 ounce solid gold medal.
Much like the exhibit, the US response to the pandemic remains in progress, with a third approved vaccine raising hopes, while the US continues experiencing more than 50,000 new cases a day, down from a peak nearly six times that in January, but still well above the average for much of 2020.
Join our new commenting forum
Join thought-provoking conversations, follow other Independent readers and see their replies