'Distressed' Dr Birx weighing her future with Covid task force, report claims
Dr Birx has reportedly described the nation's response to Covid-19 as 'nightmarish'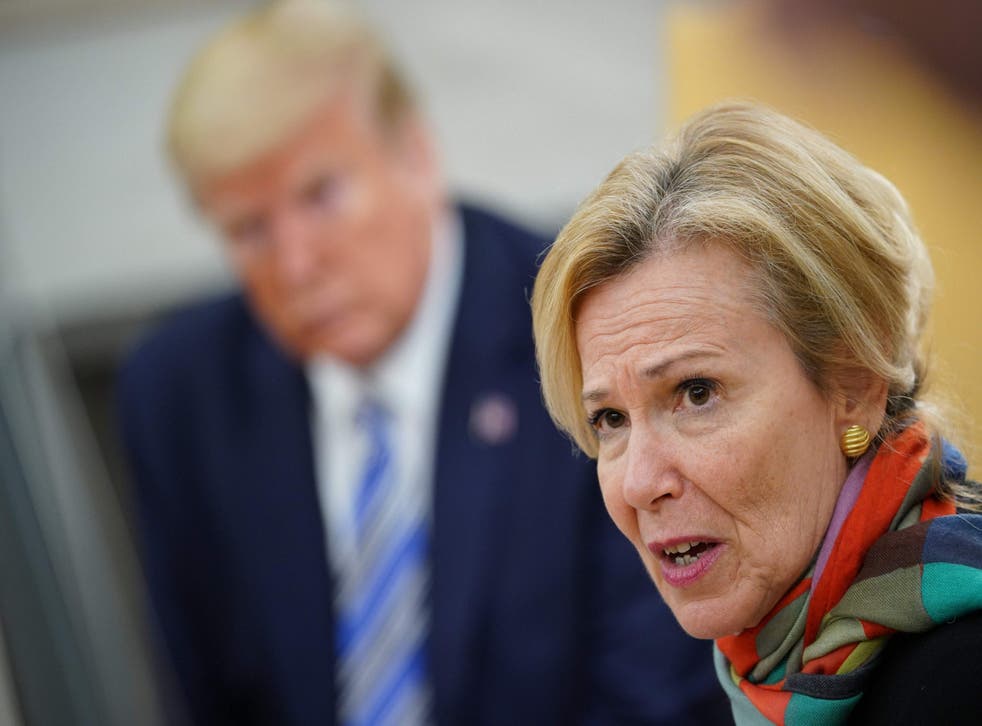 Dr Deborah Birx may be weighing her future with the White House Coronavirus Task Force.
According to a new report from CNN, Dr Birx has told people around her that she is "distressed" with the direction of the task force and has described the nation's response to the Covid-19 pandemic as "nightmarish." She is reportedly uncertain how much longer she will serve in her current position as Coronavirus Response Coordinator.
Sources told CNN that Dr Birx feels her role has been "diminished" amid the addition of Dr Scott Atlas to the task force. Dr Birx reportedly confided to friends that she believes Dr Atlas is an unhealthy influence on President Donald Trump, and that he has given the president misleading information about the effectiveness of face masks to stop the spread of the virus. Mr Trump and his supporters have notably refused to wear face masks, despite the CDC's recommendations.
Dr Atlas responded to CNN's report during a Wednesday evening press conference, saying, "Dr Birx speaks for herself but that's a completely false story and she denied it today."
Dr Birx became a staple of Mr Trump's early coronavirus briefings and reportedly became known as a "team player" within the administration, according to a CNN source. In April, Dr Birx memorably bit her tongue when Mr Trump falsely suggested that injections of disinfectants could prevent Americans from getting the virus.
In a statement provided to The Independent, White House spokesman Judd Deere said the rumors of Dr Birx's role being diminished are "just false."
"All of the medical experts in the administration are working together around the clock to carry out the President's No. 1 priority: protecting the health and safety of the American people and defeating this virus from China," Mr Deere's statement read. "President Trump relies on the advice and counsel of all of his top health officials every day and any suggestion that their role is being diminished is just false."
The optics, however, suggest a possible shift within the task force. While Dr Atlas has increasingly been seen at Mr Trump's side at recent coronavirus briefings, CNN notes that Dr Birx has been sent to states with increased Covid cases, visiting schools and giving speeches on behalf of the administration.
The new report comes a few weeks after Mr Trump publicly lashed out at Dr Birx for the first time. In an August tweet, the president called Dr Birx's response to criticism "pathetic" after she admitted that the coronavirus was widespread throughout the US.
Register for free to continue reading
Registration is a free and easy way to support our truly independent journalism
By registering, you will also enjoy limited access to Premium articles, exclusive newsletters, commenting, and virtual events with our leading journalists
Already have an account? sign in
Register for free to continue reading
Registration is a free and easy way to support our truly independent journalism
By registering, you will also enjoy limited access to Premium articles, exclusive newsletters, commenting, and virtual events with our leading journalists
Already have an account? sign in
Join our new commenting forum
Join thought-provoking conversations, follow other Independent readers and see their replies