DraftKings slammed for using 9/11 in 'Never Forget' betting promotion
The parlay included the New York Mets, New York Yankees and New York Jets, which are also scheduled to play on the 22nd anniversary of the tragedy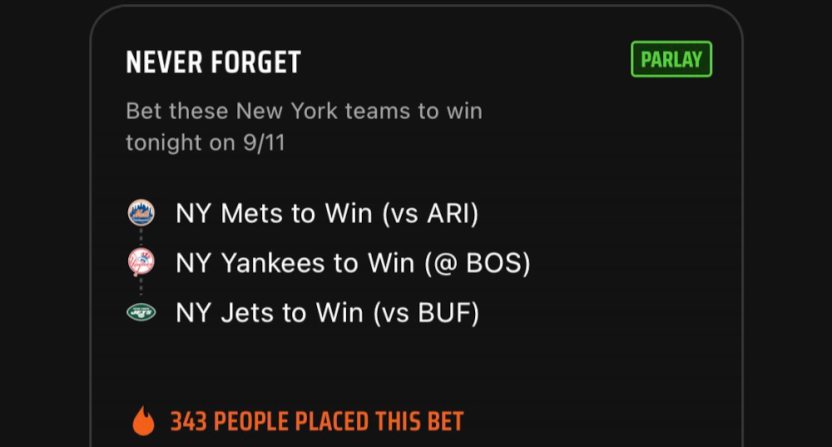 DraftKings was blasted online after the sports betting company promoted a a pre-built parlay involving three New York sports teams playing on 11 September.
According to a screenshot provided by Awful Announcing, ​​DraftKings created a betting option called, "Never Forget," with the description: "Bet these New York teams to win tonight on 9/11." The three teams were the New York Mets, New York Yankees and New York Jets, which are also scheduled to play on the 22nd anniversary of the tragedy.
The parlay prompted backlash from social media users. One person called it "disgusting" while another urged DraftKings to take it down.
One X user commented, "This one should have stayed in the group chat, Draft Kings."
Another took it a step further, writing, "Every single individual associated with this #NeverForget parlay needs to be fired and punched in the f***ing face. Absolutely pathetic."
Yet another remarked, "the brands find a way to screw this up literally every year."
Others pointed out the tragic irony of the 343 number in the tweet, showcasing the number of bettors — but also the number of NYFD who died in the wake of the attack.
In response to the online shaming, DraftKings issued an apology statement to the Boston Globe: "We sincerely apologize for the featured parlay that was shared briefly in commemoration of 9/11. We respect the significance of this day for our country and especially for the familys (sic) of those who were directly affected."
Join our commenting forum
Join thought-provoking conversations, follow other Independent readers and see their replies