Recalled mushrooms cause salmonella outbreak in 41 people across 10 states, CDC says
Four hospitalisations linked to infections reported
Louise Hall
Friday 25 September 2020 19:53 Comments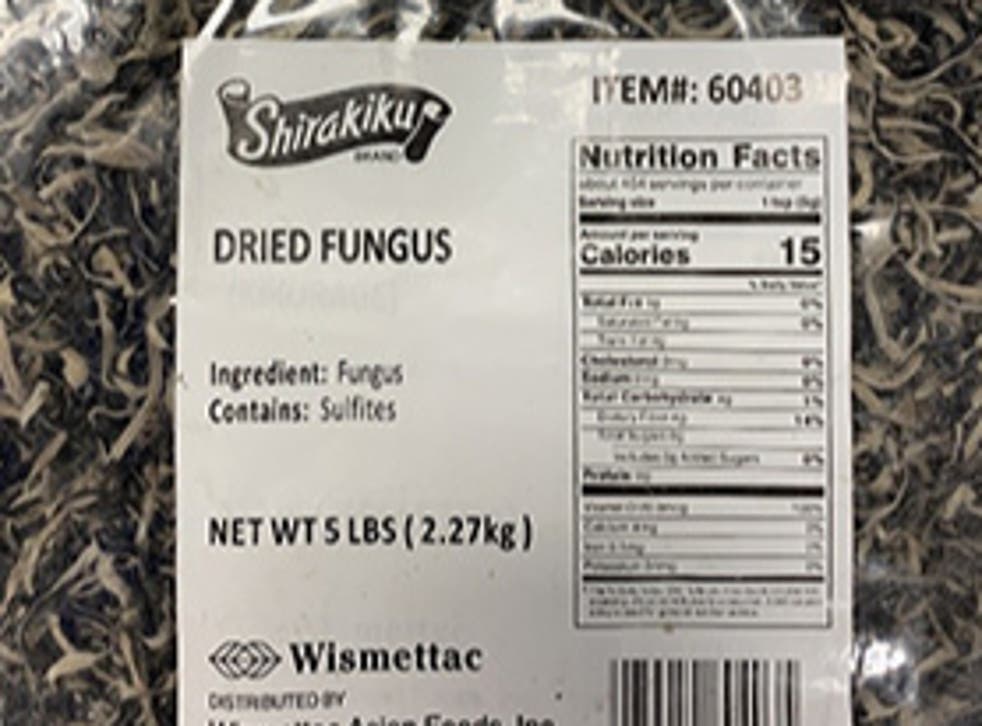 At least 41 people have been infected with salmonella across 10 states as a result of recalled dried mushrooms, the Centres for Disease Control and Prevention (CDC) has said.
The outbreak of salmonella has likely been caused by dried wood ear mushrooms distributed the restaurants by Wismettac Asian Foods that were recalled on Wednesday, the agency said in a release.
Four hospitalisations have been recorded from the 41 salmonella infections caused in the outbreak, which began between 21 January to 26 August. No deaths have been reported.
The mushrooms, which could not be bought directly by consumers, were sent to restaurants in over 30 locations across the US and Canada which are listed on the Food and Drug Administrations website.
The mushrooms were distributed to restaurants in six-packs of five-pound bags labeled as Shirakiku brand Black Fungus (Kikurage), the CDC said.
"Consumers can ask restaurants where mushrooms are from before ordering to avoid eating recalled mushrooms," they advised.
Wismettac initiated the recall of the mushrooms on Wednesday after the California Department of Public Health discovered the presence of Salmonella in the product.
"The manufacturer has been made aware of the issue and is conducting an investigation to determine the cause of the issue so corrections can be implemented," the FDA said.
Wood ear mushrooms are also commonly referred to as Kikurage, Dried Black Fungus, Dried Fungus or Mu'er/Mu Er/Mu-Err mushrooms.
Symptoms of salmonella infection include diarrhea, fever, and stomach cramps and appear from six hours to six days after being exposed to the bacteria.
The organism can cause serious and sometimes fatal infections in young children, frail or elderly people, and others with weakened immune systems.
Register for free to continue reading
Registration is a free and easy way to support our truly independent journalism
By registering, you will also enjoy limited access to Premium articles, exclusive newsletters, commenting, and virtual events with our leading journalists
Already have an account? sign in
Join our new commenting forum
Join thought-provoking conversations, follow other Independent readers and see their replies