Dylann Roof gets death sentence for Charleston massacre
The twelve-member jury sentenced the 22-year-old on Tuesday afternoon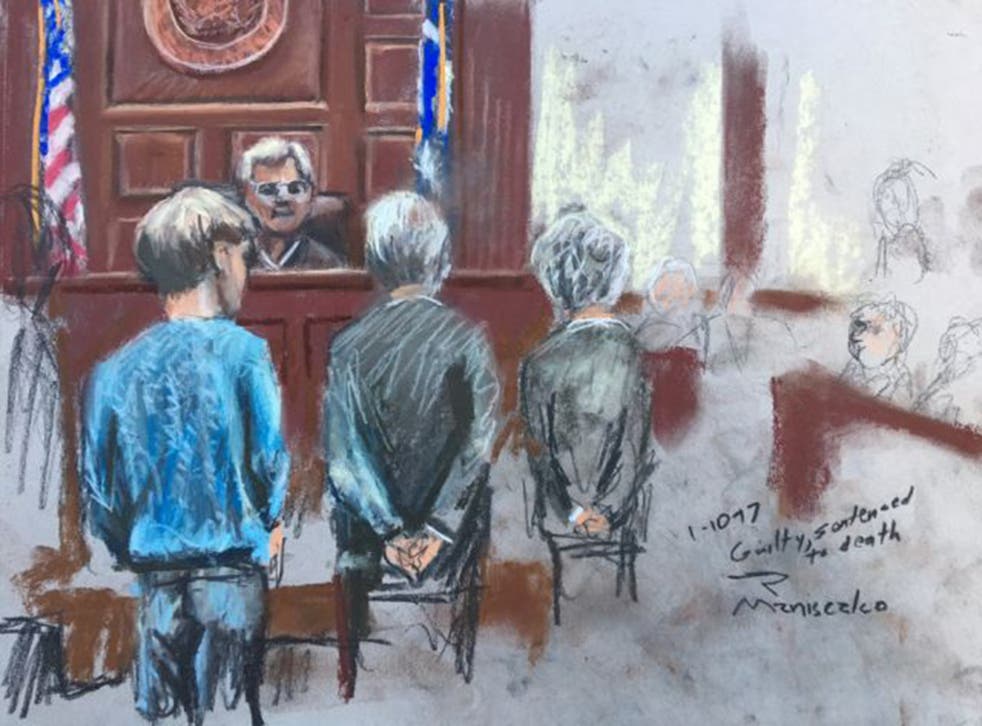 Dylann Roof was sentenced to death on Tuesday night for killing nine black churchgoers in Charleston, South Carolina in 2015.
The twelve-member jury – consisting of 10 women and two men – reached the unanimous sentence after deliberating for three hours. In December, the same jury found Roof guilty on all 33 counts of federal hate crimes for planning to kill nine and attempting to kill three others.
In his six-minute closing argument, the 22-year-old white supremacist showed no remorse for the massacre. While attempting to persuade the jury to spare his life, he claimed that he did not kill the victims out of a hatred for black people.
"I think it's safe to say nobody in their mind wants to go into a church and kill people," he told the jury. "In my [FBI confession] tape I told them I had to. But it's not true: I didn't have to. No one made me. What I meant was: I felt like I had to do it. I still feel like I have to do it."
"Anyone, including the prosecution, who thinks I'm filled with hatred has no idea what hate is," he continued, "they don't know anything about hate."
Prosecutors said Roof planned the shooting for months by writing a racist manifesto, specifically targeting the predominantly black church, and purchasing a .45 caliber pistol with 88 rounds on his birthday. They told reporters that 88 is the numerical symbol for "Heil Hitler."
In pictures: Charleston Church Shooting

Show all 30
"We learned about the defendant's cold and calculated choices that caused those losses to happen," prosecuting attorney Jay Richardson told the court, according to The Post and Courier. "His racist ideology the acquiring of that ideology, that's part of his preparation, that's part of what led him to walk in that door at Mother Emanuel on June 17 (2015)."
"He spent years acquiring this deep hatred," he continued. "He 'had to do it.' Those are the words of an extraordinary racist."
In the sentencing phase of the trial, Roof represented himself and denied psychological incapacity, refused to call witnesses and present any evidence.
The victims – Tywanza Sanders, 26; Reverend Clementa Pinckney, 41; Sharonda Coleman-Singleton, 45; Depayne Middleton-Doctor, 49; Cynthia Hurd, 54; Myra Thompson, 59; Ethel Lance, 70; Reverend Daniel Simmons, 74; and Susie Jackson, 87; – were remembered in court by photos and video recordings.
Roof is also facing state murder charges and it is unclear if local prosecutors will change their plans after Tuesday's ruling. The state trial is currently scheduled to begin on January 17.