Major earthquake due in California with San Andreas fault 'locked, loaded and ready to roll', seismologists warn
Meanwhile in the Pacific Northwest Mount St Helens is showing new signs of life too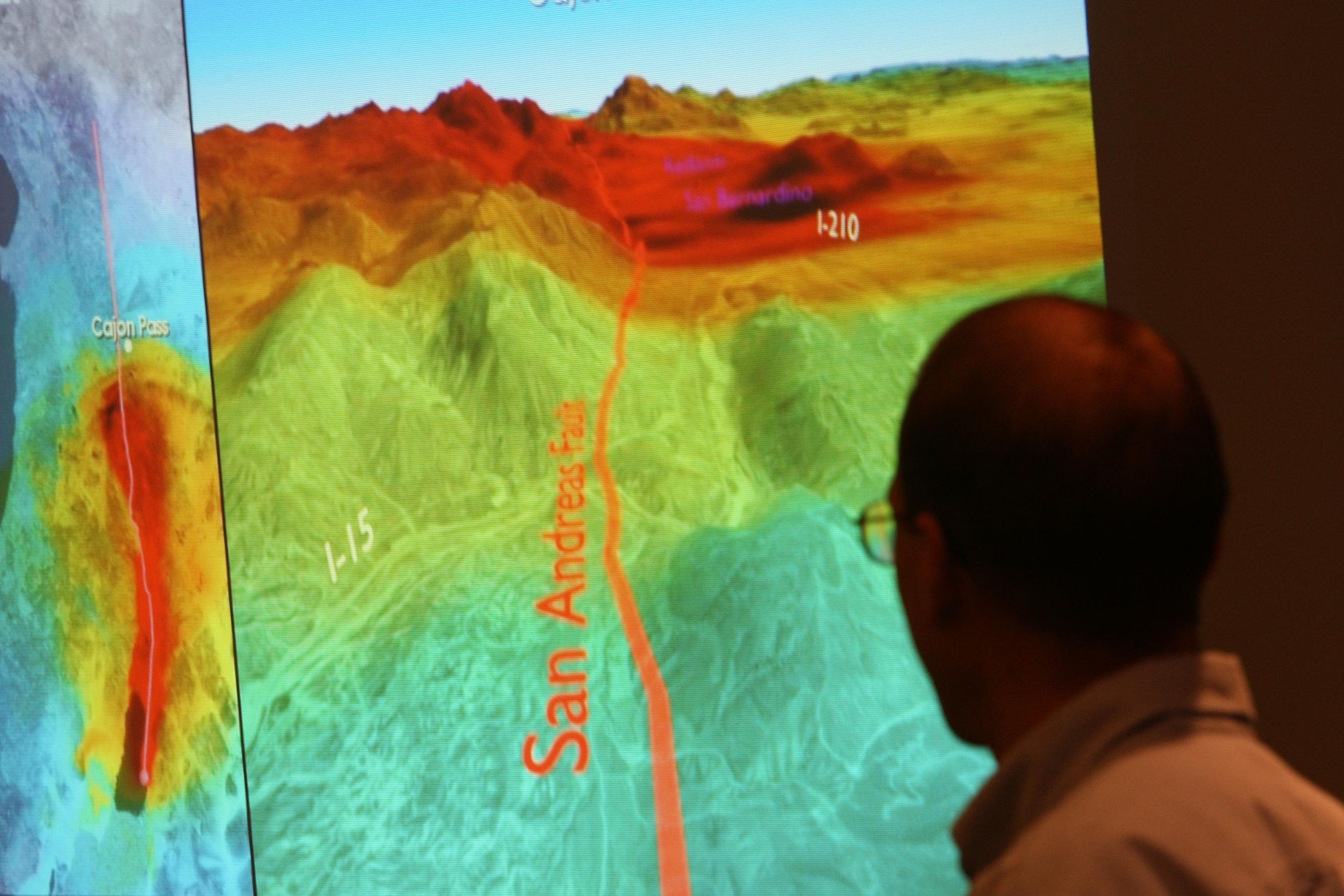 Residents of southern California have been warned by a top seismologist that the San Andreas fault is "locked, loaded and ready to go" and a major earthquake in the region is overdue.
The dire warning has come just a few months after the Mayor of Los Angeles, Eric Garcetti, pushed legislation through the City Council demanding that the most vulnerable buildings in the city be retrofitted as soon as possible so they will be able to withstand violent shaking.
It was delivered by Thomas Jordan, director of the Southern California Earthquake Centre, speaking at an earthquake conference in Long Beach. "The San Andreas fault is locked, loaded and ready to roll. The springs of that fault have been wound pretty tightly and the situation is there where we could have major earthquakes in California," he told an audience of fellow seismologists.
The Earthquake Centre has meanwhile released as sobering graphic that simulates how far the shaking would travel if, as he suggests, it is of 8.0 magnitude.
While predicting earthquakes remains an uncertain science, there has been concern among experts for some time that the San Andreas fault may be close to a new, major ruction if only by virtue of the length of time since it happened last, when the southern portion of the fault was struck by a 7.9 shaker all the way back in 1857.
Since then the tectonic plates that meet at the fault have been continuously on the move at a rate of about 2 inches per year. That means that over 159 years there has been a shift of 26 feet as the Pacific plate moves in a northwesterly direction against the American continental plate. Every additional inch creates additional pressures on the rocks beneath the earth's surface.
The biggest earthquakes in the world since 1900
Show all 10
An 8.0 magnitude event in southern Carolina could prove far more destructive than the 1994 Northridge earthquake that hit a different fault northwest of Los Angeles killing 60 people.
The US Geological Survey warned in 2008 that even a 7.8 magnitude earthquake on the southern San Andreas Fault would cause more than 1,800 deaths, 50,000 injuries, $200 billion in damage and severe disruptions to the area's infrastructure, including its sewage systems.
On Mayor Garcetti's urging, Los Angeles last October required as many as 15,000 buildings be reinforced, including concrete buildings considered brittle and apartment blocks built mostly from timber. It was an unpopular move with some owners because of the high cost.
Cliffs collapse during New Zealand quake
Mr Jordan paid tribute to the city for taking the danger seriously. "It's remarkable that this happened," he said. "We know politically how difficult it is to make these kinds of changes."
Trouble of a different kind appears to be brewing further north in the Pacific Northwest with reports of a swarm of as many as 130 small earthquakes in recent weeks beneath Mount St. Helens, still an active volcano, signaling increasing dangers of an eruption.
Confirming the activity, the US Geological Survey nonetheless played down the need for immediate alarm. At this point, "there is absolutely no sign that it will erupt anytime soon, but the data we collect tells us that the volcano is still very much alive," if said.
Conceding a sudden upsurge in small tremors in the area since 14 March and now reaching as many as 40 a week, the Survey sought to reassure local communities, who still have memories of the 1980 eruption of the volcano that blew a 1,000 feet off the top of the mountain, ignited forest fires and killed 57 people.
"The earthquakes are volcano-tectonic in nature, indicative of a slip on a small fault. Such events are commonly seen in active hydrothermal and magmatic systems," it said. Most of the earthquakes now being detected are of 0.3 magnitude or less, with the largest at 1.3 magnitude.
Join our commenting forum
Join thought-provoking conversations, follow other Independent readers and see their replies