Ecuador earthquake: 6.1-magnitude quake hits off coast days after deadly tremor
Jolt felt as death toll from Saturday's disaster rises to at least 525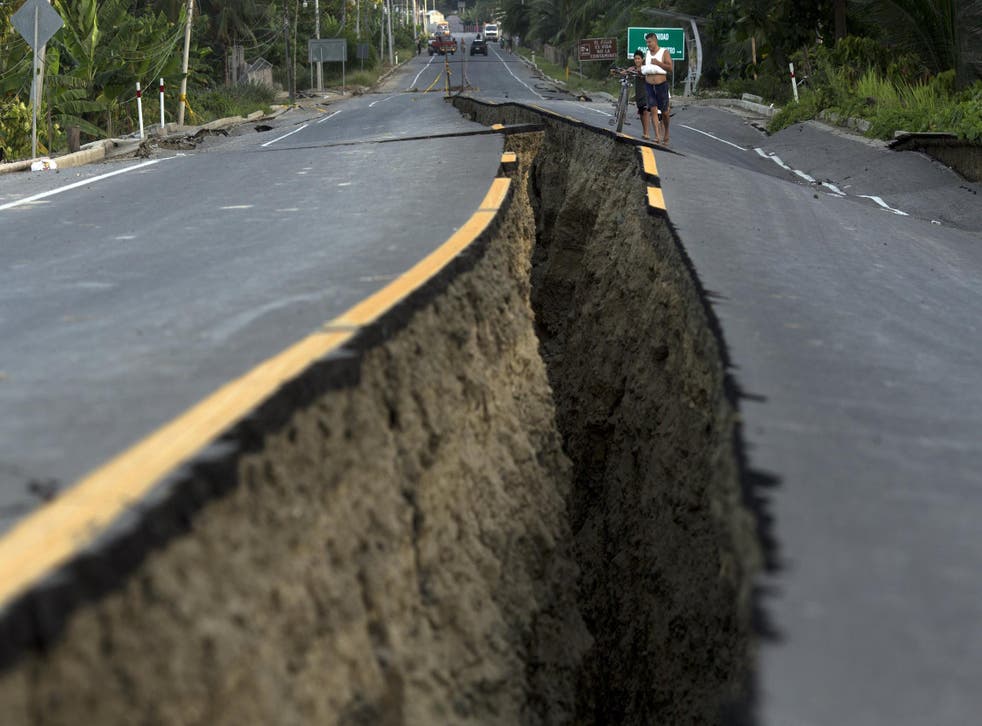 An 6.1-magnitude earthquake has been measured off the coast of Ecuador, days after a quake left hundreds dead and missing in the country.
The US Geological Survey said the tremor was centered offshore, 15 miles west of the coastal town of Muisne, at 3.33am (9.33am) local time. The previous strongest aftershock was magnitude 5.7.
There was no immediate report of further damage.
It comes as Ecuadoreans began burying those killed in the 7.8-quake struck on Saturday night, while hopes faded that more survivors would be found.
In the small town of Montecristi, near the port city of Manta, two children killed with their mother while buying school supplies were among those buried on Tuesday.
The funeral had to be held outside under a makeshift awning, because the town's Roman Catholic church was unsafe from structural damage.
Family members wailed loudly and one man fainted as the children were laid to rest in an above-ground vault.
Scenes of mourning multiplied all along Ecuador's normally placid Pacific coastline, where the tremor flattened towns and killed hundreds. Funeral homes are running out of coffins to accommodate so many casualties, and local governments are paying to bring in caskets from other cities.
The National Prosecutors Office put the death toll at 525 — up from a previous official toll of 507 — but officials expected more bodies to be found, with the Defense Department reporting Tuesday that more than 200 people were still missing.
The office said on its Twitter account that there were at least 11 foreigners among the dead. It said that of the 525 victims, 15 people remained unidentified but none was foreign.
The office said 435 of the dead were found in the Manta, Portoviejo and Pedernales areas.
The final toll could surpass casualties from earthquakes in Chile and Peru in the past decade. Even as grief mounted, there were glimmers of hope.
In several cities Tuesday rescuers with sniffer dogs, hydraulic jacks and special probes that can detect breathing from far away continued to search for survivors among the rubble. At least six were found in Manta early on Tuesday.
Ecuador earthquake in pictures

Show all 16
One of the most-hopeful tales was that of Pablo Cordova, who held out for 36 hours beneath the rubble of the hotel where he worked in Portoviejo, drinking his own urine and praying that cellphone service would be restored before his phone battery died.
He was finally able to call his wife Monday afternoon and was pulled from the wreckage soon after by a team of rescuers from Colombia
Mr Cordova's wife had given up on ever seeing him again and managed to buy a coffin.
"They were organizing the funeral, but I've been reborn," he said.
"I will have to give that coffin back because I still have a long way to go before I die."
Rescuers who have arrived from Mexico, Colombia, Spain and other nations said they would keep searching for survivors Wednesday, but cautioned that time was running out and the likelihood of finding more people alive grew smaller with the passage of every hour.
Join our new commenting forum
Join thought-provoking conversations, follow other Independent readers and see their replies