General Efrain Rios Montt: Former Guatemalan dictator who got away with mass murder
After coming to power in a coup in 1982, he promised Guatemalans, 'I will not steal, I will not lie, I will not abuse', but was convicted of genocide in 2013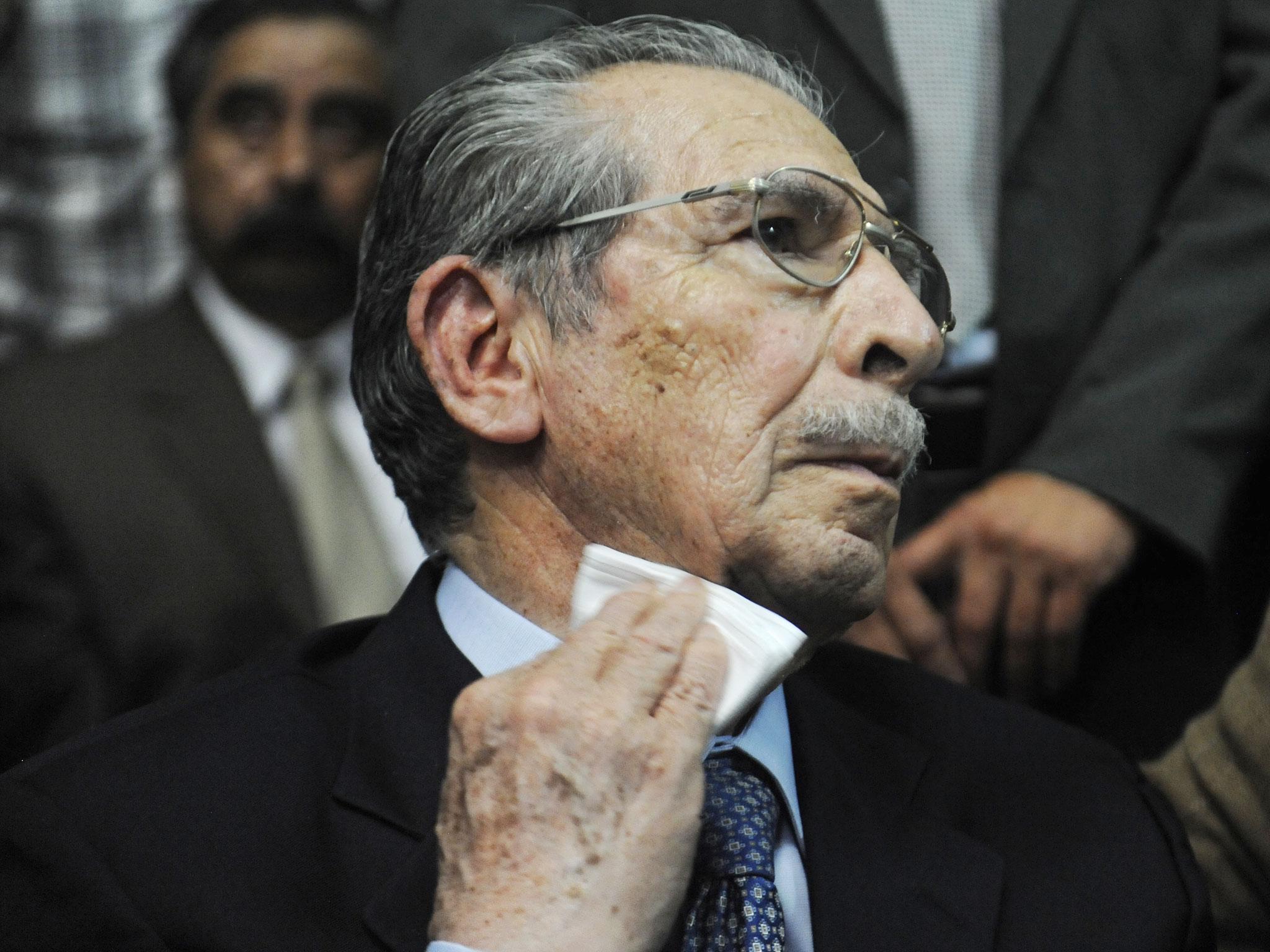 "When Efrain Rios Montt, the former Guatemalan dictator, held power in the early 1980s, thousands of civilians were shot, tortured and 'disappeared' in the most violent episode of the Central American nation's history," The Independent reported in 2003.
Montt at the time was making another bid for power at the age off 77. "[He] should not be standing as a candidate for the presidency, he should be on trial in The Hague alongside former Serbian ruler Slobodan Milosevic," human rights campaigner Miguel Angel Sandoval said.
Rios ​Montt, who has died aged 91, is widely held responsible for the deaths of up to 70,000 mostly indigenous Mayans people in a "scorched earth" policy which followed the 1982 coup that brought him to power.
His name will forever be associated with the genocide of the 1980s – in 2013 he received an 80-year sentence for that very crime.
He and his former chief of intelligence were found responsible for massacres in 15 Ixil Maya villages in which 1,771 unarmed men, women, and children were killed – 10 days later, however, the conviction, however, was overturned, as many had feared it would be. Dozens of witnesses had testified about rapes, murders and forced displacement that he either ordered or knew about.
Legal confusion arose when that annulment was in turn overruled.
Last October a new trial was launched. Rios Montt's lawyers argued that the senile dementia he was diagnosed with in 2015 should exempt him prosecution.
Thousands of indigenous Mayans were brutally murdered during his 16-month rule from March 1982 to August 1983 as the Guatemalan army, with some US support, sought to wipe out the rural support for left-wing guerrillas. It was the most violent counterinsurgency period in what was already an extraordinarily brutal civil war.
But Rios Montt's reputation for honesty and a no-nonsense approach to law and order also gave him significant popular backing in a country wracked by political turmoil since a CIA-orchestrated coup in 1954 overthrew a reformist government. Even though he never fulfilled his dream of becoming elected president, he was for several years Guatemala's most powerful politician behind the throne.
He was born into a large family in the poor, highland department of Huehuetenango. His parents, a shopkeeper and seamstress, stressed hard work and education as a way out of poverty. Montt opted for the military, while one of his younger brothers, Mario, chose the Catholic church and later in a strange twist of fate, became head of the church's human rights office investigating abuses during the rule of his brother and other generals.
In 1943 his father paid for Montt's passage to Guatemala City. A sympathetic colonel impressed by his demeanour helped Montt into the military academy, where he soon rose through the ranks. He was identified as a less conservative member of the army hierarchy but did not join the ranks of the incipient guerrilla movement in the early 1960s, which was led by disaffected army officers. He was chief of the army general staff under President Carlos Arana Osorio (1970-1974), but left the army to stand for a Christian Democrat-dominated alliance in the 1974 elections against Arana's candidate. He won the vote, but lost the count, and was forced into exile in Madrid as military attache.
On his return, his interest was sparked in the California-based evangelical Protestant sect Church of the Word, and he became a minister in 1978. In March 1982 history relates that he was either teaching or just sweeping the floor in his church when junior officers came and asked him to head a coup.
They feared another incompetent and corrupt military ruler could have led to a repeat of the Sandinista victory in nearby Nicaragua. He was first head of a three-man military junta and minister of defence, and then from June 1982 self-proclaimed president and commander in chief. The junior officers chose him for his honesty, but even they did not bargain for daily prayer sessions and televised Sunday addresses to the nation, in which he promised: "I will not steal, I will not lie, I will not abuse."
In the cities death-squad killings stopped but in the rural areas Rios Montt stepped up a large-scale but selective scorched earth policy – a phrase he himself denied, saying he was pursuing only "scorched communists". Human rights organisations estimate 17,000 indigenous Mayans died during his rule, often as a result of scarcely credible savagery by brutalised soldiers. At least 600 villages were wiped out. Rios Montt was not the originator of the policy (which had started before him), but his time at Fort Gulick (Panama Canal Zone) and Fort Bragg (North Carolina) gave him the basic understanding of counterinsurgency operations.
However, he is credited with introducing fusiles y frijoles (literally, rifles and beans), by which every adult male was forced to join civilian patrols and many corralled into model villages in exchange for political loyalty or neutrality. He was overthrown by General Mejía Víctores in August 1983, but by that time the guerrillas were very much on the defensive. The coup restored the authority of the military hierarchy, most of whom were also fed up with his stern Protestantism. "Guatemala does not need any more prayers," the former president Mejía Víctores was quoted as saying, "just more executions."
The two exhaustive investigations into the Guatemalan civil war by the Catholic church and by the United Nations firmly pointed the finger at the army and its allies for carrying out the killings of more than 90 per cent of the 200,000 victims of the civil war (1960-1996), of which 132,000 died between 1978 and 1983. Two Guatemalan human rights groups acted on the UN's recommendation that those responsible for genocide should be brought to book and started legal proceedings against Rios Montt, one in Guatemala and the other in Spain. He was never brought to trial but evidence compiled in Spain helped to bolster the case of witnesses to achieve the 2013 conviction.
Rios Montt always denied genocide, and dismissed the church report as the version of history "written by losers". He also claimed he did not know what was happening on the ground, or that if there were atrocities, they were perpetrated by guerrillas or rogue troops. His opponents argued that this could not have been the case: the army had sophisticated communications technology, and the way the massacres were carried out showed many common elements, that could only have come from a coordinated and centrally planned strategy.
Ríos Montt remained bitterly hated by the war victims and their sympathisers. But he commanded support from many Guatemalans attracted to strong, authoritarian leaders. The boom in Protestantism to an estimated 30 to 40 per cent of the population helped his appeal, and he retained considerable electoral support from many in the rural areas who were anti-guerrilla and members of the old civilian patrols.
He and other right-wing politicians formed an electoral alliance, later known as the populist Guatemalan Republican Front (FRG), to fight the 1990 amd 1991 elections, but he was prevented from standing by a constitutional ban on former coup leaders. Another evangelical Protestant candidate, Jorge Serrano Elias, became president, but most observers say Rios Montt would have won. Similarly, the FRG candidate, Alfonso Portillo won in 1999 as Ríos Montt remained banned. He had to settle for being head of the new Congress, but was acknowledged by Portillo as being "Guatemala's real leader".
In 2000, Rios Montt and other FRG deputies were involved in a corruption scandal known as "Guategate", in which they were accused of illegally reducing a tax on alcoholic beverages after lobbying from interested parties. Rios Montt escaped prosecution but his reputation for honesty took a severe blow. In 2003 his supporters staged a riot in Guatemala city when it looked like he was again to be banned from standing in elections that year. The ban was controversially lifted, but he finished a poor third and his political fortunes never recovered.
Rios Montt was a maverick politician, who did not fit the usual models for Latin American dictators. Western observers found his electoral appeal as difficult to fathom as his style of giving interviews, in which he would often lecture journalists on morality in the language of church sermons. He remained unrepentant to the last. "I may not be spotless," he once said, "but my conscience is clear."
He is survived by his wife Maria Teresa Sosa, his daughter, Zury and son Enrique.
Efraín Rios Montt, former president of Guatemela, born 16 June 1926, died 1 April 2018
Join our commenting forum
Join thought-provoking conversations, follow other Independent readers and see their replies