Eid 2016: Barack Obama condemns rise in Islamophobic attacks
He said: 'This Eid, we recommit to protecting Muslim Americans against bigotry and xenophobia, while celebrating the contributions of Muslim Americans around the country'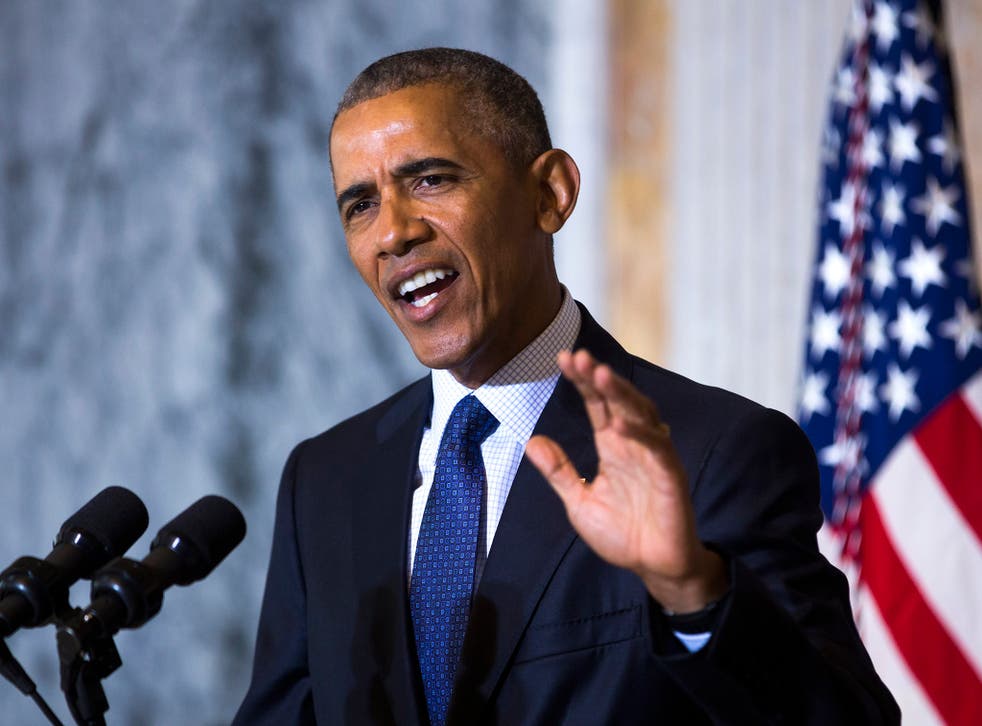 President Barack Obama has extended a heartfelt message to Muslims around the world on the day of Eid and has condemned a rise in xenophobic attacks against American Muslims.
As 30-day Ramadan comes to an end, Mr Obama and First Lady Michelle Obama said they would host an Eid party at the White House and described how Muslims traditionally wear their "finest attire", decorate their houses with ornaments and lanterns and exchange gifts.
A dark shadow looms over the festivities, however, in the wake of a series of hate crimes against American Muslims in the US and mass killings across the world.
He referred to the "senseless violence" in recent months, from the mass shooting in Orlando and bombings at an airport in Istanbul to further atrocities in Dhaka, Baghdad and Medina. He said many of the innocent lives lost were Muslim.
"Here at home, we've also seen a rise in attacks against Muslim Americans," he added. "No one should ever feel afraid or unsafe in their place of worship."
Recent attacks include a Muslim doctor being shot and stabbed by a group of three men outside a mosque in Texas. Two Muslim teenagers were also brutally beaten outside a Brooklyn mosque this week, the assailant screaming at them: "You f***ing terrorists!"
A third incident occurred this week where a Muslim man was beaten outside a Florida mosque, the same place of worship frequented by the man who killed 49 people in a nightclub in Orlando.
Drone footage shows 88,000 Muslims celebrating Eid in Birmingham
"In the face of hate, it's our American values and strength that bring us together to stand in solidarity and protect one another—thereby, making our Nation stronger and safer," added Mr Obama in his statement.
The Council on American-Islamic Relations has also reported a rise in hate crimes, especially during the period after the terrorist Paris attacks last November and Donald Trump calling for a ban of all Muslims entering the US.
Mr Obama said in his message that Muslims are as diverse as the US itself - black, white, Asian, Latino and Arab - and have been "part of the American family since the beginning".
"This Eid, we recommit to protecting Muslim Americans against bigotry and xenophobia, while celebrating the contributions of Muslim Americans around the country, including one of our finest, the People's Champion Muhammad Ali, to whom we bade farewell this Ramadan," he said.
Several cases have been reported this year of Muslim individuals and families being kicked off US airlines, simply for "how they looked" and making staff feel "uncomfortable".
In Texas, a group of white men have been improving their shooting skills in the case of a "Muslim uprising".
Law enforcement was also criticized when a group of armed policemen ran towards and shouted at an innocent Muslim man, a visiting businessman from Abu Dhabi, outside an Avon hotel after a desk clerk incorrectly claimed in a 911 call that he had "pledged allegiance to Isis". The incident led to international outrage and the United Arab Emirates warning its citizens not to wear their traditional dress when visiting the US.
Register for free to continue reading
Registration is a free and easy way to support our truly independent journalism
By registering, you will also enjoy limited access to Premium articles, exclusive newsletters, commenting, and virtual events with our leading journalists
Already have an account? sign in
Register for free to continue reading
Registration is a free and easy way to support our truly independent journalism
By registering, you will also enjoy limited access to Premium articles, exclusive newsletters, commenting, and virtual events with our leading journalists
Already have an account? sign in
Join our new commenting forum
Join thought-provoking conversations, follow other Independent readers and see their replies