El Chapo: Mexican drug lord taken back to same prison he escaped from in July
Video shows Joaquín Guzmán escoreted on to a military helicopter after being detained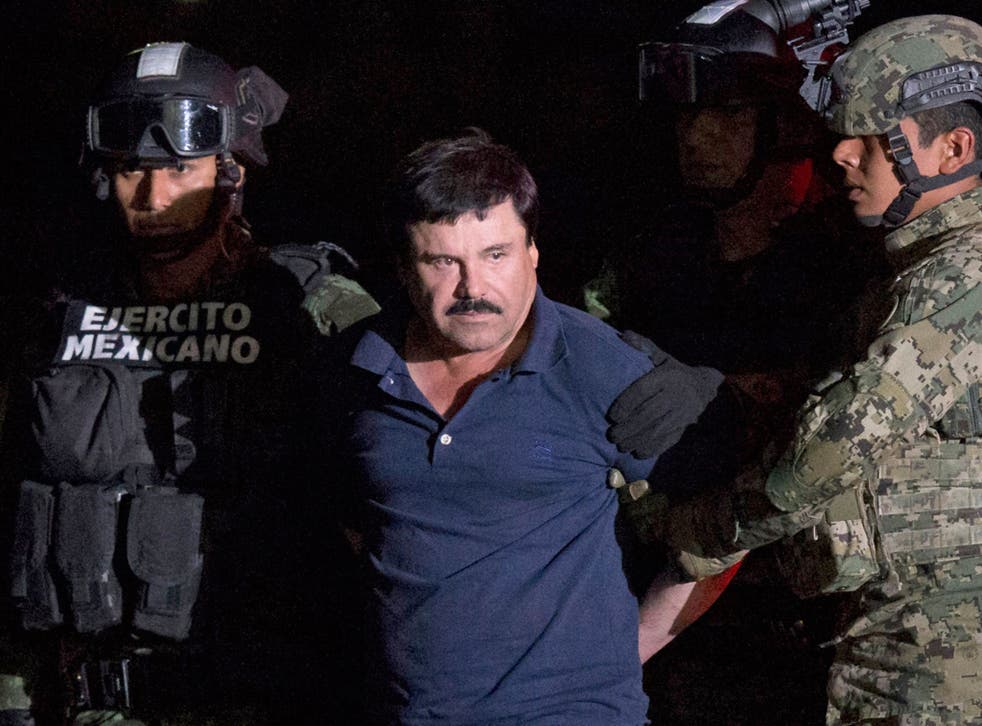 Mexican authorities have presented recaptured drugs lord Joaquín "El Chapo" Guzmán to the world's media – as they take him back to the same prison he escaped from six months ago.
Leader of the notorious Sinaloa drugs cartel, Guzmán was captured after six months on the run.
Video from Reuters shows Guzmán being escorted by soldiers into a military helicopter.
He will return to the same maximum security prison, Altiplano, from which he escaped in July, reportedly through a 1.5 km tunnel that opened into his shower.
President Enrique Peña Nieto tweeted news of Guzmán's arrest on 8 January, in a message that translates as: "Mission completed: we have him. I'd like to inform the Mexicans that Joaquín Guzmán Loera has been detained."
He was apprehended early on 8 January in a raid by Mexican soldiers in Los Mochis, a coastal city in Guzmán's home state of Sinaloa.
His recapture will assuage relations between the US and Mexico, which were undermined by Guzmán's escape last year with the alleged help of corrupt prison officials, according to Reuters. The former head of the Mexican federal prison system was arrested in connection with the escape. Guzman will now face trial in the US.
Guzmán's Sinaloa cartel has smuggled billions of dollars of illegal drugs into the US through a network of tunnels under the Mexico-US border.
The drug lord previously escaped from another maximum security prison in 2001, spending ten years on the run before being recaptured, for the first time, in 2014.
Register for free to continue reading
Registration is a free and easy way to support our truly independent journalism
By registering, you will also enjoy limited access to Premium articles, exclusive newsletters, commenting, and virtual events with our leading journalists
Already have an account? sign in
Register for free to continue reading
Registration is a free and easy way to support our truly independent journalism
By registering, you will also enjoy limited access to Premium articles, exclusive newsletters, commenting, and virtual events with our leading journalists
Already have an account? sign in
Join our new commenting forum
Join thought-provoking conversations, follow other Independent readers and see their replies