El Chapo: Sean Penn interview with infamous drug lord leaves The White House 'maddened'
There has been no suggestion Rolling Stone or Penn tipped off the authorities as to what they were doing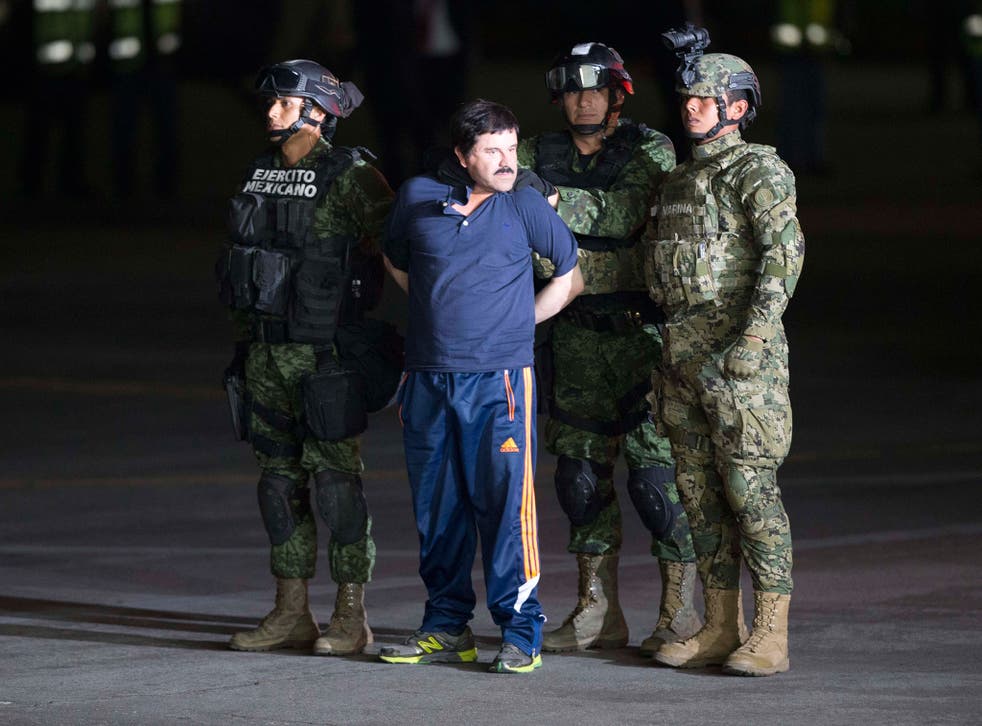 If Sean Penn, Hollywood actor and political agitator, imagined that by heading off to the jungles of Mexico to secretly interview the world's most infamous – and most wanted – drug lord for Rolling Stone magazine he would create something of a stir, he was not wrong.
His encounter in October was with Joaquin "El Chapo" Guzman, who months earlier had escaped from prison, to the astonishment of all, slipping through a hole in his shower floor to a mile-long tunnel dug by loyal supporters. The long, rollicking result of Penn's secret journalistic enterprise was published on Saturday night, hours after Guzman was caught again and returned to the same prison.
It is not a dull read. Guzman had not given an interview in decades. Moreover, to Penn he made no effort to deny the nature of his business. That is another first. As the two men sipped tequila in the jungle, Guzman conceded: "I supply more heroin, methamphetamine, cocaine and marijuana than anybody else in the world. I have a fleet of submarines, aeroplanes, trucks and boats." No coyness in that admission.
Also on hand was Kate del Castillo, an actress known in Mexico for playing a female cartel boss in a soap opera. She also once caused a furore with a Twitter message to Guzman suggesting he traffic "love" instead of drugs, but also indicating some sympathy for him. It was her subsequent contacts with the Guzman camp that helped Penn reach him.
Arguably, the authorities of the United States and Mexico have reason to be grateful to the actors. Officials in Mexico have confirmed that they had been aware of their derring-do in travelling to meet Guzman in his jungle hideout. Just days after the encounter they launched an operation to seize him. It was a break that eventually led to his capture on Friday in Los Mochis, a port city in Sinaloa.
Rolling Stone may face ethical questions. There has been no suggestion that it or the writer tipped off the authorities on either side of the border as to what they were doing. Readers of the article are also informed that Penn gave Guzman the right to approve whatever he wrote before publication, an arrangement that few mainstream media outlets would countenance.
Yet what came of it is a gripping read, and not just because of Guzman words. Indeed, the formal interview that had been arranged for eight days after the first encounter never happened because of the military assault that followed, scattering Guzman and his protectors. For that part, Penn mostly had to make do with a video of Guzman answering pre-set questions that was later forwarded to him.
But that hardly left him short of material. There is the moment when, after driving for hours to a clandestine air strip, Penn notices that his driver is Guzman's son. He is well dressed, "with a wristwatch that might be of more value than the money housed by the central banks of most nation states".
Or the time, in the middle of his few hours with Guzman, when the writer looks up at the blackness of the sky and muses about the possibility of a drone flying above, poised to launch a missile at them. And his observation of what he sees as Guzman's politeness when he accidentally lets loose a gust of "traveller's flatulence" in front of the drug baron. "He pretends not to notice," Penn writes.
Neither government seemed happy about the interview today. Mexican officials indicated that they may open formal investigations into the contacts Penn and del Castillo had with Guzman while he was the most hunted man in Mexico and arguably the world. The White House declared itself "maddened".
"This braggadocious [sic] action about how much heroin he sends around the world, including the United States, is maddening," said Denis McDonough, the chief of staff to President Barack Obama. "We see a heroin epidemic, an opioid addiction epidemic, in this country." He would not say whether the US might deliver Penn to the Mexican authorities for questioning.
Doubtless some of what Guzman says, to Penn directly in their encounter and then in the video interview, will grate. He recalls fondly the "very humble family, very poor" in which he grew up. "I remember how my mom made bread to support the family. I would sell it. I sold oranges, I sold soft drinks, I sold candy… We grew corn, beans. I took care of my grandmother's cattle and chopped wood."
He noted blithely that he entered the drug trade at 15 because there was no other way to live. "The only way to have money to buy food, to survive, is to grow poppy, marijuana, and at that age, I began to grow it, to cultivate it and to sell it. That is what I can tell you."
Guzman's responses sometimes appear contradictory. He accepts the poison that drugs represent. "Well, it's a reality that drugs destroy," he says. But the man who built the largest-ever cartel, sent narcotics around the world and spawned bloody violence against rival cartels, pushes back when asked if he is not responsible for thousands falling into drug addiction.
"No, that is false, because the day I don't exist, it's not going to decrease in any way at all. Drug trafficking? That's false," he argues. "Drug trafficking does not depend on just one person. It depends on a lot of people."
He adds that he hopes to die of "natural causes". Now that he is back in custody, with Mexico apparently willing for him to be extradited to the US, his chances of achieving that may actually have improved – although it would mostly likely come within the confines of the Florence "supermax" prison on the high plains of Colorado.
Controversial visits: Penn's travels
Sean Penn's unusually arranged interview with the world's most wanted drugs fugitive was far from his first venture into international controversy. The actor, known for his fiery temper, went to Iraq in December 2002, just as the US prepared to go to war, in a move that earned comparisons with Jane Fonda's controversial visit to Vietnam in 1972.
During that three-day trip, Penn met the then deputy Prime Minister, Tariq Aziz. "Remember the Iraqi children, our children, and your own," he wrote to President George W Bush in an open letter opposing the coming war.
In other flirtations with leaders regarded by many Americans as enemies of the US, Penn met both Cuba's President Raul Castro and Venezuela's late president, Hugo Chavez. In 2012, he stood alongside Mr Chavez as the latter announced that his country would send diesel to President Bashar al-Assad's regime in Syria.
That same year, Penn met Argentina's then President, Cristina Fernández de Kirchner, and backed her country's claim of sovereignty over the Falkland Islands, saying: "The world today is not going to tolerate any ludicrous and archaic commitment to colonialist ideology."
In accepting his 2009 Oscar for the film Milk, he thanked "you commie, homo-loving sons-of-guns" and made a plea for gay rights.
Ian Johnston
Register for free to continue reading
Registration is a free and easy way to support our truly independent journalism
By registering, you will also enjoy limited access to Premium articles, exclusive newsletters, commenting, and virtual events with our leading journalists
Already have an account? sign in
Register for free to continue reading
Registration is a free and easy way to support our truly independent journalism
By registering, you will also enjoy limited access to Premium articles, exclusive newsletters, commenting, and virtual events with our leading journalists
Already have an account? sign in
Join our new commenting forum
Join thought-provoking conversations, follow other Independent readers and see their replies