Family members describe how mother shielded her child from El Paso gunman
El Paso shooting: Mother gives life for her 2-month-old baby as she shields him from shooter
Emergency personnel pulled young baby from Jordan Anchondo's embrace in aftermath of attack
It was the ultimate sacrifice - Jordan Anchondo, 25, gave her life for her two-month old son, Paul, shielding his small body from the bullets unleashed by a lone gunman in the border town of El Paso, Texas, on Saturday morning.
In the aftermath of the attack, in which the shooter opened fire on shoppers in a local Walmart, emergency personnel pulled the young baby from his mother's embrace.
He suffered broken fingers and was taken to hospital with her blood still on his little body, relatives said.
In all the mayhem he was unable to be identified at first, and medical personnel at the University Medical Center of El Paso, where he was treated on Saturday morning, simply named him "Baby John Doe".
Ms Anchondo, critically injured, was rushed into intensive care where she later died from her injuries.
El Paso mass shooting: 20 killed at Walmart store

Show all 39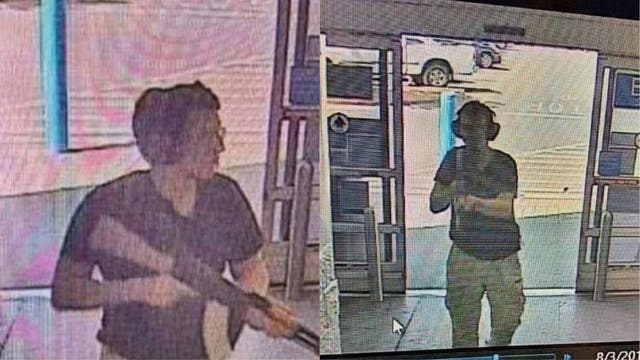 Ms Anchondo's sister, Leta Jamrowski, said she died as a result of injuries she received protecting her baby from the hail of bullets unleashed by the lone shooter.
From where she was pacing in the hospital waiting room, Ms Jamrowski said her 2-month-old nephew's injuries were thought to be from the result of his mother falling on him.
"From the baby's injuries, they said that more than likely my sister was trying to shield him," she said.
"So when she got shot she was holding him and she fell on him, so that's why he broke some of his bones. So he pretty much lived because she gave her life."
The baby's father, Andre Anchondo, 24, was still missing at that stage on Saturday, giving his family a sliver of hope he would be found alive.
But he was later confirmed to have been killed and the baby, one of the youngest to survive the El Paso mass shooting, has now been left an orphan.
His parents had just celebrated their first wedding anniversary and the birthday of their eldest daughter.
They had gone to Walmart to buy school supplies and party decorations for a planned celebration later in the day.
The suspect, 21-year-old Patric Crusius, has been arrested and charged with several offences including charges of domestic terrorism.
Mr Anchondo's older brother, Tito, told The Washington Post he heard about the shooting at the shopping centre and began calling his brother and sister-in-law.
Several hours later he received a call from officials asking him to identify Ms Anchondo.
The family rushed to the hospital to discover the bittersweet news their youngest nephew was injured but alive, though his young mother had died, having given her life to protect her son.
His family spent hours hoping and praying he was injured and alive.
But over the weekend officials confirmed the death of the young father, who family and friends said had just begun to turn his life around.
After years of struggling with drug addiction and run-ins with the law, he had started a successful construction and was looking forward to life in a home he had built for his family.
On Sunday night, John Jamrowski, the grandfather of Jordan Anchondo, said in a text message that his family has been notified of the death of Mr Anchondo.
Koteiba "Koti" Azzam said he had fond memories of his friend Mr Anchondo.
"I love the guy," Mr Azzam said. "He had the character and the charisma."
Mr Azzam said Mr Anchondo had started a business in El Paso, building things from granite and stone, and made it successful through hard work. He was also on the verge of completing a home for his family.
"It makes you question your faith almost," said Mr Azzam, who is Muslim. "But God didn't have a part in it. The hands of man altered my friend's life in a drastic way."
Jesse Jamrowski and Liz Terry, Ms Anchondo's uncle and aunt told CNN the world was a bleaker place as three children were now left without their parents.
"Two amazing humans were stripped from us and their babies are now left parentless," Ms Terry said.
"We will do everything as a family to unite behind them and remind them of their parents. Children are resilient, but they shouldn't be faced with this situation."
Support free-thinking journalism and attend Independent events
Federal authorities are now treating the mass shooting, that killed 20 and injured dozens of others, as a case of domestic terrorism.
At a news conference, US attorney John Bash said the justice department was also considering bringing federal hate crime and federal firearm charges – both of which carry a possible death penalty – against the suspect.
Mr Bash said the shooting met the definition of domestic terrorism in that it "appears to be designated to intimidate a civilian population".
Officials are also investigating a racist, anti-immigrant document they believe was posted by the alleged white supremacist shooter.
Join our new commenting forum
Join thought-provoking conversations, follow other Independent readers and see their replies