El Paso shooting: Mexico government calls for US gun law reform over 'act of terrorism' in Texas
'Mexico is outraged', the nation's foreign minister says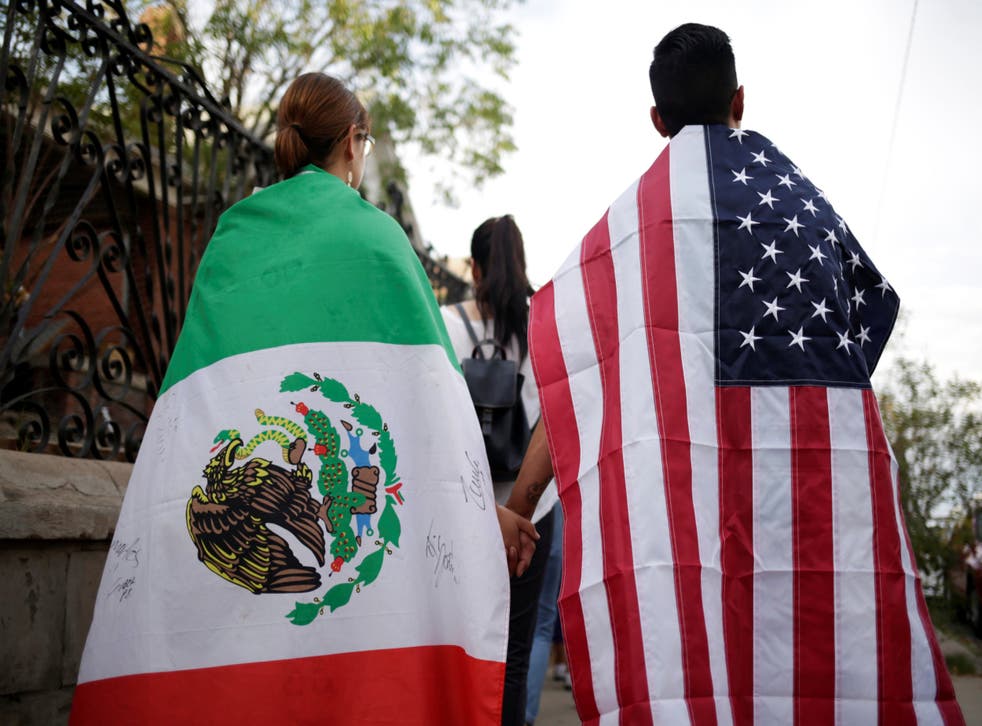 The Mexican government has dubbed the mass shooting in El Paso, Texas, over the weekend an "act of terrorism" against Mexicans, while the president of that nation expressed hope that the US will act swiftly to change its gun laws.
The shooting, on Saturday, has left at least 22 people dead, after a gunman opened fire in a Walmart just miles from the US-Mexico border.
"There could be a change to their laws because it is stunning what is happening, unfortunate, and very powerful," Andrés Manuel López Obrador, the Mexican president, said on Monday. "I don't rule out that they could change their constitution and laws. These are new times; you have to always be adjusting the legal framework to the new reality."
The shooting on Saturday has shocked many in the US and Mexico, and has sparked an international conversation around white supremacy and racism in the US after reports indicated the white gunman wrote an anti-immigrant screed online before the attack.
Foreign minister Marcelo Ebrard called on the US to establish a "clear and convincing position against hate crimes' following the shooting that he called an "act of terrorism" against Mexicans.
"Mexico is outraged," Mr Ebrard said, noting that at least seven Mexican citizens are among the dead.
El Paso mass shooting: 20 killed at Walmart store

Show all 39
In response to the attack on Saturday afternoon, Donald Trump has responded by condemning white supremacy, in spite of widespread criticism of him for his own remarks denigrating Mexicans and immigrants as rapists and criminals.
On Monday, Mr Trump sidestepped accusations that his rhetoric had contributed to a rise in racial tensions in America, but claimed that hatred does not belong in the United States.
"These sinister ideologies must be defeated," Mr Trump said in the White House. "Hate has no place in America. Hatred warps the mind, ravages the heart and devours the soul."
Support free-thinking journalism and attend Independent events
Mr Trump also blamed internet culture, and called on the Department of Justice to work with local communities and social media companies to "detect mass shooters before they start."
The president also called for an end to the "glorification of violence in our society" that "includes the gruesome and grisly video games that are now commonplace."
While most modern nations have those violent video games on the shelf, and suffer far fewer mass shootings, Mr Trump proceeded to claim that "mental illness and hatred pulls the trigger, not the gun," and called for stronger red flag laws that could remove guns from the hands of individuals identified as potentially dangerous.
Register for free to continue reading
Registration is a free and easy way to support our truly independent journalism
By registering, you will also enjoy limited access to Premium articles, exclusive newsletters, commenting, and virtual events with our leading journalists
Already have an account? sign in
Register for free to continue reading
Registration is a free and easy way to support our truly independent journalism
By registering, you will also enjoy limited access to Premium articles, exclusive newsletters, commenting, and virtual events with our leading journalists
Already have an account? sign in
Join our new commenting forum
Join thought-provoking conversations, follow other Independent readers and see their replies