El Paso shooting: Rampage at Texas shopping mall leaves 20 dead as suspect named
Police say single suspect in custody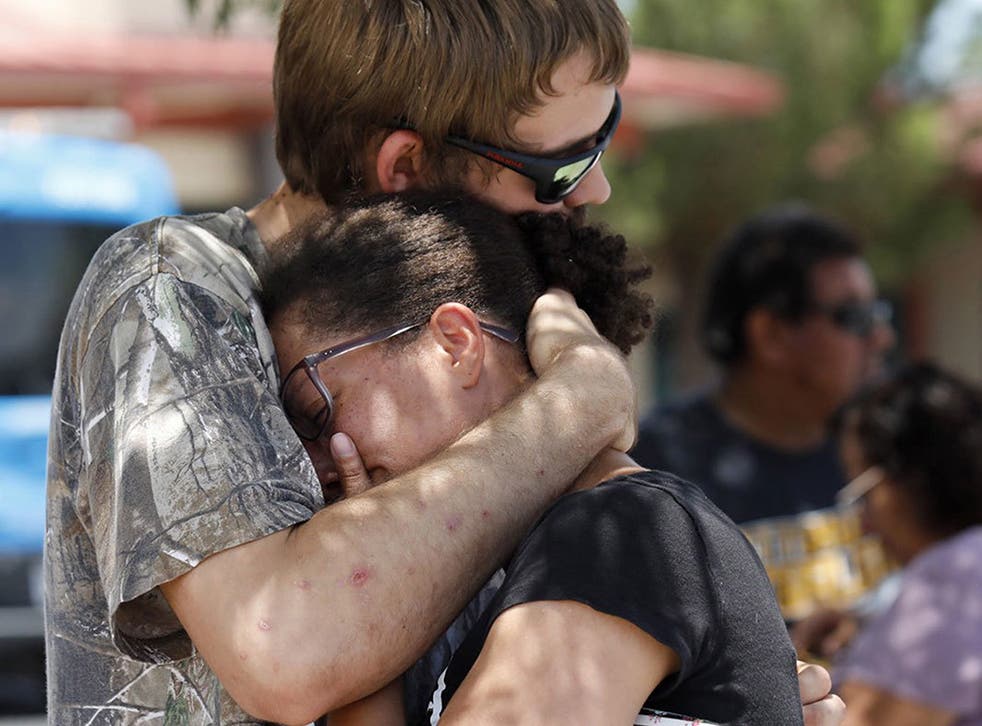 Twenty people have been killed and more than two-dozen injured after a shooting at a shopping complex in Texas – the latest act of deadly gun violence to shudder across the United States.
Officials in the city of El Paso said multiple people had been killed and many injured after the incident at the Cielo Vista Mall, after a man with a rifle entered a Walmart and opened fire. Police said one suspect – a man – had been detained, after earlier reports said up to three had been seized.
Police urged people to stay away from the scene as armed officials conducted a complete search, but said the incident was no longer "active".
"Right now we're searching multiple scenes," Sgt Enrique Carillo told reporters at the scene.
"We have a tactical team going on search. It's not an active shooter situation, but that's not to say it's been rendered safe."
Mass shootings in America

Show all 8
Phone video posted on social media showed people fleeing the mall and shouting in panic.
"We in the level above and we're locked down. But we can see the scene. There's police, FBI – they have the place closed down," a man who goes by the name of Buster and manages a Hooters' restaurant at the mall, told The Independent by telephone.
He said 26 people, including two customers, were among those sheltering in the restaurant. "It's scary but I believe God is going to keep us safe," he said.
El Paso, which has about 680,000 residents, is in West Texas and sits across the border from Juarez, Mexico.
"This is a tragedy that I'm having a hard time getting my arms around, frankly," said the city's mayor, Dee Margo, speaking on CNN.
He later wrote on Twitter: "Adair and I are devastated by the tragic events unfolding in our city. Our hearts go out to the victims and gratitude to our first responders. We will continue to keep you updated."
Texas Lt Gov Dan Patrick told Fox News a 21-year-old man was in custody in connection with the shooting, and that between 15-20 had been shot. There was no confirmation as to how many people had lost their lives.
Support free-thinking journalism and attend Independent events
Donald Trump called the shooting "terrible", saying on Twitter that he offered the government's support to Texas governor Greg Abbott.
"Working with state and local authorities, and law enforcement," the president wrote. "Spoke to governor to pledge total support of federal government. God be with you all!"
A spokesman for the El Paso police department later said the operation was now becoming a murder investigation after a person had been taken into custody. Sgt Robert Gomez said they did not believe anyone was "outstanding", but said the situation was fluid.
Walmart issued its own statement, saying the company was "praying for the victims, the community and and our associates, as well as the first responders". The statement added: "We're working closely with law enforcement and will update as appropriate."
Democratic presidential candidate Beto O'Rourke, who is from El Paso, spoke emotionally about the shooting while in Las Vegas, where he was campaigning.
"I'm thinking about El Paso, I want you to be thinking about El Paso as well," Mr O'Rourke told the audience, after taking the stage at a labour union forum.
Medical officials said that at least 22 people had been shot in the incident.
Eleven were take to the University Medical Centre of El Paso, according to Ryan Mielke, the hospital's director of public affairs. Their injuries ranged from severe to non-life threatening.
Del Sol Medical Centre said it also received 11 people from the scene.
Register for free to continue reading
Registration is a free and easy way to support our truly independent journalism
By registering, you will also enjoy limited access to Premium articles, exclusive newsletters, commenting, and virtual events with our leading journalists
Already have an account? sign in
Register for free to continue reading
Registration is a free and easy way to support our truly independent journalism
By registering, you will also enjoy limited access to Premium articles, exclusive newsletters, commenting, and virtual events with our leading journalists
Already have an account? sign in