El Salvador: Citizens who are no strangers to revolution take on the mining firms
A local municipality has used little-known legislation to block environmentally damaging metal exploration
Claire Provost
,
Matt Kennard
Sunday 09 November 2014 01:00 Comments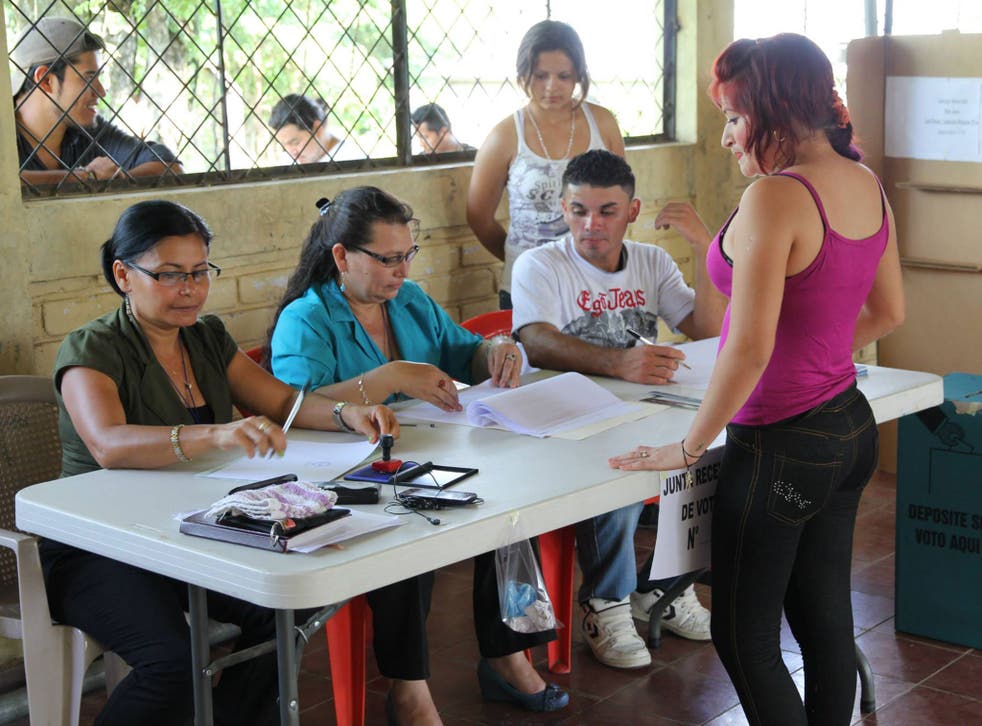 The hills of Chalatenango, in northern El Salvador, were once home to one of central America's leading revolutionary movements. During the country's 1980-1992 civil war, thousands of campesinos (peasants) took up arms against a government backed by the military and the US. Chalate, as this area is lovingly called, was a key rebel stronghold and, in turn, the site of vicious government attacks.
Reminders of this history are everywhere in San José Las Flores, a municipality in the highlands: in the town square, old weapons from the civil war sit within a fenced pen by a bust of Che Guevara; murals record memories of massacres and the initials of the Farabundo Martí National Liberation Front (FMLN) are carved into stone flowerpots.
Today, this area is a hotbed for resistance in another national struggle, this time against international mining companies eager to exploit the land in search of precious metals underground. Chalatenango is at the centre of what could be one of the world's most portentous battles against the mining industry.
"They know what riches we have, but they don't care about our health," says Zaila Arely Menjivar, a local resident. "We know [mining] is a process that comes and destroys our territory, and we are in defence of life. We're fighting for pure air and clean water, for the life of our children."
In September, Menjivar joined hundreds of her neighbours in a historic referendum: San José Las Flores had decided to test a little-known piece of legislation allowing Salvadoran municipalities to hold legally binding votes on local issues. To the question: "Are you in agreement with metallic exploration and mining in the municipality?" a resounding 99 per cent said no.
Mining has never been a major part of the Salvadoran economy but the country holds rich seams of gold and silver, and after the 1992 peace accords companies were drawn in by rising gold prices and an early succession of conservative, pro-business governments.
The tide has since turned, however, and central America's smallest country – nicknamed el piojo (the nit) because of its diminutive size – may now be the anti-mining capital of the world. Despite the wealth potential, activists say large-scale industrial mining could produce thousands of environmental refugees, forcing people off their land and into the cities or out of the country.
"The companies come and they try to trick us," says Menjivar. "They treat us like we are ignorant people. They say, 'We are going to bring jobs, we are going to build a school, we are going to build a football pitch'." She says it is clear: the costs of mining far outweigh the benefits.
This is not a niche belief in El Salvador: politicians from rival parties, the Catholic church and NGOs have all spoken out against mining as a route to development, often citing already extreme levels of environmental degradation and water contamination. Since 2008, the Salvadoran government has placed an "administrative freeze" on mining processes. President Salvador Sánchez Cerén, a former FMLN commander, elected earlier this year, has also vowed not to allow mining in the country.
But, for Menjivar, this is not enough. "Without laws that support us, we cannot do a lot," she says, insisting that mining has no place in her area, where most people are subsistence farmers, growing maize, beans and rice to eat and trade locally. "But with a document that says you cannot exploit here, then we have a guarantee."
Menjivar wants a permanent ban on mining in the country. And, in the absence of definitive action from the capital, she and others are now taking matters into their own hands.
The Salvadoran municipal code allows for community referenda if 40 per cent of eligible voters petition the local government. David Morales, the Salvadoran state's attorney for human rights, said September's result in San José Las Flores was more than just symbolic: "The effect will be that no permits will be given in the municipality for exploration, let alone exploitation," he said. "It will be a very important victory in the legal fight against mining in El Salvador."
San Jose Las Flores's vote is expected to become law by the end of the year. Meanwhile, it could become a blueprint for citizen action across the country. Announcing the results of his municipality's referendum in September, the mayor of San José Las Flores said: "I hope town councils around the world will replicate what we have done here. Let's do what the people want."
Register for free to continue reading
Registration is a free and easy way to support our truly independent journalism
By registering, you will also enjoy limited access to Premium articles, exclusive newsletters, commenting, and virtual events with our leading journalists
Already have an account? sign in
Join our new commenting forum
Join thought-provoking conversations, follow other Independent readers and see their replies