El Salvador seeking third trial of rape victim acquitted after being handed 30-year prison sentence for stillbirth
El Salvador has one of harshest abortion bans in world – it is even illegal in cases of rape and incest, when woman's life is in danger or if foetus is deformed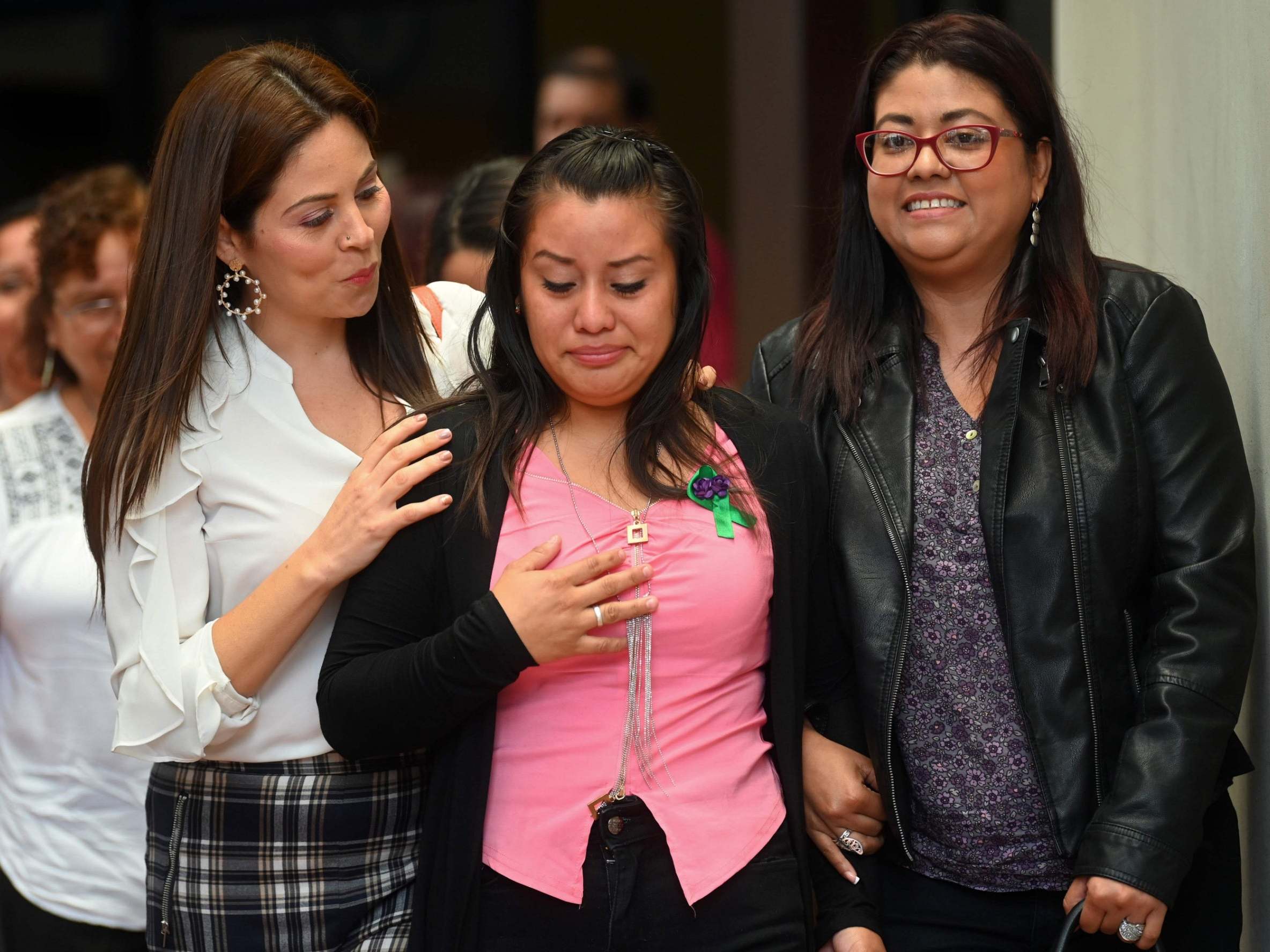 Prosecutors have announced they will appeal against the recent acquittal of a teenage rape victim in El Salvador who was convicted for murdering her child and jailed for nearly three years after a stillbirth.
Evelyn Beatriz Hernandez was given a 30-year jail sentence in 2017 for aggravated murder by a female judge who ruled the teenager had induced an abortion.
The 21-year-old, who was exonerated in an August retrial which garnered international attention, is now facing the possibility of what would be her third trial in the socially conservative Catholic-majority country.
El Salvador has one of the harshest abortion bans in the world – it is even illegal in cases of rape and incest, when the woman's life is in danger, or if the foetus is deformed.
Hernandez, who is from a poor rural community, said she was raped by a gang member and was unaware of her pregnancy until she went into labour in a toilet and gave birth to a stillborn son in early 2016.
World news in pictures
Show all 50
Her mother says she found her daughter passed out next to a makeshift toilet and hailed a pickup truck to transport her to a hospital which was half an hour away. She was arrested at the hospital.
The Citizen Group for the Decriminalisation of Abortion (CDFA) says there was no proof that she tried to kill the child, and that she suffered a pregnancy-related complication.
Prosecutors want another attempt at putting her back behind bars over what they have branded "overabundant" proof of her criminal responsibility.
"There's no reason to consider her a victim of anything. On the contrary, the only victim is her son," they said in a statement.
Miscarriages and stillbirths in El Salvador are often treated as suspected abortions, which have been legally regarded as murder since 1997.
Legal cases against women who have experienced miscarriages and obstetric emergencies are forcefully pursued, with women who turn up at public hospitals after a miscarriage sometimes being accused of having killed the foetus.
Ms Hernandez called for women such as herself to stop being criminalised after being exonerated last month in the first retrial of an abortion case in the country's history.
"It is shameful that they insist on criminally prosecuting a woman without evidence that she committed the crime," her defence lawyer, Bertha Maria Deleon, tweeted after prosecutors announced their appeal in the case.
El Salvador's top court overturned the original conviction in February – concluding the judge's decision was based on prejudice and insufficient evidence.
Ms Hernandez was released from prison in the same month when she was granted conditional liberty for the duration of her trial. She spent 33 months behind bars – exceeding the 24-month limit under Salvadoran law for those accused without a conviction.
Astrid Valencia, Central America researcher at Amnesty International, said: "This appeal is yet another example of the discriminatory disposition of prosecutors in El Salvador. It is appalling that, despite a ruling that confirmed Evelyn's innocence, the state is still trying to criminalize her for suffering an obstetric emergency.
"The public prosecutor's office must desist immediately from this disgraceful course of action, and ensure that neither Evelyn, nor any other woman, be deprived of their liberty on discriminatory grounds."
Around 20 women are serving sentences of up to 40 years for abortion crimes after suffering miscarriages, stillbirths or pregnancy complications in El Salvador, the CDFA estimates.
The organisation has tracked 146 prosecutions against women for abortion since 2014. Of those cases, 60 women were jailed, with 24 convicted of aggravated homicide. Some insist they had miscarriages and did not deliberately end their pregnancies.
Nayib Bukele, El Salvador's new 38-year-old president who took office in June, campaigned on a pledge to legalise abortion in cases where the life of the mother is at risk. But politicians have yet to implement such reform and Mr Bukele himself has yet to comment on the case.
He has previously said he is "completely against" criminalising women who have miscarriages. "If a poor woman has a miscarriage, she's immediately suspected of having had an abortion," Mr Bukele said in 2018. "We can't assume guilt when what a woman needs is immediate assistance."
Join our commenting forum
Join thought-provoking conversations, follow other Independent readers and see their replies