El Salvador pardons woman sent to jail for 30 years after suffering a miscarriage
Exclusive: Sonia Tábora suffered a miscarriage in a coffee field but was convicted of 'aggravated homicide'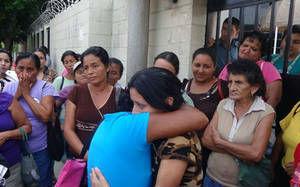 A woman from El Salvador who was jailed for 30 years after suffering a miscarriage in a field, has been pardoned by the courts - the latest sign of change in a nation known as the worst place in the world for women's reproductive rights.
Sonia Tábora was just 20 when she went into premature labour at seven months and gave birth alone in a coffee plantation. Her family found her collapsed and bleeding, and the baby was born dead or died soon afterwards.
Her family took her to a health centre, fearful for her life. But doctors there accused of carrying out an abortion, something is strictly illegal in El Salvador. She was shackled to her bed and the police were called.
With the support of campaigners trying to fight anti-abortion laws that make no exception for rape, incest or the health of the mother, Ms Tábora was freed from jail in 2012. However, at the end of 2014, her case went for a second review by a court panel to determine whether she would go back to prison or remain free.
This week, the Centre for Reproductive Rights, reported that Ms Tabora had been pardoned by the courts, drawing a line under a trauma that began 12 years ago.The court condemned the Salvadoran government for her wrongful imprisonment and ordered that the government provide reparations for the harm she has suffered.
Ms Tabora is one of dozens of women who have suffered at the hands of the court in the strictly Catholic country, one of just a handful of nations that permits no exceptions for abortion. It is estimated that between 1998 and 2013 more than 600 women were jailed after being accused of having had an abortion. Those still serving such sentences have been nicknamed "Las 17".
Salvadorean activist gives her thoughts on Donald Trump
The situation in El Salvador, was not always so drastic. Up until 1998, the law permitted abortions in cases of rape, incest or in which the health of the woman was threatened. But the legislation was changed under pressure from conservatives in the government and with the support of the Catholic church.
The reproductive rights situation in El Salvador started to receive international headlines in 2013. Then, a young woman initially identified only by her first name, Beatriz, suffering from lupus and several months pregnant with her second child, was told that the foetus was diagnosed with anencephaly, meaning the baby would be born with no brain or with a significant part of it missing. She was told the child would not survive.
Doctors said her medical condition made carrying the baby to term a threat to the mother's life. Her case was appealed all the way to the country's supreme court, which ruled doctors could not terminate her pregnancy. Eventually, as her health became ever more precarious, she was given a caesarean section when the foetus was 27 weeks. The baby lived for five hours.
Another women, Guadalupe Vásquez, was imprisoned for more than seven years after losing the baby she conceived when she was raped at the age of 17. She was was sentenced 30 years in 2008, but was pardoned and freed in 2015.
Maria Teresa Rivera, who was for 40 years after being convicted of aggravated homicide, was released in 2016 after serving five years.
"Sonia's case, like Guadalupe and those of Las 17, all demonstrate how the country's extreme hostility towards abortion has led to laws that repeatedly send innocent women to prison," said Natalia Garzon, a spokesperson for the Centre for Reproductive Rights in Washington.
She said the Salvadoran Congress to announce how it it will proceed with a bill that if passed, would legalise abortion in limited circumstances.
Last week, Ms Vasquez gave testimony to a United Nations committee about the mistreatment of pregnant women in El Salvador and the human rights abuses resulting from its extreme abortion ban.
"I spoke today for Las 17 and in hopes that our stories will not be repeated in El Salvador," said Ms Vasquez. "It's time that my country end the persecution of pregnant women."
Join our commenting forum
Join thought-provoking conversations, follow other Independent readers and see their replies